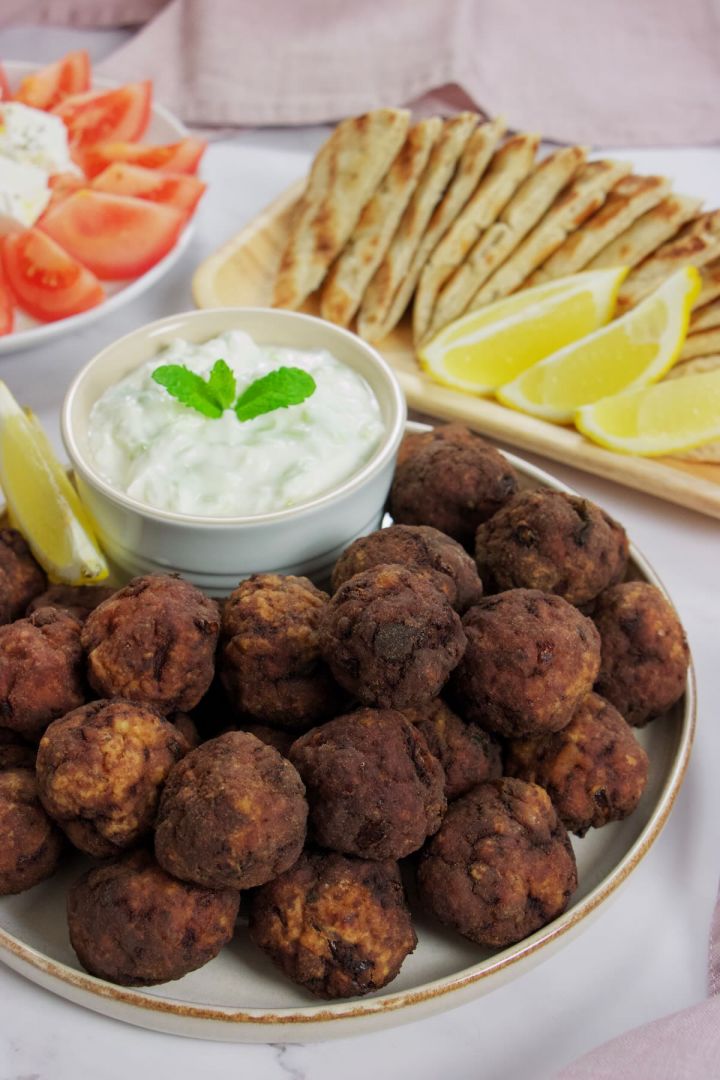 It's fascinating how every week as I plan out the meals for my family, I find myself consistently gravitating towards dishes that incorporate some form of ground meat. Perhaps it's the hearty, comforting nature of homecooked meals like Giouvarlakia and Soutzoukakia that hold a special place at our dinner table, but there's one particular recipe that stands out in our household. This versatile creation has become a beloved go-to for my girls, often viewed as a delicious snack rather than a traditional mealtime offering. As a parent, I delight in the excitement that this unique dish brings to their faces and the way it satisfies their adventurous taste buds, all while incorporating the familiar, grounding elements of carefully selected ground meat.
Succulent and packed with flavor, these Greek fried meatballs are a delectable bite-sized treat, perfect for sharing with friends and family. Carefully crafted from either lean ground beef or a more indulgent mix of beef and pork, these tiny morsels deliver an intoxicating blend of fresh parsley or cool, refreshing mint, tantalizing your taste buds with the culinary magic of Greece. Derived from the larger baked variety called keftedes, these mini meat delights may be diminutive in size, but their taste and aroma are certainly of Herculean proportions.
The delightful taste of keftedakia has always held a special place in the Greek culinary world. In years gone by, it was an indispensable dish at field trips, picnics, and parties, adding excitement and flavor to outdoor gatherings. Served at room temperature as a meze, it was the perfect accompaniment to the popular spirit, ouzo. Today, keftedakia remains a beloved meze at Greek taverns, particularly on the picturesque islands, where its delightful aroma wafts through the air. It's a staple in my family's choice of meze dishes whenever we visit Greece. Children, especially, adore keftedakia as a scrumptious finger food at parties, although the rise of chicken nuggets has given it some competition in recent times. A distinction is worth mentioning here that keftedakia should not be confused with biftekia, for the former are smaller, fried, and spicier, while the latter is reminiscent of the familiar burger patty because of its grilled preparation and inclusion of bread or breadcrumbs.
While tradition dictates that frying meatballs in sunflower oil is the way to go, sometimes switching it up can lead to delightful results, and one such alternative is baking them. When I'm pressed for time, or simply don't want to deal with the messiness of frying, I toss those meatballs into the oven and they turn out just as scrumptious, with the added bonus of being a bit healthier! A crucial step, though, is the generous spritz of lemon right before eating as it not only tantalizes your taste buds but aids in iron absorption from the meat. To elevate your meal even further, pair these delectable bites with a vibrant Greek salad or some refreshing Tzatziki to dip them in, and trust me, you won't be disappointed!
Tips
Craving a wholesome twist on a classic favorite? Ditch the flour coating in step 5, line up a tray with parchment paper, and brush a touch of oil on top. Bake at 200ºC (392°F) and in just 20 minutes, you'll be savoring a scrumptious yet light delight!
Add a twist to your keftedakia by swapping out the traditional parsley for some tantalizing mint, invigorating your taste buds and amping up the flavor intensity!
Directions
You will need about 1 hour 20 minutes to make 35 pieces of this recipe, which has approximately 45 calories each. Make sure you have all the ingredients and follow these 8 simple steps. If you have any questions, send me an email and I'd be more than happy to help!
Watch it step-by-step!
Indulge in the deliciousness of Keftedakia, a cherished Greek fried meatball dish that combines the rich flavors of lean ground beef or a blend of beef and pork. Exquisitely seasoned with fresh parsley or mint, these mini morsels create a tantalizing symphony on the taste buds.