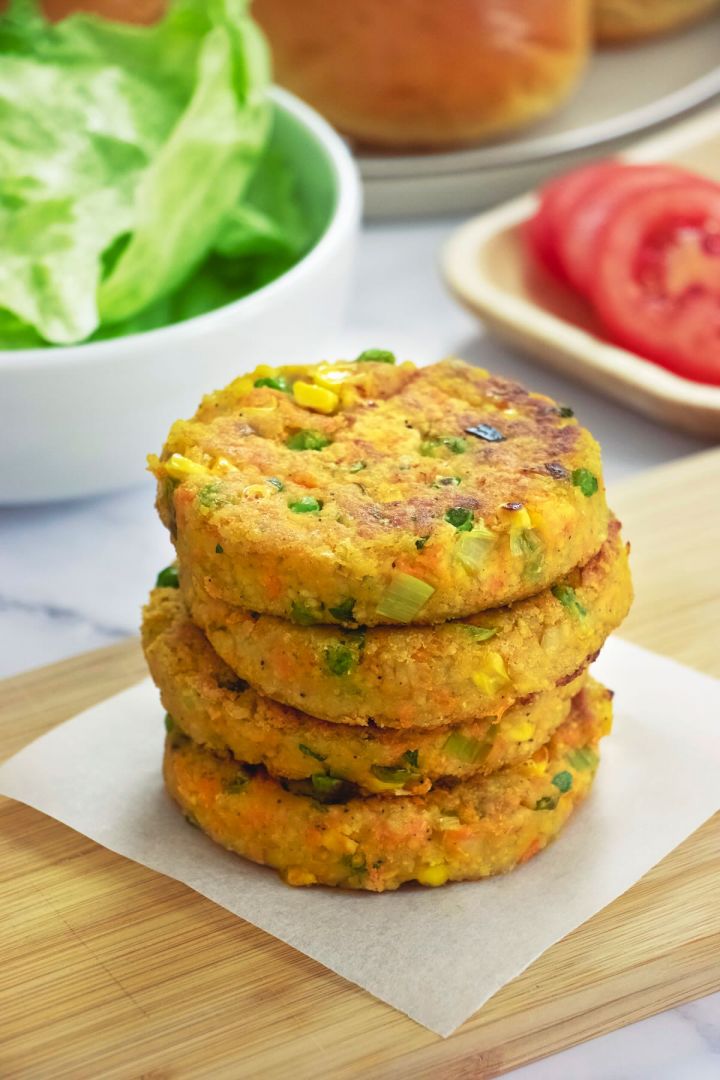 Why buy veggie burgers, with great lists of unknown ingredients, when making your own is so simple? That's what I think anyway, since I tapped into this particular recipe. For me, an easy veggie burger has to provide a challenge to its meaty alternative, but I don't want it to mimic beef, I want it to be different. This meatless burger will convert a few meat eaters at your barbecue - not because it 'tastes like meat' but because it's a really tasty alternative, full of flavour.
This is not just for barbecues, however. We end up having vegetarian patties as a midweek meal pretty often, because it's not complicated and veggie burger patties always seem to go down well with the whole family. Because I use a combination of couscous and chickpeas instead of something like potato to bind the burger, the burger already contains a great amount of protein from the legumes, as well as carbs (and texture) from the couscous. Add to that the peas, corn, carrot and spring onion, and you basically have all the nutrition you need!
For a light dinner, serve them up alone with a side salad or some fresh veg, or for something heartier add your burger to your favourite bread roll…we've even been known to accompany them with our oven-baked potatoes or oven-roasted chips!
Tips
Once you've formed the patties, you can store them for 3 days in the fridge or freeze them for up to a month. But make sure to bring them back to room temperature before cooking them.
Directions
You will need about 25 minutes to make 6 servings of this recipe, which has approximately 175 calories each. Make sure you have all the ingredients and follow these 8 simple steps. If you have any questions, send me an email and I'd be more than happy to help!
Watch it step-by-step!
Veggie Burger Patties aren't just perfect for the BBQ - they're brilliant, quick and wholesome midweek meals (that somehow feel like a treat)!