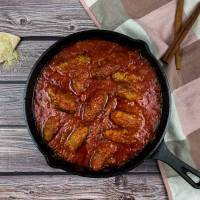 Traditional Soutzoukakia
Enjoy fooodlove's Soutzoukakia recipe - spiced beef meatballs in rich tomato sauce. Also known as Soutzoukakia Smyrneika, İzmir Köfte or Smyrna meatballs.
4

servings

45 mins

502 kcal

NF
This is my Soutzoukakia recipe - a traditional Greek spiced meatballs recipe. This dish is also known in Greece as Smyrna meatballs, Soutzoukakia Smyrneika or İzmir Köfte. That's because the dish arrived in Greece via immigrants from Smyrna (now called Izmir), in Anatolia, Turkey, which was often referred to as 'Asia Minor'.
This hearty Greek dish provides a fabulous combination of Mediterranean flavours. The cinnamon gives a gentle warmth, but it is the unique savoury note provided by the cumin that makes Soutzoukakia unlike anything else. These flavoursome meatballs cooked in a rich, thick tomato sauce are definitely considered 'the main event' for my family's dinner (served with either rice or mashed potatoes), but they can also be considered a side dish as part of a larger feast. Please invite me!
Ingredients
Soutzoukakia

Tomato sauce
Directions
You will need about 45 minutes to make 4 servings of this recipe, which has approximately 502 calories each. Make sure you have all the ingredients and follow these 7 simple steps. If you have any questions, send me an email and I'd be more than happy to help!
Watch it step-by-step!
Soutzoukakia is a traditional recipe of spiced meatballs baked in a luscious tomato sauce! Their name is a bit hard to pronounce if you're not Greek, but don't let that discourage you from giving them a try. I've seen Soutzoukakia served as a side-dish, but in my family, it's either rice or mashed potatoes!
There are no comments yet
We'd love to hear your thoughts. Be the first to comment and kick-start the discussion.