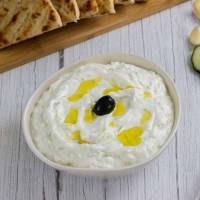 Authentic Greek Tzatziki
6

servings

10 mins
114 kcal

NF

GF

VE
Tzatziki is probably one of those Greek recipes that needs no introduction! This famous dip is a creamy and refreshing mixture of thick Greek yoghurt, cucumber, garlic and olive oil. It's enough to transport anybody back to a Greek taverna, eating some souvlaki in the sun! Even if you've never visited Greece, you've likely enjoyed tzatziki as a dip for pita bread or carrot sticks, at a sunny barbecue with friends.
Now that the sun is smiling down on us and our BBQ is permanently uncovered, this is a regular side dish to any and all of our BBQ recipes, and to dip flatbreads or pitas into when our mouths are watering and we just can't wait for everything to be cooked!
Tips
In some places of Greece, it is common for Tzatziki to have dill as well. Add a small bunch if you prefer its unique aroma.
You can store Tzatziki in the fridge for up to 5 days.