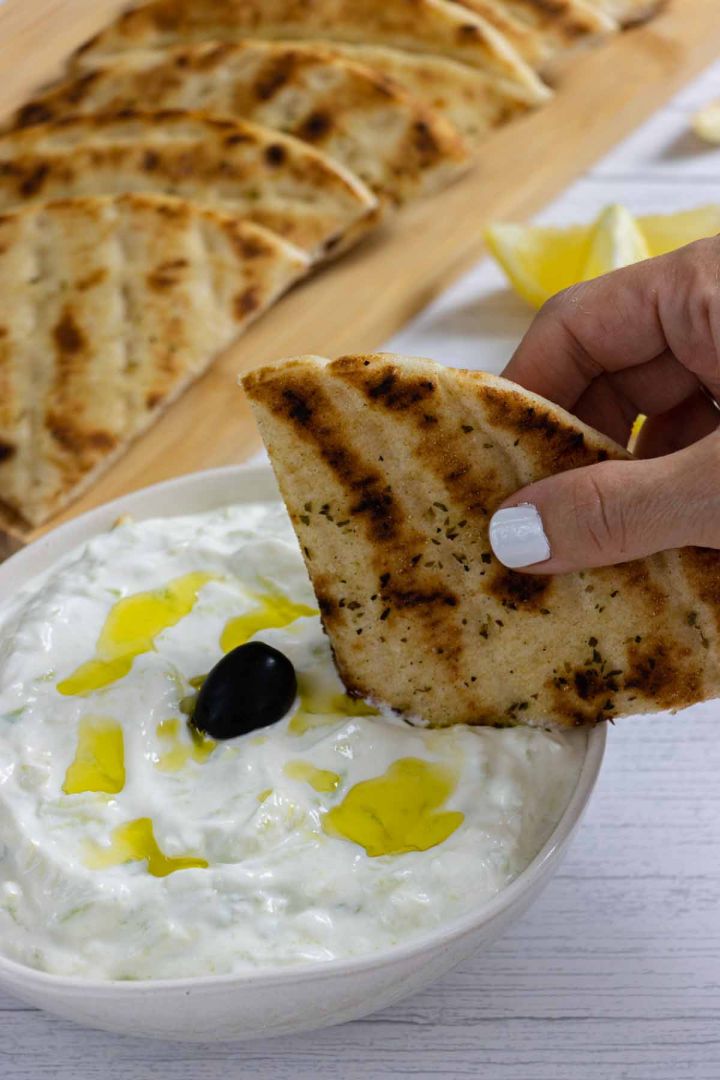 Tzatziki is probably one of those Greek recipes that needs no introduction! This famous dip is a creamy and refreshing mixture of thick Greek yoghurt, cucumber, garlic and olive oil. It's enough to transport anybody back to a Greek taverna, eating some souvlaki in the sun! Even if you've never visited Greece, you've likely enjoyed tzatziki as a dip for pita bread or carrot sticks, at a sunny barbecue with friends.
Now that the sun is smiling down on us and our BBQ is permanently uncovered, this is a regular side dish to any and all of our BBQ recipes, and to dip flatbreads or pitas into when our mouths are watering and we just can't wait for everything to be cooked!
So, if you're looking for a delicious and healthy dip to enjoy this summer, look no further than tzatziki! With just a few simple ingredients, you can whip up a batch of this refreshing goodness in no time. And why not try serving it alongside some grilled chicken or lamb skewers? Enjoy!
Tips
In some places of Greece, it is common for Tzatziki to have dill as well. Add a small bunch if you prefer its unique aroma.
You can store Tzatziki in the fridge for up to 5 days.
Directions
You will need about 10 minutes to make 6 servings of this recipe, which has approximately 114 calories each. Make sure you have all the ingredients and follow these 4 simple steps. If you have any questions, send me an email and I'd be more than happy to help!
Watch it step-by-step!
Tzatziki comes out as soon as the sunshine does, at our house! We are the type of family which permanently uncovers our barbecue as soon as spring arrives, and we make the most of every sunny day by eating outside.