Celebrating a 'date night' at home during lockdown has been really popular! With no restaurant nights out on offer, we've enjoyed a few Greek date nights ourselves. Once the kids are in bed, it's nice to make some quality time as a couple. Lighting some candles, dressing up and opening a good bottle of wine provides a good opportunity for a treat, a relax, and a proper catch up with each other!
One crucial consideration for any date night is to choose recipes that don't require you to be stood in front of the stove for an hour before serving - the whole point is to spend time together, isn't it! That's why the menu listed below features tasty recipes which don't require lots of effort right before you dish.
I thought a Greek-inspired date night could be a handy resource for new ideas! Whether you're simply looking for new date night recipes, or want to go 'the whole hog' and have a Greek-themed evening in its entirety, check out the ideas below…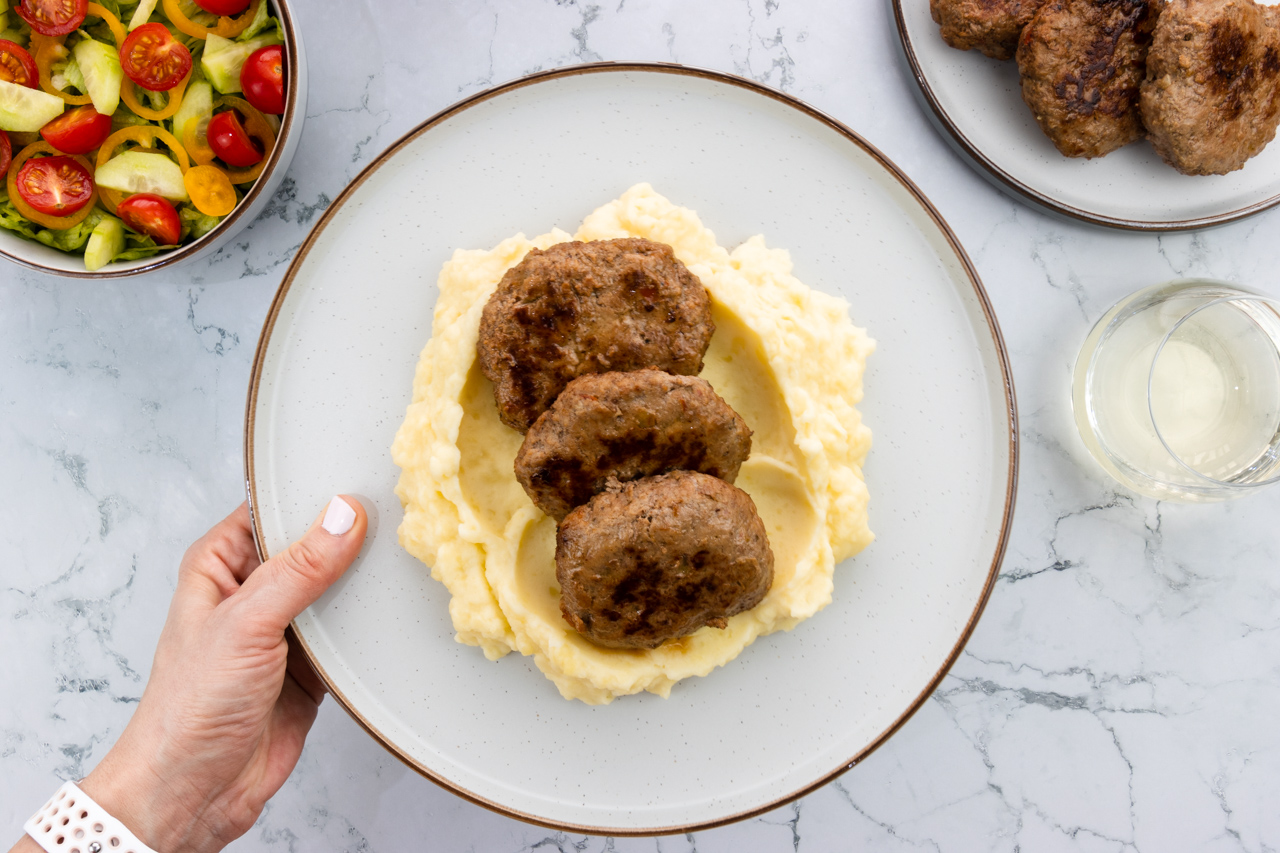 Greek date night menu
Main: My hearty, moist Wine-infused burger patties take centre stage.
Side: Mashed potatoes go perfectly with the patties! Choose to add your veg of choice as well too, to round out the plate with a healthy side.
Dessert: My Boiled Chocolate Cake uses an unusual method that makes for a flavoursome, fudgy and delicious cake that's perfect on its own or with a scoop of vanilla ice cream.
Vegetarian option: For a vegetarian version, lose the burger patties. Perhaps kick off your meal with my pull-apart garlic bread, or some tasty olives. Then make baked feta with honey the star of the show (it really is a lovely dish), accompanied by a side salad. If you want a bigger dish as a main, opt for my Gemista recipe.
These dishes are all relatively easy to make in advance, and can be reheated right before serving, meaning you can get dressed up and ready for an enjoyable evening of relaxation.
Greek date night themes
If you're keen on 'themed' date nights, you can carry the Greek theme through to how you dress the table, what you drink and what you wear!
To invoke that feeling of a lunch time table in a sunny taverna by the sea, dress your dining table in the Greek national colours of blue and white (gingham table cloths are always a popular choice!), whether with a table cloth, napkins, or a table runner. Throw in some candles to make it feel special.
How you dress… maybe you were planning a holiday to Greece, or have fond memories of time spent in Greece? If so, why not get into one of your summer dresses, or shirts, to bring back those memories? They probably didn't get an outing last year, so they are due a wear.
Why not set the table with a few Greek delicacies, like stuffed vine leaves or some olives, and you're ready to go!
What to drink on Greek date night
Greece has some beautiful wine varieties, and traditional drinks, too. If you enjoy the taste of aniseed, why not begin with an ouzo, made cloudy with a cube of ice? If you're not drinking alcohol, a high-quality, refreshing lemonade fits the bill (we would often make these fresh, straight from the tree, at home in Greece) - or frankly, whatever feels like a special treat for you.
Greek wines
Greek wines are now becoming available in the mainstream UK market, with grape varieties like Assyrtiko and Mavrodaphne, for example, even available in supermarkets! Although a trip to your local speciality, independent wine shop or Greek deli might be more fun, you may well find Greek grapes in the big supermarkets, too…
White
Assyrtiko is possibly one of Greece's most well-known grape varieties, and it's even available in some supermarkets now if you haven't time to wait for an online delivery! This one should be perfect with white meats or seafood, so maybe enjoy it as an aperitif to this menu. To go with the baked feta in filo, the Mylonas Retsina's fruity and herbaceous acidity would be a perfect pairing.
Red
The Tsantali here is a fresh, dry red, perfect for summer evenings, whilst if you want something richer, the Messenicola is velvety-smooth and spicy, full-bodied and with a rounded bouquet.
Dessert wine
You don't have to stop with your wine pairings when it comes to dessert! I've used Mavrodaphne lots recently in my cooking (it gives a special flavour to my fanouropita recipe!), but a good Mavrodaphne is also the perfect option to round out the meal. A sweet but relatively light red, this is a Greek dessert wine that would be equally comforting whether you snuggle in front of the fire or enjoy an afternoon in the sun. For a stronger digestif, why not try the distinctly Greek Mastiha, featuring Mastic from the island of Chios.
Greek cuisine is about who you eat with as much as what you eat - so a Greek date night is the perfect way to share Greek food culture with the one you love! If you try out these recipes, or have other date night suggestions, let me know!