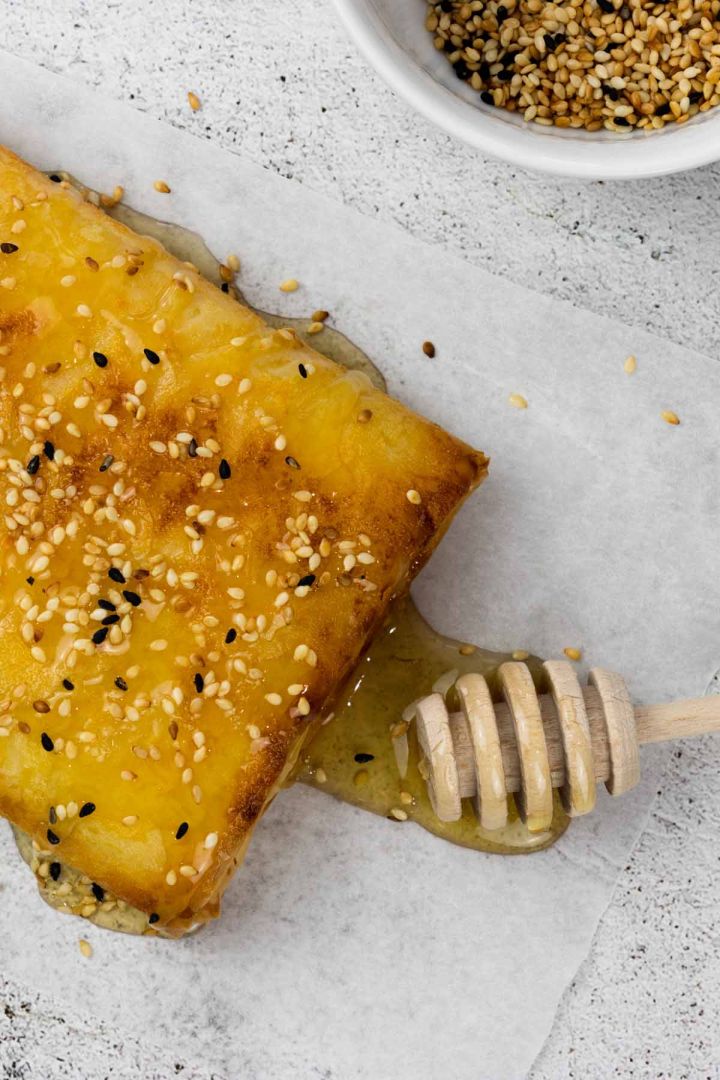 This famous meze is a go-to side dish for us when we're back in Greece, enjoying a meal in a taverna. It's usual to have several "mezedes" (this kind of side dish) with your order - and I often find that the mezedes can end up being one of the most enjoyable parts of the meal for me!
The combination of salty feta wrapped in crunchy filo pastry, alongside the nutty tang of sesame seed and silky honey is just a match made in heaven. 'Sweet and sour', 'agrodolce' - lots of cultures are accustomed to mixing savoury and sweet, and this particular Greek example is one of my favourites.
Tips
This side dish is best served the minute it gets out of the oven. If you're making it for later, add the honey and sesame when serving, otherwise the filo will get soggy.
Directions
You will need about 25 minutes to make 2 servings of this recipe, which has approximately 661 calories each. Make sure you have all the ingredients and follow these 9 simple steps. If you have any questions, send me an email and I'd be more than happy to help!
Watch it step-by-step!
Lots of cultures make the most of combining sweet and savoury tastes for a unique new flavour. Cantonese "sweet and sour" dishes, Italian "agrodolce" dishes...it just works!