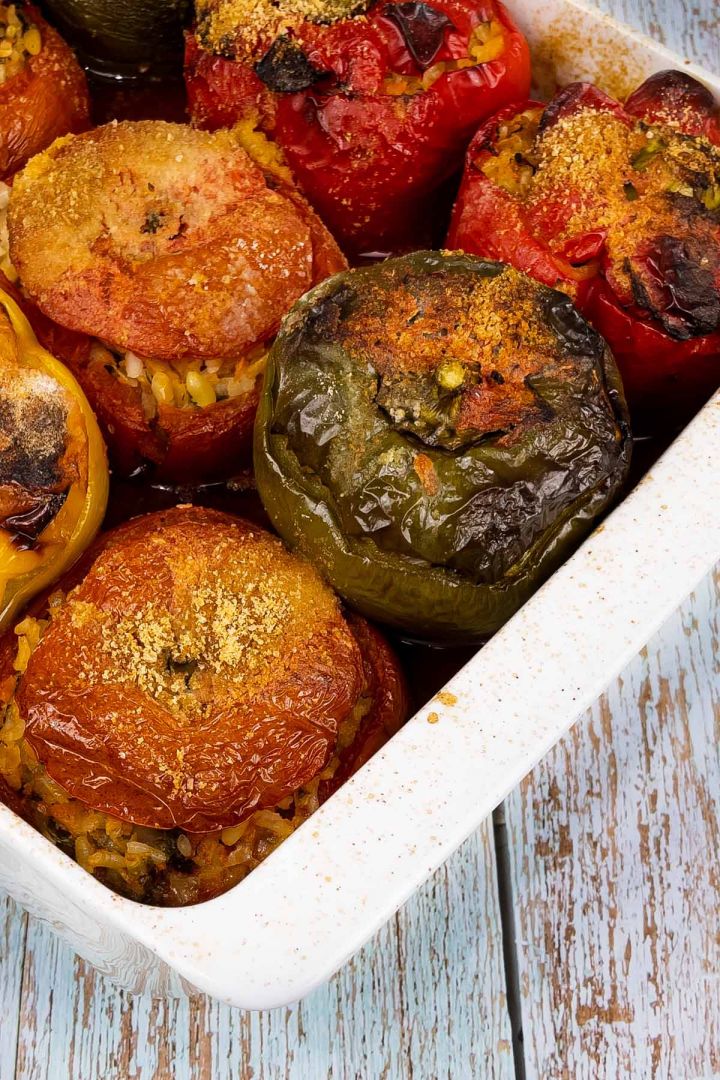 Gemista, or as I like to call it, "Greek stuffed veggies," is one of the most beloved dishes in Greece. Vegetables like peppers, tomatoes, and zucchinis become the perfect vessel as they are carefully emptied and later filled with a delicious blend of rice and herbs. I mean, what's not to love? It's a straightforward yet flavorful vegetarian meal, with some variations that include pork or beef mince. Honestly, it's like every Greek household is holding onto their secret Gemista recipe like it's a family heirloom. But that's okay, because cooking is all about experimentation, and the beauty of making Gemista is you can make it your own.
This mouth-watering dish is a vegetarian's dream come true - and trust me, you won't even miss the mixed ground beef and pork. Passed down from my mother's cookbook, this recipe is a variation that my husband and I can't get enough of. The combination of tomatoes, peppers, onions, and rice makes for a hearty, delicious meal that will have you coming back for seconds (and maybe even thirds). So why not ditch the meat and try out Gemista? Your taste buds (and the planet) will thank you.
Bursting with bold flavors and loads of freshness, these stuffed tomatoes are sure to make your mouth water. And with 'Gemista' translating to 'stuffed' or 'filled with' in Greek, you know you'll be tasked with enjoying every single bite of this delicious meal. Whether you serve it as a starter, a side, or the main course, this recipe is seriously flexible. Personally, we like to make it the star of the meal and partner it with a bit of feta cheese and some crusty bread for the ultimate filling feast! So get your apron on and get ready to create some magic in the kitchen with this amazing Gemista recipe.
Ingredients
For the filling

To assemble
Tips
After you have sliced and removed the insides of the tomatoes, flip them over into the baking dish to remove excess liquid while you make the filling.
Using ripe tomatoes is recommended since it makes it easier to remove their flesh.
You may have some extra filling depending on the size of the vegetables. If that happens, you can wrap the filling in a piece of baking paper and bake it along with the vegetables.
Directions
You will need about 2 hours 10 minutes to make 10 servings of this recipe, which has approximately 250 calories each. Make sure you have all the ingredients and follow these 10 simple steps. If you have any questions, send me an email and I'd be more than happy to help!
Watch it step-by-step!
Gemista is always a crowd-pleaser and a very popular recipe that uses commonly available ingredients. A traditional Greek dish of stuffed fresh vegetables, full of flavours and vibrant colours! There is a variety of different ways to cook Gemista, but all of them have rice and herbs in common.