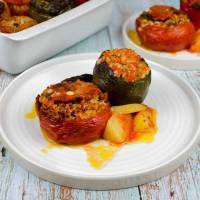 Gemista
10

servings

2 hr 10 mins
250 kcal

DF

VG

VE
Gemista, or Yemista, is a very popular and traditional Greek dish for stuffed vegetables. Using commonly available ingredients, this Gemista recipe is a vegetarian one (some add pork or beef mince). Every household in Greece seems to have their own, slightly unique Gemista recipe, but they tend to have rice and herbs in common as fillings - and are stuffed into a vegetable.
Full of flavour and vibrancy, this recipe for stuffed tomatoes is healthy and fresh. 'Gemista' actually means 'filled with' or 'stuffed' in Greek, so literally that is the only thing you have to do - stuff a vegetable with a filling! Served as a starter, a side dish or as the main course, the Gemista is pretty flexible. We enjoy eating it for our main meal, often accompanied by feta cheese and fresh bread.
Tips
Once you slice and empty the tomatoes, turn them upside down inside the baking pan to drain their liquids while preparing the filling.
It's best to use ripe tomatoes because it's easier to remove their flesh.
Depending on the size of the vegetables, there may be some left over filling. Wrap it in a piece of baking paper and baking along with the vegetables.