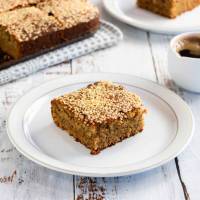 Fanouropita Vegan Spiced Cake
16

servings

55 mins
330 kcal

DF

VG

VE
Fanouropita is a spiced Lenten cake made in the name of Saint Fanourios, Patron Saint of Lost Things. Want to get a new job? Need to find your runaway cat? Saint Fanourios is the martyr you need to pray to! This cake has moved from religious practice to a regular bake in our house, and it is the perfect, healthier option to go with your mid-morning cup of coffee…
Fanouropita is a great vegan cake recipe too, as it lacks eggs and butter. Made to be blessed at church on August 27th in Saint Fanourios' name, this recipe usually contains seven or nine ingredients (numbers holy in the Greek Orthodox Church and in broader Christianity); but the actual ingredients included vary across Greece. Saint Fanourios' icon, and therefore his sainthood, was rediscovered on Rhodes, where I am from - so this is a Rhodes version of Fanouropita.
Check out our blog on Saint Fanourios to read more about the Fanouropita tradition!
Tips
You can substitute fresh orange juice with sparkling orange juice (i.e. Fanta) and skip the baking soda.
For additional flavour and texture, you can add one cup of crushed walnuts.
You may also add raisins to your mixture for extra sweetness. However, make sure you dip them in flour first or else they will all sit at the bottom of the cake.
If you don't have sweet red wine, you can use any red wine by adding 1 tsp of honey to your mixture.
For an alcohol-free version of this, you can substitute the 120ml dessert wine with 60ml of water.