When I have guests round, I always want to make them feel welcome through my food. That's my first priority. But I also believe that the best dinner party dishes are those that allow me to be with my guests, as host, too! I don't mind recipes with a little prep time before hand, but I prefer to choose a recipe which can be 'bunged in the oven' and forgotten about whilst I greet them and we catch up. I don't tend to choose meals which tie me to the stove.
I also like to share my passion for traditional Greek foods with my guests, whether they are Greek family and friends who I want to treat to some 'home recipes' or English friends who I want to introduce to Greek flavours!
Gemista
My Gemista recipe is the perfect option for a summertime lunch, sat in the sun in the back garden. The recipe takes a total 1 hour 20 minutes - but you bake for 40 minutes, then simply remove the aluminium foil and bake for another 40, before finally resting the peppers for around 30 minutes, to allow the flavours to combine (and ensure the peppers don't break when you serve them). It's the easiest 1 hour 20 of cooking, making sure you have ample time to catch up with your guests, and not stress about dinner. It's a light but satisfying meal, which looks bright and cheerful on the dinner table. I sometimes serve a salad alongside.
Also known as 'Yemista', this is a very popular and traditional Greek dish. The vegetables are stuffed with rice, although some recipes also use pork, or beef mince. Everyone has a slightly individual take on the Gemista recipe in Greece, but rice and herbs are a common filling.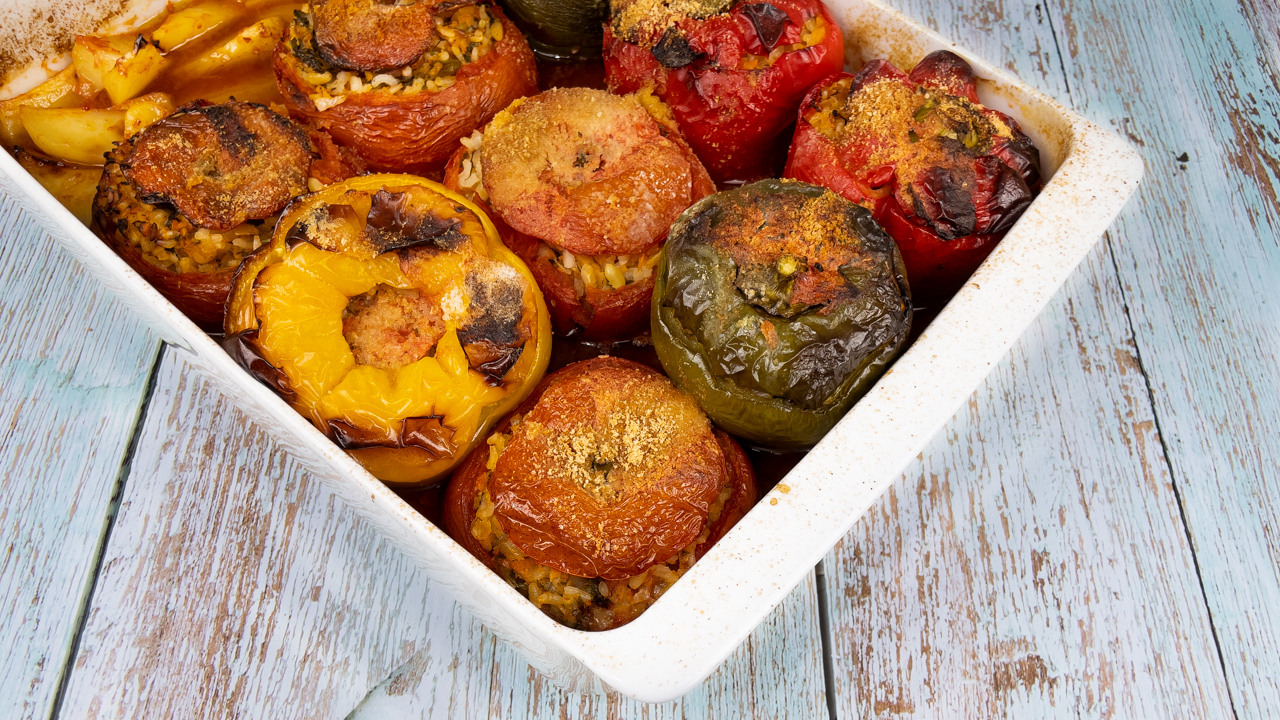 This is a great choice for a healthy dinner party recipe, as you're serving up plenty of flavoursome vegetables. We often have this alone as a family meal, served with feta cheese and fresh bread. For guests, I might serve small peppers as a starter, use it as a side dish for a meat-based main, or let it take centrestage, perhaps accompanied by a fresh green salad as well as the feta and bread.
Pastitsio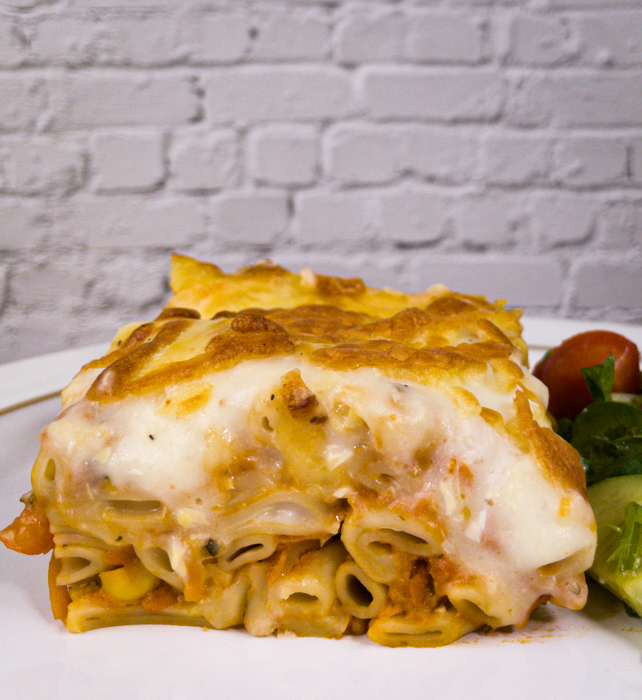 This dish takes a little longer in prep time, but it's a perfect dinner party meal as it needs 40 minutes in the oven. Time to open that bottle of wine and have a catch up!
Pastitsio is a popular dish in Greece. It was originally based on the Italian dish 'pasticcio', but has evolved into a Greek dish in its own right. Pastitsio is a baked pasta dish, a little like a Greek version of lasagna, but using pasta tubes instead of sheets. Often created with mince meat and béchamel, my Pastitsio with Vegetables stays completely vegetarian, leaving it a little lighter and also, in my opinion, more flavoursome.
This is a great dish to serve up to your guests, because it's easy to bake and serve, without abandoning them for the kitchen. It spans the seasons, as it is hearty enough to work as a wintery main course but also works, served with a side salad, as a summer main.
Giouvarlakia
Giouvarlakia, or meatball soup, is the recipe I turn to when I really want to give my guests a taste of Greece.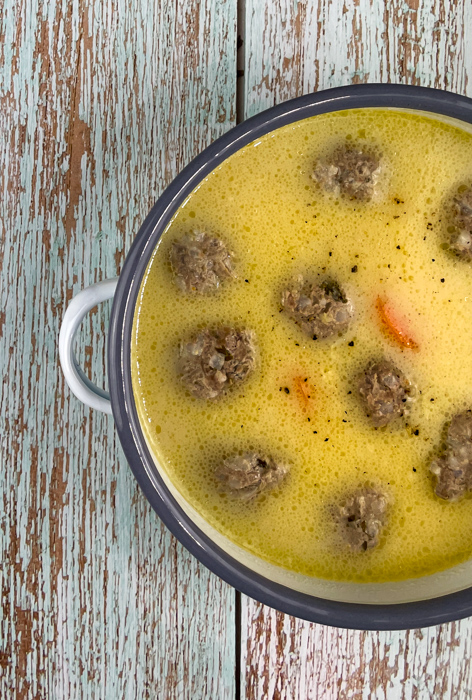 Avgolemono, an egg-lemon sauce, is such a specifically Greek flavour, to me (although egg-lemon sauces are also found in Arab, Sephardic Jewish, Turkish, Balkan and Italian cuisines), and never fails to surprise and delight.
My Giouvarlakia Meatball Soup has a few steps just before serving, but all the 'hard work' can be done in advance and simmered for 40 minutes, before a final 'finishing touch' of adding the avgolemono just before serving.
Also called 'Youvarlakia' this meatball soup is hearty and delicious, and is another meal that works year-round. The meat and warm broth makes for a satisfying winter supper, but that lemony edge means it can suit all seasons. Definitely make a generous amount, as if your guests are anything like mine, you'll find plenty asking for seconds!
Serve with a bowl of crusty bread to dip in, and you have a really tasty yet relaxed meal to introduce your guests to Hellenic flavours.
Roasted Lemon Chicken with Potatoes
Roast chicken is a cross-cultural classic, isn't it?! Almost every cuisine has it's own take on roast chicken with vegetables. Whilst the British version likely features mash and gravy, my version features herbs & spices, bell peppers and lemon.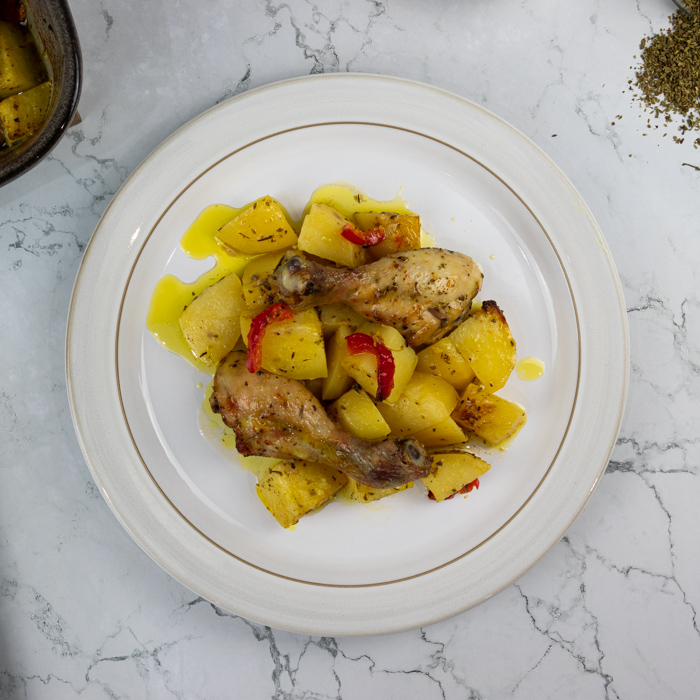 My Roasted Lemon Chicken with Potatoes recipe is great for a family Sunday lunch, or for a satisfying meal with guests. The last hour is plain sailing, with the chicken in the oven, so you can relax with your family and friends too. Serve just as-is, or fill the table by adding some crusty bread (you'll want to mop up any juices!) and a fresh green salad.
This is a fresher, more modern take on the roast dinner, but is just as satisfying. Once again this is a year-round option, as roast chicken and roast potatoes will satisfy on even the darkest, coldest winter days, whilst that edge of brightness from the lemon mean it's also the perfect lunch for a sunny afternoon in the garden (perfect with a glass of white wine, in my opinion)!
Do you have any go-to recipes that put a smile on your guests' faces every time? Do share if you do, I always love to hear other people's favourites! And get in touch if you try any of the recipes above - let me know how it goes!