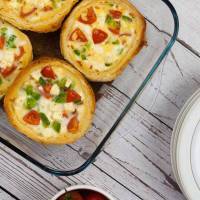 Baked Brioche Egg Cups
4

servings

30 mins
179 kcal

NF

VE
This delicious baked brioche egg cups recipe is a perfect option for breakfast on the go. Sometimes on busy weekday mornings, getting everybody ready in time is a real challenge! Knowing that if time escapes us I can give my daughters one of these as they run out of the door just takes away some of the stress. These breakfast egg cups are super easy to make (and to takeaway), and make for a satisfying, wholesome breakfast. Mix it up if you like, adding pancetta, different types of greens, herbs or spinach, for example. Whatever suits you and your family!
Packed with protein, similar to my omelette muffins, I just love an easy breakfast solution that is filling, substantial, yet easy to eat on the go, too. Knowing that their breakfast on-the-go (and mine!) can contain a couple of veggies and energy-packed eggs makes me feel I've given them a good, healthy start to their day.
Tips
Removing the crumb depends on the size and brand of the brioche buns. There should be enough crumb to allow you to shape them into cups and be thick enough so the eggs don't run out.
Add a piece of baking sheet under the brioche buns to avoid eggs running out of the cups and making them stick on the tray.