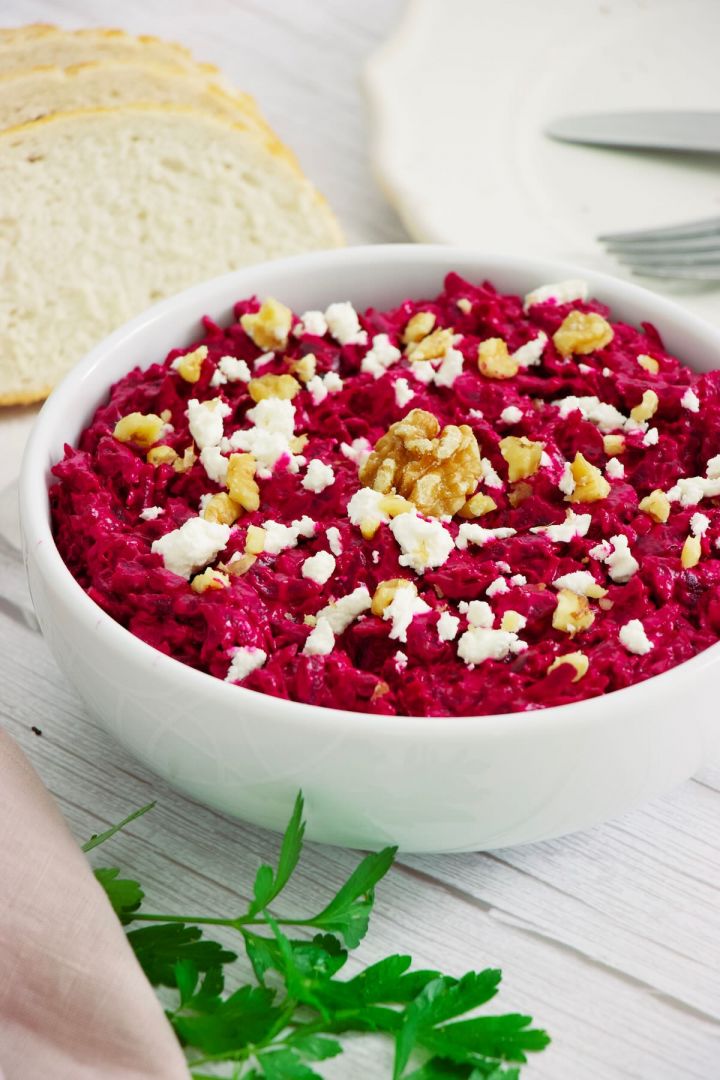 Greece is known for its tasty vegetables and beetroots are no exception. Despite the funny colour, your tongue might get, I love having them in any way possible! My daughters also enjoy eating these healthy roots with me which just makes it all worthwhile.
A simple method of preparing beetroots is to boil them until soft, then peel and cut them into large chunks. Drizzle them with high-quality Greek olive oil and you've got a great side for almost any meal! This is a great way to enjoy the natural sweetness of beets without sacrificing any flavour. However, when we combine the words beetroot and salad in my family, we're talking about something quite distinct. A lot more delicious and capable of going with anything on the plate!
In Greek, it's called "Patzarosalata". It's a pretty common appetiser that you'll find in most Greek restaurants and while the Greeks consider this dish to be salad rather than dip or spread; I would happily have it with crackers or a thick slice of sourdough! This simple beetroot salad is made with finely grated beets mixed with olive oil, vinegar, mayonnaise and garlic. In my version, I substitute some of the mayonnaise with Greek yoghurt because I like its tanginess and to make it a little bit healthier.
Sprinkle crumbled feta cheese and a handful of crushed walnuts on top of the dish to add more saltiness and flavour. The feta and walnuts, while not part of the original recipe, add an interesting twist to this vegetable combination. This Patzarosalata recipe is incredibly easy to make, and it's guaranteed to impress everyone with its vibrant colours and beautiful presentation!
Tips
For a delightful crunch and an elegant look, top your dish with some chopped walnuts.
When preparing beets, it's preferable to wear gloves so you won't get stained by their colour.
Directions
You will need about 40 minutes to make 6 servings of this recipe, which has approximately 137 calories each. Make sure you have all the ingredients and follow these 6 simple steps. If you have any questions, send me an email and I'd be more than happy to help!
Watch it step-by-step!
As the school season started and I began to miss the warm weather and all the delicious food we had in Greece, I decided to make one of my favourite dishes - Patzarosalata.