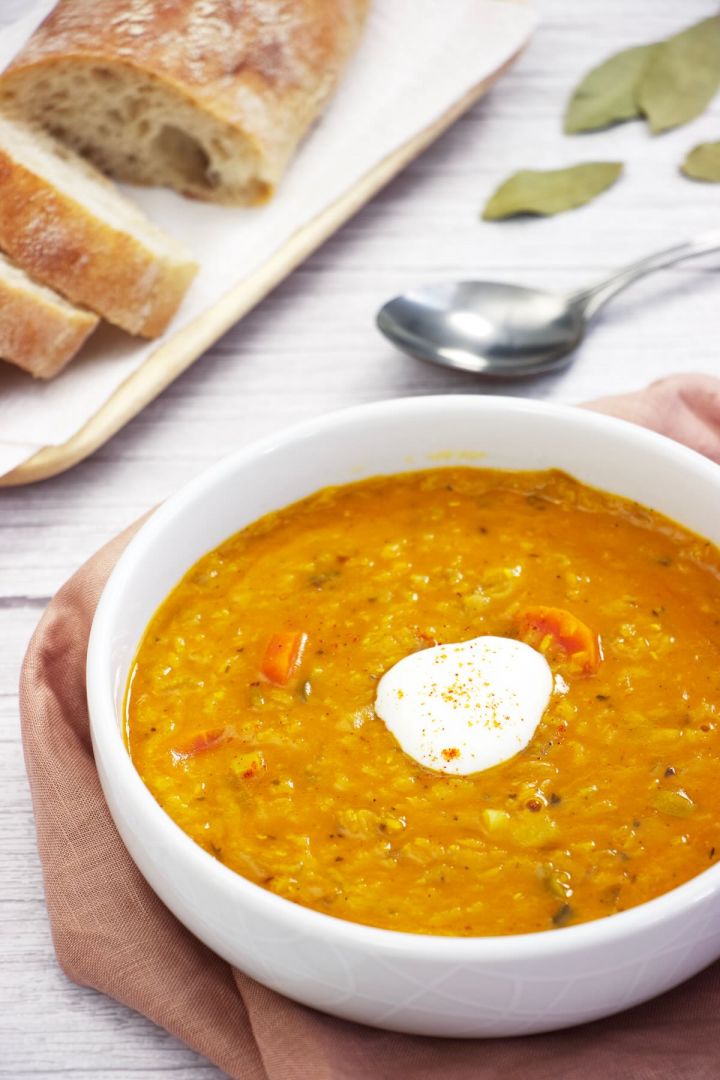 This recipe is the perfect antidote to the January blues. Full of veggie goodness, as well as the anti-inflammatory powers of turmeric, garlic, leeks and onions, it has the heartiness of lentils and that edge of warmth, from the chilli, which come together to create a 'hug in a mug', as the famous soup advert once said!
This sort of recipe is perfect in a thermos flask to accompany you on a chilly walk, or in your kids' pack ups - you can be sure they're getting at least 3 or so of their '5 a day' target, and will be satiated for the rest of the day with the slow, constant stream of energy released by the lentils. It's a recipe I often turn to as a midweek dinner through January, too - served alone, or with a hunk of bread and a piece of cheese, this recipe is everything I feel like I need to warm the soul after a grey, drizzly, dark day! It's quick to create - it really only takes a little bit of chopping - and is so worth every moment you spend on it. For a different, smooth texture, try blending all of the soup, or blend none of it and eat it more as a lentil stew. We prefer this half-and-half mixture, which creates a chunky soup. The choice is yours.
Tips
If you don't have fresh vegetable broth, use a vegetable stock cube by dissolving it in boiling water (1 cube for every 450ml water).
Directions
You will need about 30 minutes to make 4 servings of this recipe, which has approximately 332 calories each. Make sure you have all the ingredients and follow these 5 simple steps. If you have any questions, send me an email and I'd be more than happy to help!
Watch it step-by-step!
This warming winter Lentil Soup is one of those recipes I almost consider to have medicinal properties. Do you know what I mean? The combination of ingredients here makes for a soup which does you so much good - and feeds your soul, at the same time!