Wondering what you should cook to best accompany your Greek recipe? Just as in the UK fish would be lost without chips, there are many Greek dishes that wouldn't be what they are without their accompaniment!
My top 5 Greek side dishes are a little more flexible than the 'fish & chip' example above, though. Although some work best with some dishes and some with others, these five accompaniments are my 'go to' sides for any and all Greek savoury dishes! I hope this list is useful - the measurements are based on quantities to feed a family of 4 as a side.
Top 5 side dishes to accompany Greek recipes:
Turkish rice
Turkish rice, or Turkish pilaf, is what we call this side dish. A mixture of toasted orzo and rice, this popular Rhodes side dish results in a slightly nutty, textured rice dish, which is a great accompaniment to main dishes, and mixed into salads.
Greek recipes that go with Turkish rice:
Nutty-flavoured Turkish rice is a nice alternative to plain rice, to accompany my juicy chicken with veggies recipe, and it also goes well with my soutzoukakia (Greek spiced meatballs) recipe, as an alternative side dish to mash or plain rice.
Ingredients
1 cup long grain rice
½ cup orzo
the peel from half a lemon
3 cups warm water
1 tbsp olive oil
vegetable stock
Method: Add olive oil in a pan, sauté the orzo while stirring constantly until it becomes golden. Add the rest of the ingredients and the warm water, stir, and let them cook, covered, for 15-18 mins.
Couscous with Vegetables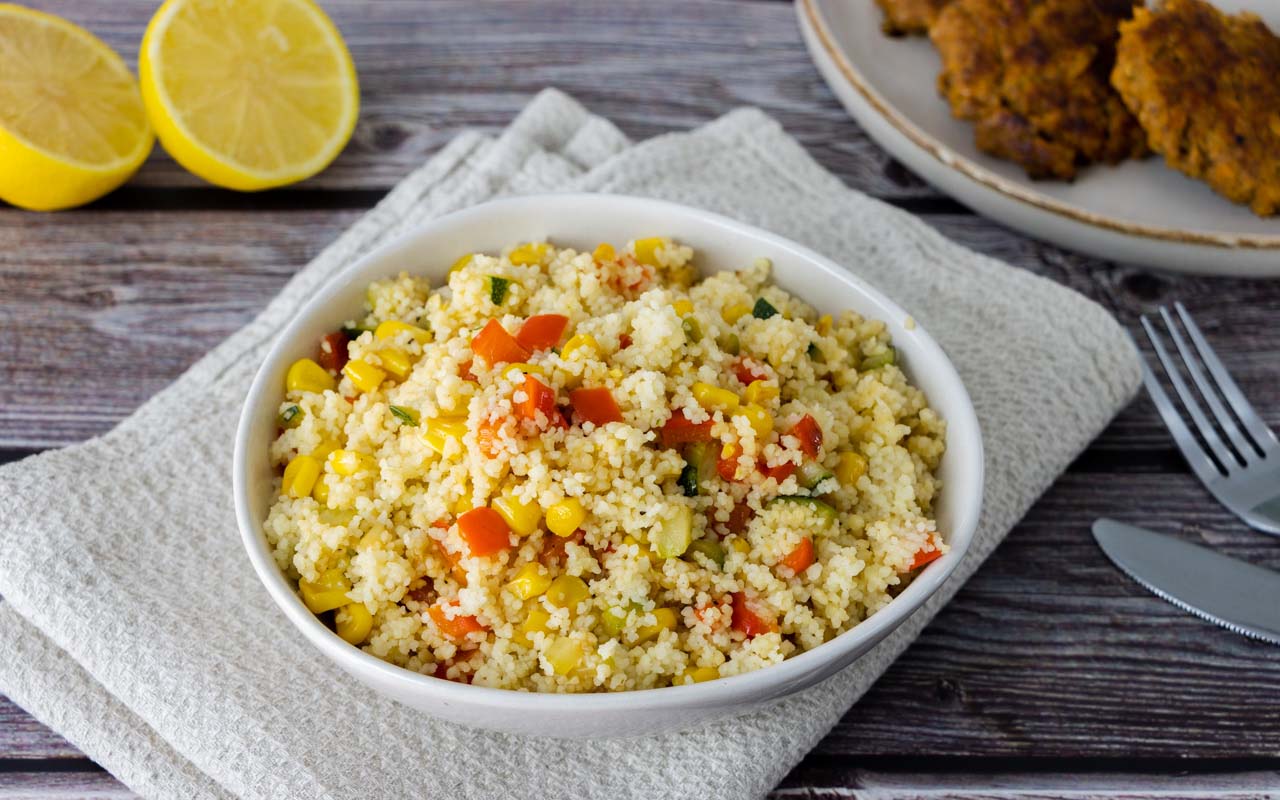 Couscous is a pasta that looks like a grain! Originally North African, it pairs well with tagine-style dishes of slow-roast, spiced meats and vegetables, as well as being stirred through salads to bump them up. This recipe has lots of veg in it too, making it a great side dish alternative to mash or rice if you want to get some healthy goodness in.
Greek recipes that go with couscous with vegetables:
Use couscous with vegetables as a healthier alternative to mashed potatoes to accompany my wine-infused burger patties, or have it as a tasty accompaniment to my honey orange glazed salmon.
Ingredients
1 cup couscous
boiled water
1 tbsp olive oil
½ cup sweetcorn
1 bell pepper
1 zucchini/courgette
salt
pepper
Method: Add couscous to a bowl with just-boiled water (enough to cover the couscous) and a teaspoon of salt. Cover it, and let it sit for about 10mins. Chop all vegetables into small pieces, add a pinch of salt and sauté them in a pan with olive oil for approximately 10 minutes. Once both the couscous and the vegetables are done, mix them and enjoy.
Tip: Couscous is a great midweek saviour as it cooks up in no time at all! It is also quite plain on its own, but brilliant at sucking up flavours, so feel free to sprinkle some spice, a squirt of lemon or a sprinkle of vegetable stock, into the boiling water to flavour your couscous.
Basmati with vegetables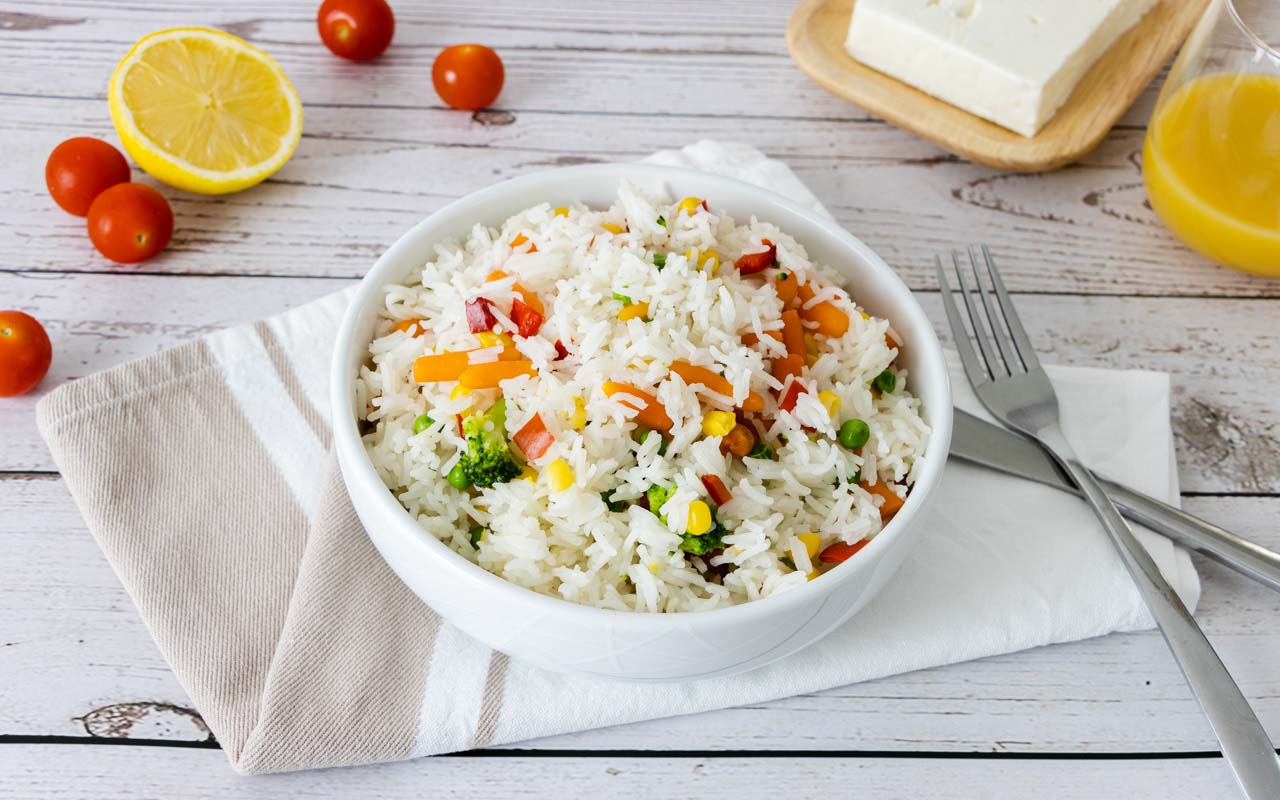 Basmati or long-grain white rice is called νυχάκι (Nuhaki), pronounced neeh-HAH-kee, in Greek. Cook it plain, or as suggested here as an accompaniment to so many traditional taverna-style Greek dishes.
Greek recipes that go with basmati with vegetables:
Try basmati with vegetables as an accompaniment to my creamy garlic chicken recipe for a satisfying midweek meal, or use it with meatballs, or my soutzoukakia recipe, to soak up those juices!
Like the couscous with vegetable above, it's the perfect packed lunch alternative. Line your tupperware with a handful of salad leaves, add your basmati with veg, include any further veg you'd like (I often stir through some chopped tomatoes at least), drizzle with a little olive oil, and top with feta, if you like it, and some chopped herbs (dill is lovely here, but anything you fancy will be nice).
Ingredients
1½ cup basmati
1 cup frozen vegetables
warm water
1 tsp salt
Method: Rinse the basmati under cold water. Half fill a pan with water and bring it to the boil. Add a teaspoon of salt and the basmati and simmer for 10 minutes. Once done, strain the basmati and set aside. Add olive oil in a pan and sauté the frozen vegetables for approximately 10 mins. Once done, mix it with the basmati and serve.
Tip: When your rice is cooked, don't stir it with a spoon, as it will tend to stick together! Instead, run a fork around lightly to loosen the grains before you serve.
Greek oven-roasted chips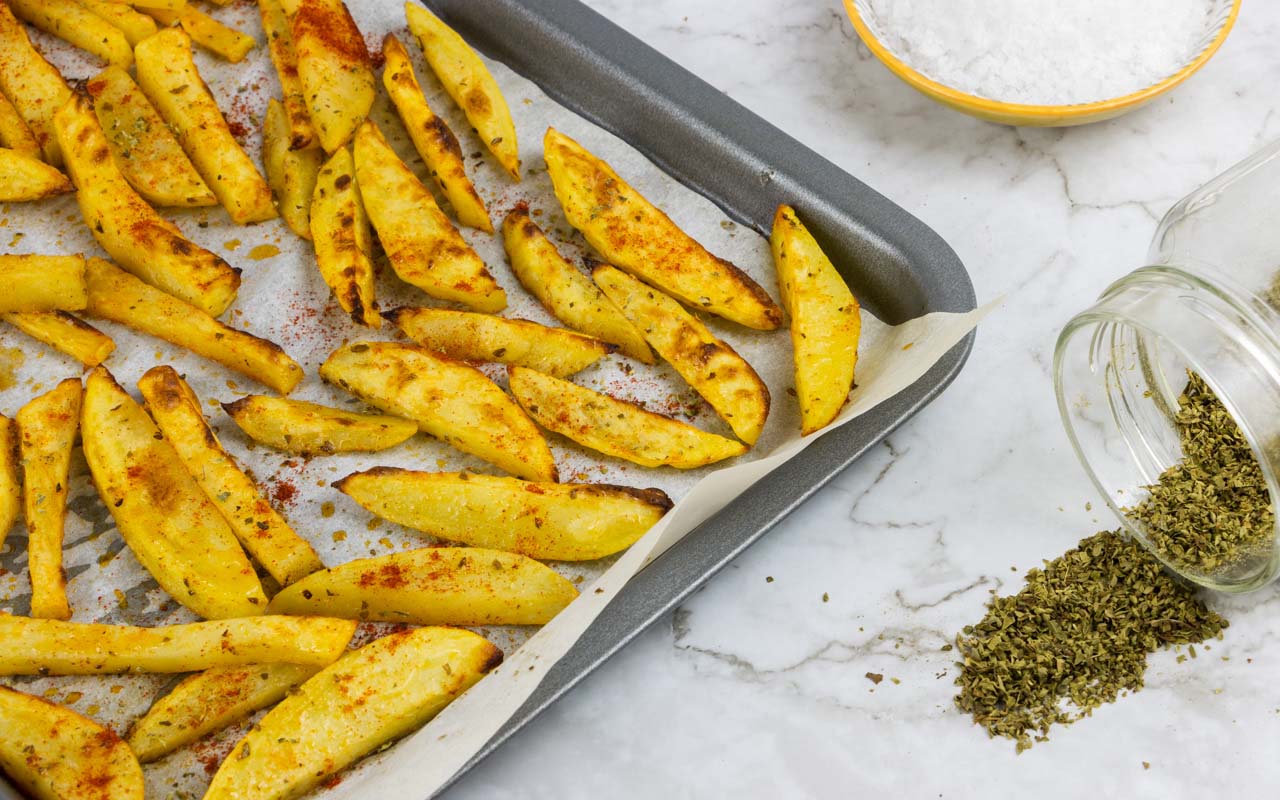 Chips are a pleasure in our family. They're a special occasion treat usually when we go out - but these oven-roasted chips are a treat without the hassle and calories, as they are oven-baked not deep-fried. They work with exactly the same dishes as regular chips, but without any guilt!
Greek recipes that go with oven-roasted chips:
Try oven-roasted chips with a steak, or my wine-infused burger patties, for a family-friendly treat night or date night for you and your partner. Alternatively, a simply cooked fillet of white fish (I like to bake it in tinfoil with a tbsp of olive oil, spritz of lemon and a sprig of thyme) is made into a real Friday night favourite with some oven-roast chips on the side.
Ingredients
4 medium sized potatoes
salt
oregano
olive oil
sweet paprika
garlic powder (optional)
Method: Slice the potatoes into thin strips and place them in a bowl. Add the olive oil and the spices and mix them well. Spread baking paper on a tray, add the potatoes, and bake them in a preheated oven at 400ºF/200ºC/Gas Mark 6 for about 20 minutes.
Oven-baked potatoes or Πατάτες οφτές (Patates Oftes)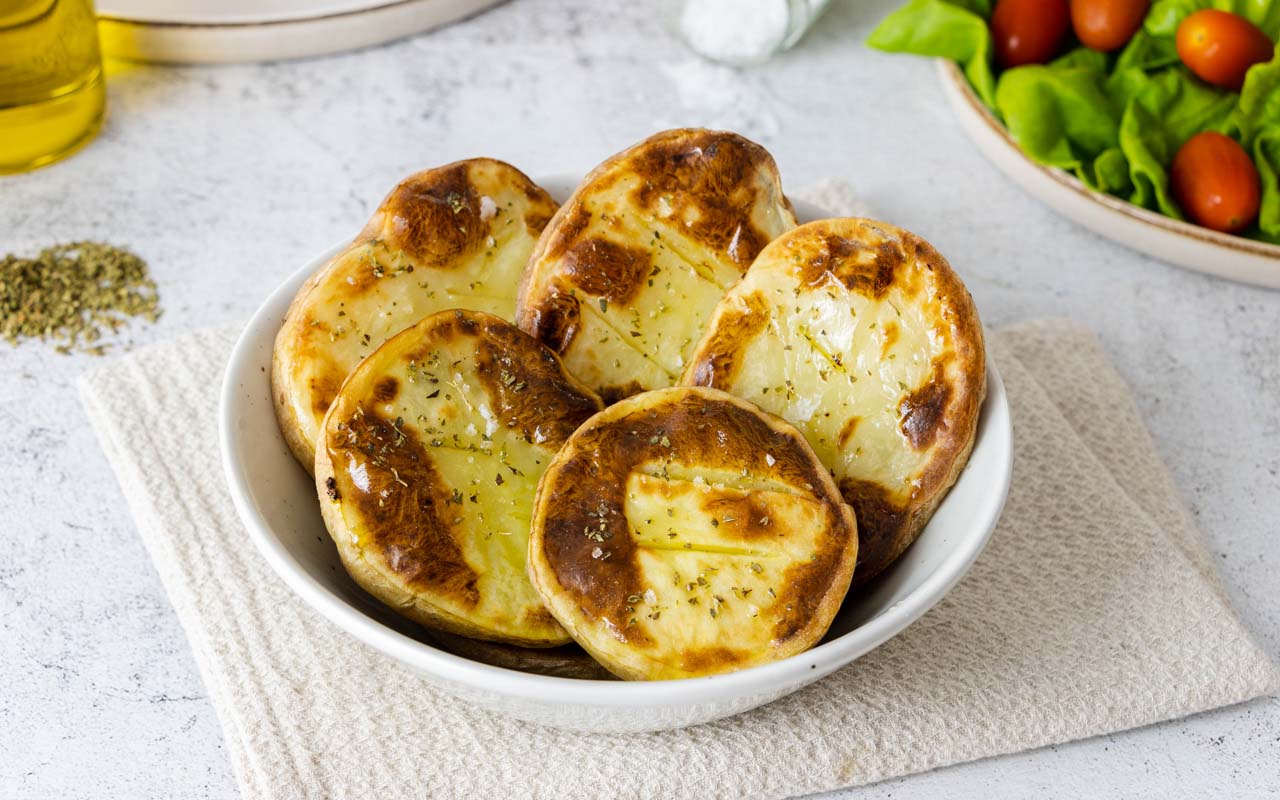 Perhaps the most unusual side I list here is Patates Oftes. These are one of my favourite traditional Greek accompaniments; in fact I could sit and eat a whole batch of them, forget the rest of the meal! They are sort of a mixture of a British jacket potato and a stuffed potato skin, but with simply the flavours of olive oil, oregano, and salt to complement the potato.
Greek recipes that go with oven-baked potatoes:
Grab some rotisserie or freshly-roasted chicken, with a dollop of good mayonnaise and a fresh green salad, and these Patates Oftes are the perfect accompaniment! They work alongside any roast meat, such as lamb, or try with my creamy garlic chicken for an indulgent lunch.
Ingredients
4 large potatoes
olive oil
salt
oregano
Method: Preheat the oven to 250ºC in grill mode. Wash the potatoes very well - I usually use a sponge or brush to make sure all of the dirt is removed - and cut them in half, longwise. Bake for 30 mins, cut side facing up, and cook until they are soft in the middle. Right before serving, use a knife to pierce the top and drizzle on the olive oil, salt and herbs.
I hope these five Greek side dishes will be useful accompaniments to all your fooodlove Greek recipes and give you inspiration to create your own too! If you sometimes struggle to think what to pair your dish with, get in touch! I'd love to hear your suggestions, and would happily recommend the sides I'd opt for in your recipe!