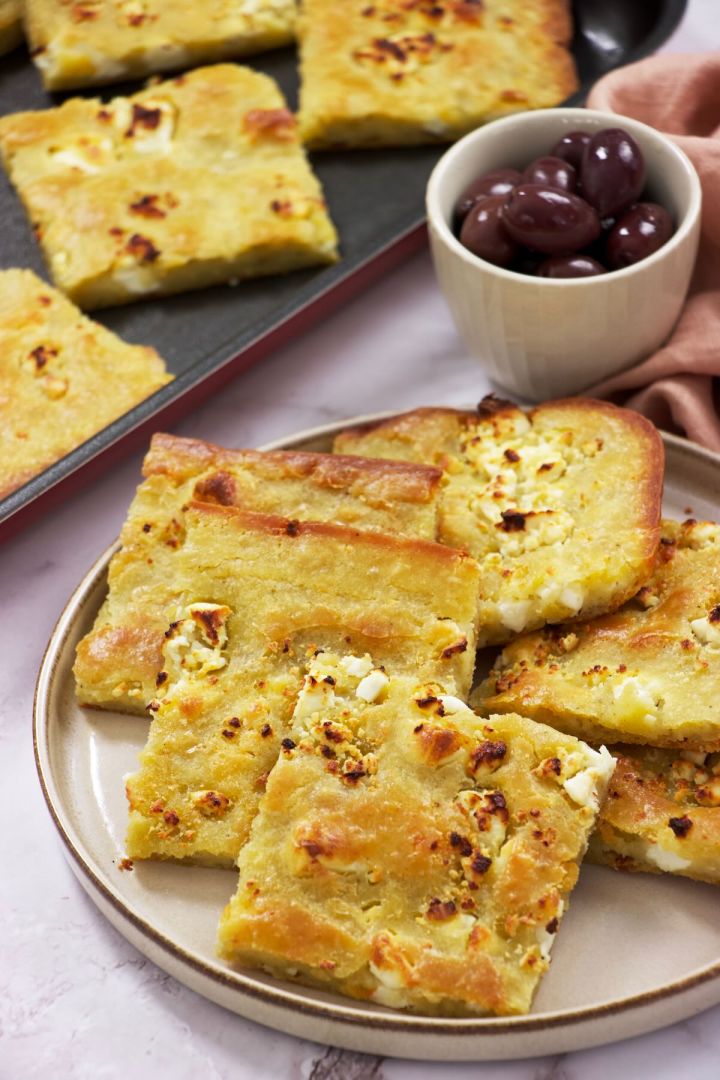 This simple and tasty feta pie is best straight from the oven, while it's still crisp-edged, buttery, and warm. It's a lazy pie; just a simple batter dotted with feta, which turns out the most mouth-watering results. It's the kind of cooking I sometimes need - when you know you haven't got much energy, but you really want to create something tasty, satisfying, and homemade. It's a great 'first pie' or 'first pastry' for a new cook, too, as there are so few steps to consider. It depends on your larder, but as big feta fans in my household, this is basically a store cupboard pie, as I will always have the ingredients in my cupboards and fridge for an Alevropita!
The name translates as 'flour pie', as you just make a simple batter and dot this with feta and butter before baking. It's important to follow step one, and get that tray into the oven before you start the recipe (though keep an eye on it, as you don't want the fat getting too hot and burning) - because it's that contact with a hot tray immediately that makes sure the thin batter gets a hit of heat from the start and creates those all-important crispy edges. This is a recipe that's great at any time of day; a quick and easy breakfast, or a tasty lunch served with a side salad. For me, it really comes into its own as a quick mezze to make to add to a table when you have guests coming around!
If you haven't noticed already, we have a soft spot for Greek pies. This Alevropita is probably the laziest one to make and the easiest! If you want to try something a bit more unusual, have a look at my vegetarian bulgur pie with filo or if you crave the extra carbs, the Makaronopita (Greek pasta pie) will definitely make you drool! No matter what your preference, there's a Greek pie out there for everyone to enjoy.
Tips
Once you cut the pie into servings, store it in an airtight container where it will last 2-3 days.
Directions
You will need about 1 hour to make 16 servings of this recipe, which has approximately 316 calories each. Make sure you have all the ingredients and follow these 7 simple steps. If you have any questions, send me an email and I'd be more than happy to help!
Watch it step-by-step!
Alevropita, or thin-battered feta pie, is my go-to lazy day bake. You know the days I mean? When you really want to spend just a few short minutes in the kitchen, but return with something homemade, tasty, and satisfying.