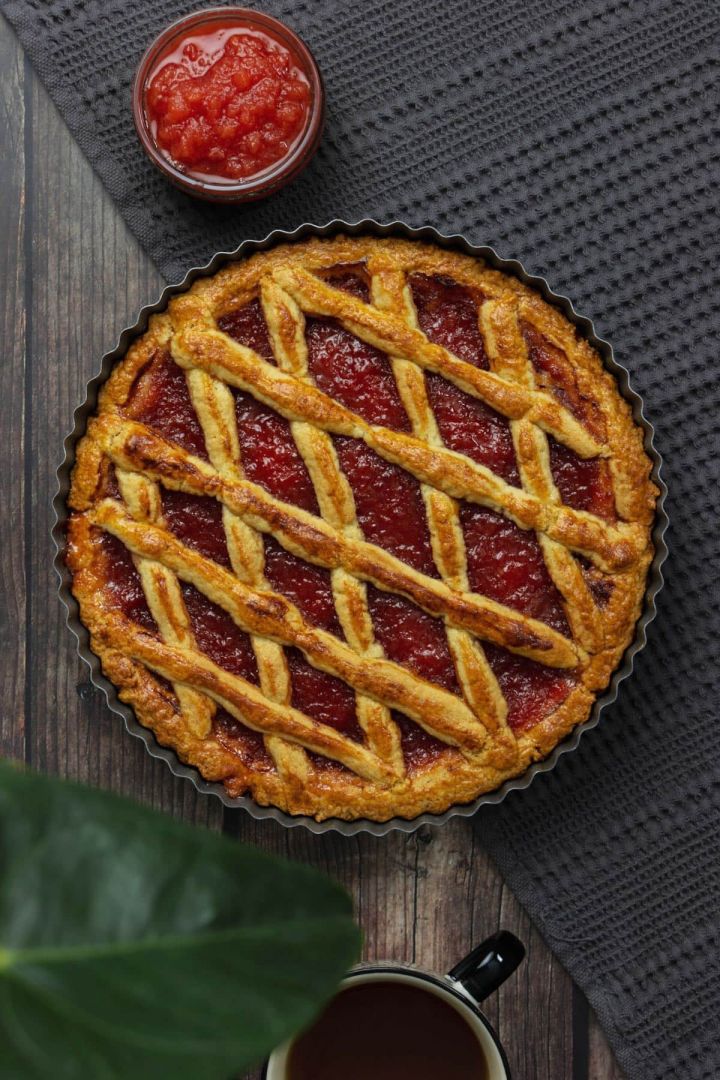 This traditional Greek jam tart recipe, known as Pasta Flora, is a real childhood favourite for many. I didn't actually try it until I visited the remote island of Ikaria, my father-in-law's birthplace. To this day I get so excited when the postman delivers us the occasional box full of my father-in-law's homemade Ikarian jams, reminding me of the natural bounty of that island!
My husband's aunt can make a Pasta Flora in a matter of minutes - so it's a recipe I had to master! It's a brilliant dinner party dessert, but it's so easy you could make it everyday (but beware, if you make it everyday it gets eaten everyday! At least by my children, who seem to never tire of it)! This is the perfect recipe for when you have a glut of jams, too - here, I used the deliciously fragrant quince jam my father-in-law sent. Good quality jam is a must for this recipe.
Tips
It's possible that once all ingredients are mixed, the dough could be a bit more crumbly than needed. If so, just knead it slightly in a floured surface before you refrigerate.
Once baked, let Pasta Flora cool completely for the jam to firm up before you serve.
If you end up with an excess of dough, shape them into small biscuits and bake them for 20 minutes at 170º C.
A mixer will speed up the process but this is a dough that can also be made without one. Just use a large bowl and mix everything up by hand.
Directions
You will need about 1 hour 20 minutes to make 8 servings of this recipe, which has approximately 481 calories each. Make sure you have all the ingredients and follow these 11 simple steps. If you have any questions, send me an email and I'd be more than happy to help!
Watch it step-by-step!
Pasta Flora makes me think of sunshine, even when there isn't any! Is there anything more delicious than the floral scent of soft-skinned quinces in a bowl? Or strawberries, warm from the sun? I love those days of summer bounty, and love it even more when that fleeting delicacy can be captured in jam form, to enjoy year-round!