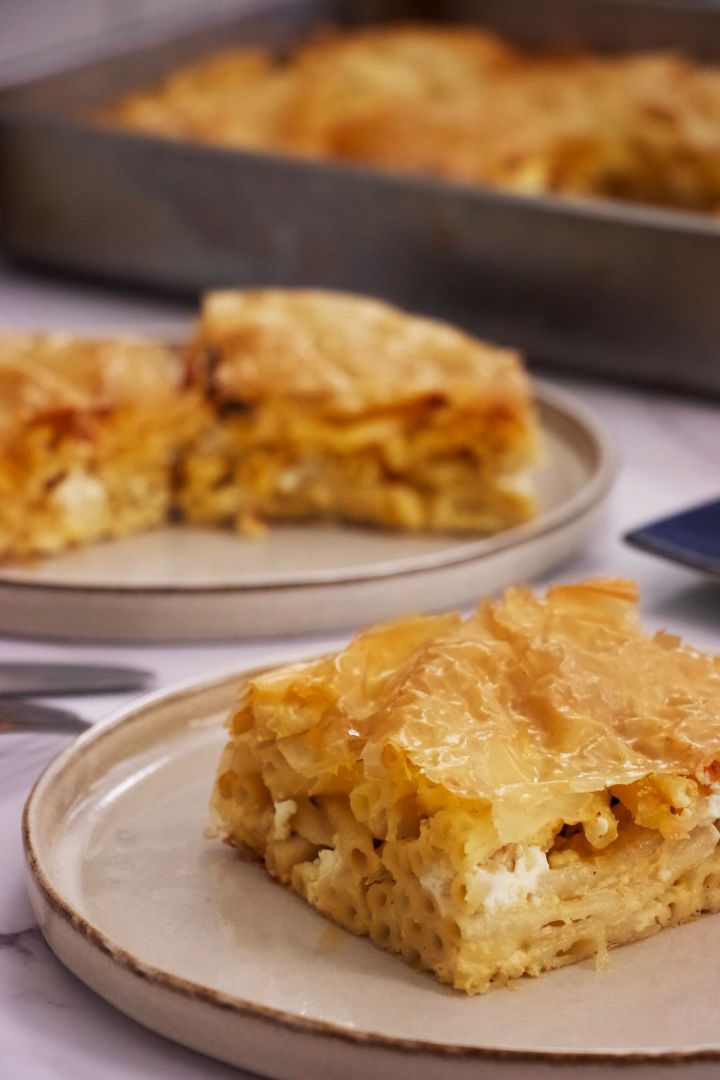 Sometimes indulgence is the only way forward, and this carb fest is a real treat! Makaronopita, or Greek pasta pie, uses indulgent pastry, pasta, evaporated milk and feta cheese to ensure no stone is left unturned on your journey to the ultimate in comfort food!
You can use any type of pasta with this really, but the ones that work best are the small tubes called pasta for pastichio, or pastitsio, in Greek. It's almost like a hollow spaghetti. But bucatini, macaroni, gomitini, or maybe a small rigatoni at a push, will work too! Using spaghetti emulates the longer strands but without that hollow centre, so makes for a Greek spaghetti pie would be much denser. The idea is to keep the pie full of air with the tubes, but also rich with that baked cheesy sauce. Makaronopita with filo on top is the ultimate in texture contrast too, as the soft pasta contrasts so well with the crunch of the crisp filo. That's why I suggest cutting your pie into portion sizes before you bake it - otherwise you'll shatter the filo when you try to serve it, and there's nothing nicer than breaking that crisp top yourself! Serve up this Greek pasta bake with a nicely dressed side salad for lunch or dinner (I love it with a zingy lemon dressing), or help yourself to an indulgent slice when those hunger pangs hit, mid-afternoon! This is cold weather comfort food, at its best.
Tips
To make a more flavourful (but not vegetarian) spin on this dish, add ham and cheddar.
The more sheets of filo you use, the crunchier your pie will be. To make a crispier crust, add up to 5 sheets at the top and bottom of the pie. Be sure to brush each sheet with olive oil before adding it to the pan.
Directions
You will need about 1 hour 10 minutes to make 12 servings of this recipe, which has approximately 486 calories each. Make sure you have all the ingredients and follow these 10 simple steps. If you have any questions, send me an email and I'd be more than happy to help!
Watch it step-by-step!
Greek Pasta Pie, known as Makaronopita, is the ultimate in comfort food. This is food for the soul (and the waistline!), which is sometimes exactly what I need during these dark and drizzly British winter days!