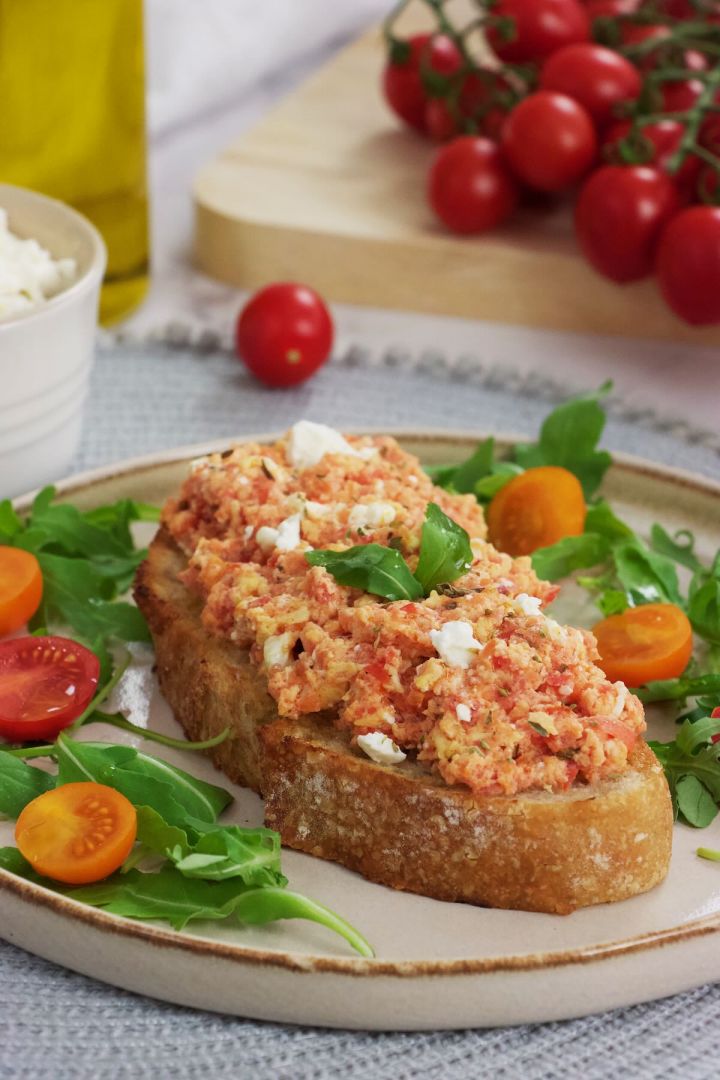 Eggs are pretty synonymous with breakfast at our house. Boiled, poached, fried, scrambled - we love them all. But even more so, I love to serve up the Greek breakfast recipes I miss from home, and Strapatsada (or Kagianas) is certainly one of these.
It's similar to Shakshuka, but with a few key differences. First, the eggs are completely scrambled and combined with the tomatoes in this recipe. Second, there's less sauce and it is commonly served with a thick slice of bread. Regardless of how it's served, Strapatsada is a delicious and hearty dish that's perfect for breakfast or brunch.
I remember this made with tomatoes picked fresh from a sunny garden, for a light and flavoursome summer breakfast served up under the hot Greek sun. In the UK we enjoy it all year round, but it really puts a smile on my face when skies are blue and the sun is out. Basically, a Greek version of scrambled egg, with tomato, feta and oregano, this Strapatsada recipe could also work with a salad as a light lunch or dinner.
Tips
Because feta cheese is already salty, use less salt to avoid making the dish too salty.
To serve, cut a thick slice of sourdough and drizzle with olive oil. Cook the bread in a pan for a couple of minutes to soften it, then add the Strapatsada on top.
Directions
You will need about 20 minutes to make 2 servings of this recipe, which has approximately 377 calories each. Make sure you have all the ingredients and follow these 5 simple steps. If you have any questions, send me an email and I'd be more than happy to help!
Watch it step-by-step!
The eggs are almost synonymous with breakfast. However, we have many ways to cook them and they can be found on our dinner table as well! A traditional dish from Greece called Strapatsada (or Kagianas) is a perfect way for those who love enjoying an easy meal- both at home or out in the sunbelt.