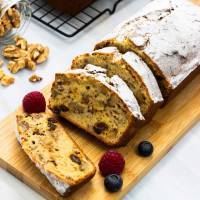 Dried Fruit and Nut Loaf
20

slices

55 mins
277 kcal

VE
This Dried Fruit and Nut Loaf is a perfect British 'tea time' treat. Served up with a lovely cup of tea on a grey and drizzly afternoon, it will put a smile on anyone's face! This dried fruit and nut bread recipe is, like banana bread, truly more of a cake - although I'm not averse to a slathering of butter on my slice, and I always feel, however untrue it is, that calling a cake 'bread' somehow takes away some of the naughtiness!
A no yeast bread with dried fruit is surprisingly versatile. We enjoy it as a sweeter breakfast treat, swapping out toast, a croissant or a hot cross bun for a nice slice. I also wrap it up and add it to my daughters' packed lunch boxes. I'll always make sure there's a good portion left for afternoon tea though - in the mid afternoon with a cup of tea or coffee, it's a great excuse for a ten minute sit down and a little time to yourself. This loaf cake is truly one of those great hybrid bakes that functions as both breakfast treat and afternoon tea indulgence. It's a quick and easy recipe that has a distinctly warming, seasonal feel due to the aromas of cinnamon and orange that emanate from the oven whilst it cooks…it's an Autumn staple in our house!
Tips
Avoid using a mixer. Mix by hand and do not over-mix.
Do not use oil or butter in your loaf tins. Just make sure they're non-stick and let the loaf cool off before removing it.