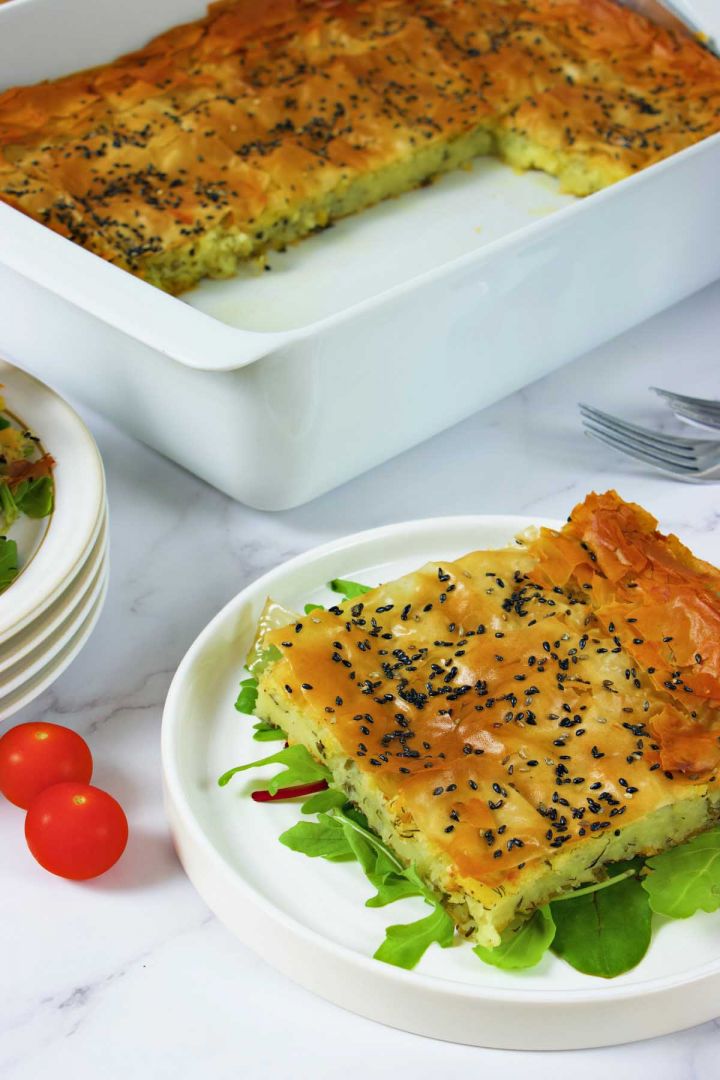 This vegan filo potato pie is a brilliant crowd-pleaser. Any vegetarian filo pie is a hit with me, as a veggie myself, but I love to have lots of vegan recipes in my arsenal to make sure I can feed all of my guests equally well. Filo pie is a brilliant use of filo pastry, which is very popular in Greek cuisine, and so versatile. Any Patatopita recipe (that's potato pie in Greek!) has to be topped with that filo crunch, and then have a rich centre. Serve this eggless potato pie with a side salad for a lighter lunch, use it as a luxurious side to a bigger meat, or veggie, main dish, or make a big dish and cut into smaller pieces, for brilliant party mouthfuls!
Adding leek, and going for a potato and leek pie, is another option which is really lovely come wintertime, and a little bit of an alternative to the classic potato and onion pie that's so classic in the UK. This potato filo option has all of those Greek flavours, imparted by the dill and parsley, and the sprinkle of sesame on top adds both that Greek nuttiness and of course a range of essential nutrients and vitamins, like phenolic antioxidants, minerals and protein - all vital, particularly to a vegan diet.
Tips
The filo pastry must be allowed to sit at room temperature for approximately 20 minutes before using it.
While working with the filo pastry sheets, keep a kitchen towel handy to cover the ones you're not using. If you don't, they can become dry and unusable.
Directions
You will need about 1 hour 30 minutes to make 6 servings of this recipe, which has approximately 335 calories each. Make sure you have all the ingredients and follow these 9 simple steps. If you have any questions, send me an email and I'd be more than happy to help!
Watch it step-by-step!
My patatopita recipe, a vegan filo potato pie, is a real hit with everybody, from sworn meat eaters to vegans. Served up with a side salad, it's the perfect warming Autumn/Winter lunch - for when I need something sustaining and tasty!