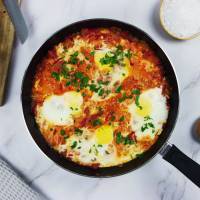 Mediterranean Style Shakshuka
4

servings

25 mins
227 kcal

GF

VE
This Mediterranean-style Shakshuka was actually thought out by my husband! He is not often found cooking, but he hit on a real win with this simple Shakshuka recipe when I was too tired and busy to cook one day, back in Rhodes. We call it Greek Shakshuka; I don't think that's a real thing, but he took the shakshuka ingredients and added Greek staples so that's what it became!
What is Shakshuka? Shakshuka is a popular dish originating from North Africa, which has been popular with the Israeli community and Jewish diaspora, bringing it to brunch menus across the globe over the past decade or so. Broadly, Shakshuka consists of eggs poached in a tomato sauce, with vegetables, herbs and spices. We love our roster of Mediterranean egg recipes, so we had to somehow work this popular North African dish into the Mediterranean canon! To do this we keep it simple - tomatoes, feta and egg are the primary tastes here. This is perfect for a light lunch or supper with a side salad, this is, however, a go-to brunch dish, served with a side of toast. It's a flexible recipe, too, so if you want to add a few herbs and spices, and even extra veg, be my guest. This is our recipe - feel free to tweak it until you have your own! We have this at least once a month for a comforting, sustaining and satisfying brunch.
Tips
If you don't like the chunks of onions and peppers and prefer a smoother texture, blend everything in a mixer before adding the feta cheese in step 3.