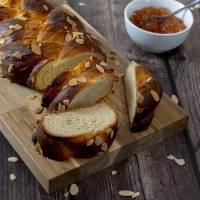 Tsoureki Greek Easter Bread
2

pieces

4 hr 10 mins
176 kcal

VE
Tsoureki is a traditional Greek sweet bread, customarily made around Easter, as the three braided strands signify the Holy Trinity. Sometimes it is cooked with a whole egg on top, or is stuffed with chocolate and/or chestnut - but I find my recipe below the most flavourful. We enjoy it year-round, not just for Easter, as it's the perfect mid-morning snack, enjoyed with a little jam or Nutella! This recipe is not complicated - but it does take a little time, as there are several steps and the dough needs time for leavening. Don't try to cook this in a rush - it's one to do when you have a spare morning. The result is worth every moment spent, I assure you!
This recipe really is distinctly Greek, and that's mostly down to two defining ingredients - mahleb and mastic. You may have to source these online or at a Greek deli. Mahleb is a beautifully aromatic spice, made from the seeds of a species of cherry (the Prunus Mahaleb). Mastic meanwhile is a chewy and refreshing ancient resin, derived from the Pistacia Lentiscus tree, grown on the Greek island of Chios. Mastic is the root of the English word "masticate" - to chew! (It's a very different type of 'mastic' to that which builders use here in the UK! haha)
Tips
The ideal flour for Tsoureki is rich in proteins and gluten, as that's what makes the dough elastic. You should use a very strong flour, ideally with 12% or more protein.
If you don't have a mortar and pestle, you can use a food processor to grind the mastic, but you should also add the mahleb to make grinding easier.
You can store Tsoureki by covering it with cling film and keeping it in a plastic container at room temperature for up to 5 days.
You can also freeze a completely cooled tsoureki by covering it with cling film and placing it in the freezer for 2-3 months. To defrost, remove the cling film and leave it at room temperature for a few hours.