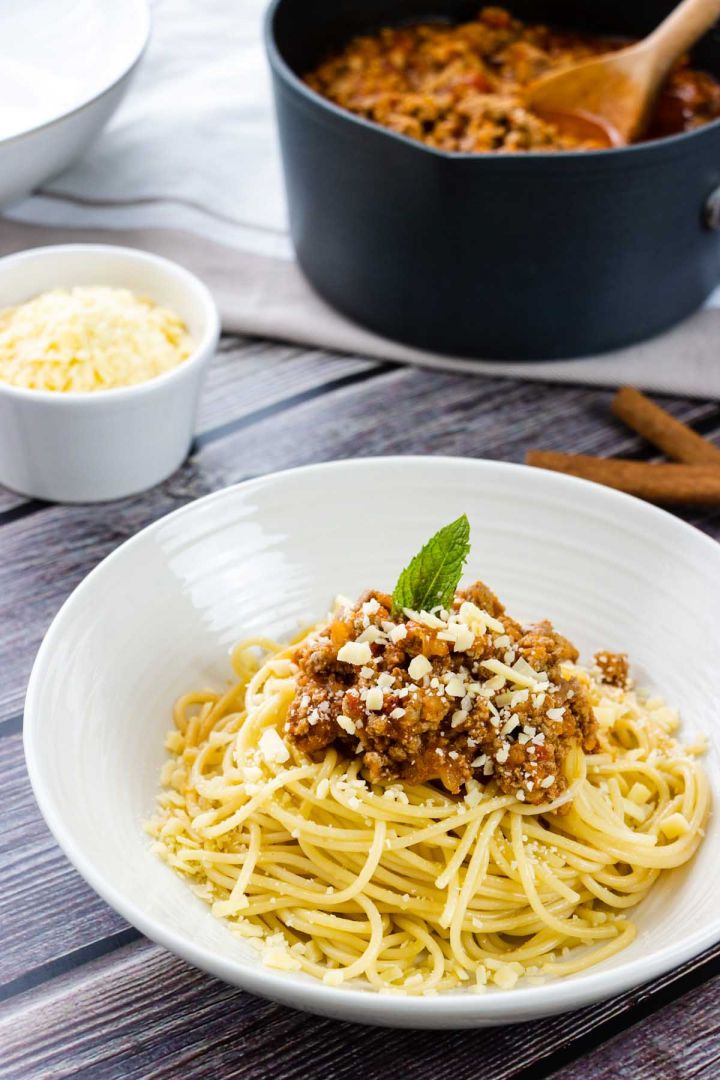 Ok, so my 'traditional spaghetti bolognese' is something you likely wouldn't see in Italy! Contrary to popular belief, Italians wouldn't eat spaghetti Bolognese - they would more likely eat tagliatelle with ragù. Tagliatelle or even pappardelle are great pasta choices here if you have them, as the thicker strands better pick up that meaty sauce. There is no definitive sauce from Bologna that qualifies as 'bolognese' either, and 'alla bolognese' is just one type of ragù sauce, of which there are so many.
However, anyone who lives in the UK knows that spaghetti bolognese has been adopted as an all-time British classic. It's certainly a family favourite for both my husband and daughters, and I've cooked it so often I can whip it up in a flash. What makes this different is the addition of the cinnamon stick - its soft spice works perfectly with the beef, and it creates the most mouth-watering smell whilst cooking!
So, next time you're in the mood for a hearty Italian meal, why not try my spaghetti bolognese recipe? It's simple to follow and always goes down a treat. And if you want to give your dish an extra special twist, add a cinnamon stick – you won't regret it!
You're a vegetarian? So am I! That's why usually when I make Pasta Bolognese for the family, I treat myself to some Mediterranean Pasta with Capers! I figure if they're going to have meat in their bolognese, the least I can do is enjoy a delicious vegetarian meal myself. 😉
Directions
You will need about 45 minutes to make 6 servings of this recipe, which has approximately 556 calories each. Make sure you have all the ingredients and follow these 7 simple steps. If you have any questions, send me an email and I'd be more than happy to help!
Watch it step-by-step!
My take on traditional spaghetti bolognese is a total family favourite at home; both daughters and my husband will come into the kitchen drooling when they smell that hint of cinnamon in this rich and satisfying sauce wafting around the house as it cooks!