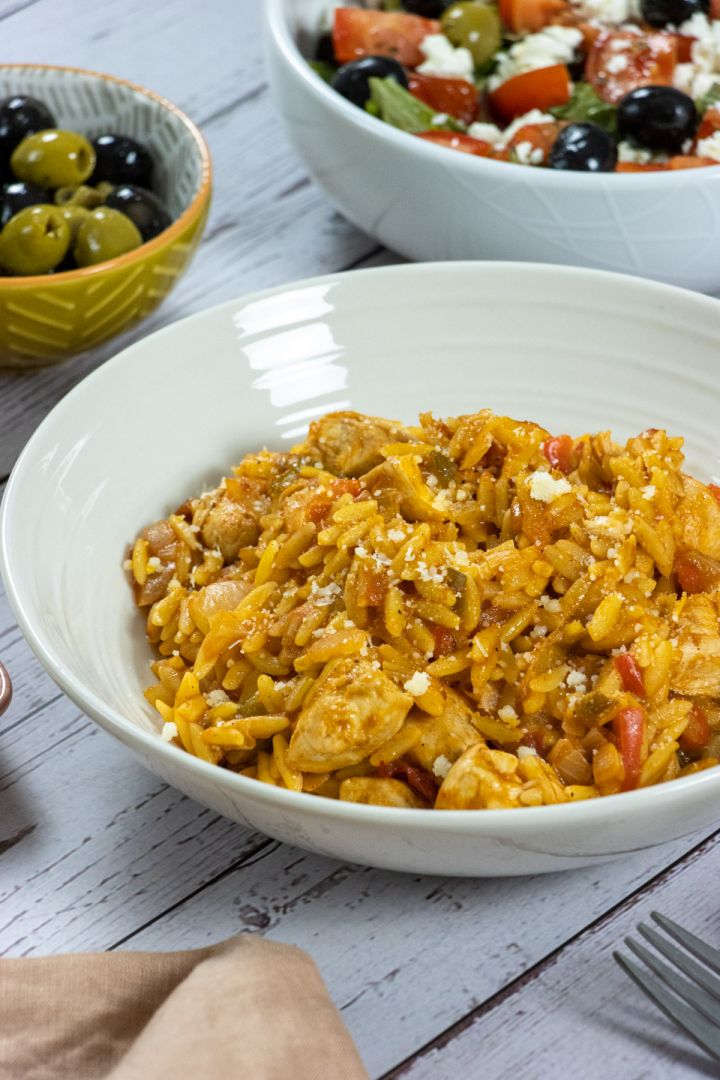 The smell of giouvetsi cooking is an experience I will never forget. This dish has been a tradition in my home country for centuries. Every time I smell it, it takes me back to my childhood on the island. It's always such a special feeling! Traditionally this dish is made by cooking chicken or beef with pasta in a tomato sauce over an open fire in a clay pot. Although I no longer eat meat, I continue to make this dish often because it's one of my family's favorites.
Giouvetsi is a dish made with beef, tomatoes, and pasta that is very popular in Greece. However, this dish was not always as convenient to make as it is today. In the past, families would prepare the giouvetsi and then take it to the local bakery to be cooked, as ovens were not commonplace in homes. My husband has fond memories of this tradition from his childhood spent living in Volos. Thankfully, times have changed and giouvetsi can now be easily cooked at home. However, it remains a delicious reminder of Greece's rich culinary history.
In Greece, orzo is known as "kritharaki" and it can be used to make many different dishes. It's a great pasta because of its ability to soak up sauces while still maintaining some texture so that you don't get bored with your meal- especially if there are vegetables in them! The delicious, tender chicken remains moist, whilst the vegetables infuse both flavor and goodness into the stew-like vegetable sauce. Top with cheese and it's the perfect winter warmer or weekend lunch.
Tips
Giouvetsi, a traditional Greek dish, can be made with chicken, beef, or lamb - the process is all the same.
Check on your orzo while it bakes so that you can add water if necessary and prevent the pasta from drying out.
Directions
You will need about 50 minutes to make 8 servings of this recipe, which has approximately 297 calories each. Make sure you have all the ingredients and follow these 8 simple steps. If you have any questions, send me an email and I'd be more than happy to help!
Watch it step-by-step!
Giouvetsi is one of those traditional Greek dishes that bring back childhood memories. It's the kind of recipe that reminds me of home.