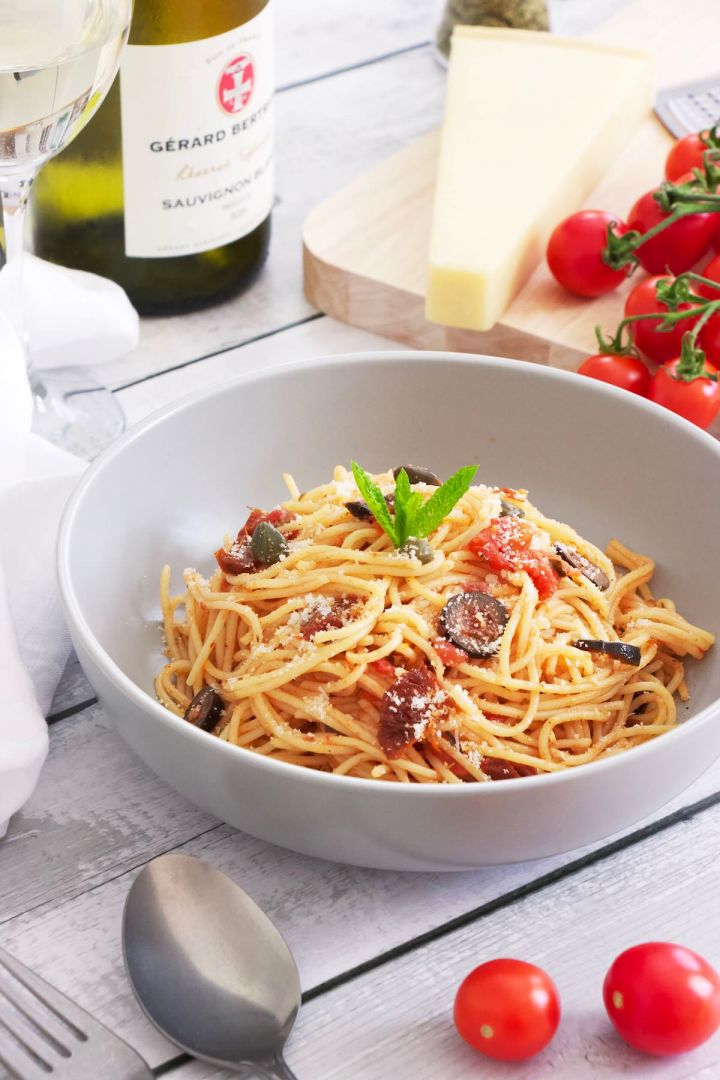 This easy midweek meal is a Mediterranean pasta recipe that represents a great way to serve up fresh homemade food without much effort. The ingredients call up all of those glorious Mediterranean smells and flavours that I miss sometimes back in the UK, too. If you're in desperate need of a holiday, this is a nice way to summon up your senses and 'get away' (at least in your imagination) - for one meal! A Mediterranean vegetarian pasta is sometimes what I crave, and this ticks all the boxes for me - I hope it does for you, too.
I tend to make this using spaghetti or linguine, but any pasta will do (although I enjoy the way the sauce sticks to longer strands rather than tubes or shapes, anything will do!). Make sure not to turn your oil too high, as scorched garlic at step one will ruin the gentle Mediterranean flavours you're trying to conjure here. A tip? Don't turn on your pan and add the oil until your garlic is chopped and ready to go! This is a real store cupboard supper. It's easy to get good quality olives in jars now, and these last such a long time that they're a real staple for me, alongside capers, for adding that salty savouriness that goes so well with the Mediterranean flavours of olive oil, garlic, oregano and tomato. During the summer, if you have a glut of tomatoes or see lots of UK-grown tomatoes on offer, why not make some sun-dried tomatoes yourself? Pasta with homemade sun-dried tomatoes is even more special! We have a how to make sun-dried tomatoes recipe on the blog, and it truly isn't as complicated as you might think!
Tips
If you prefer to use fresh tomatoes instead of tinned ones, grate 4-5 midsized ones and skip the added preservatives of the tin.
Directions
You will need about 30 minutes to make 5 servings of this recipe, which has approximately 607 calories each. Make sure you have all the ingredients and follow these 7 simple steps. If you have any questions, send me an email and I'd be more than happy to help!
Watch it step-by-step!
This Mediterranean pasta with capers is a quick, easy midweek meal that calls on all my store cupboard staples. It also helps me escape to the Med - at least in my mind!