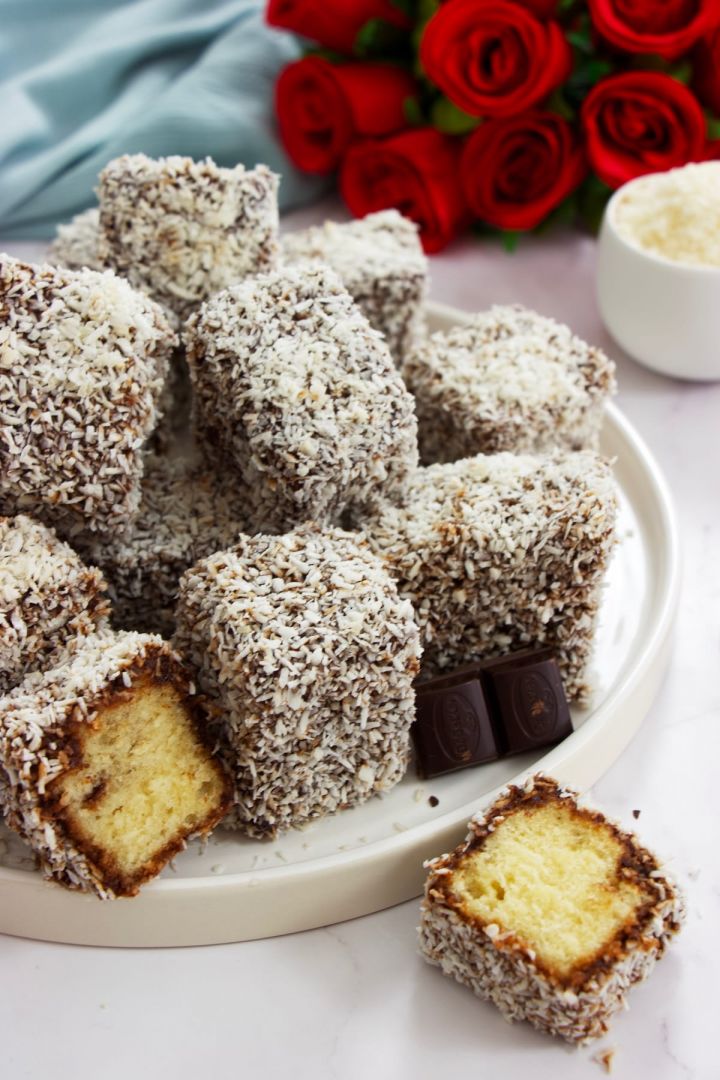 This is one of those go-to recipes that gets wheeled out for any and all occasions in our family, from birthdays to dinner parties! This coconut squares recipe is the perfect sweet finger food for kids and adult parties alike and is a real crowd-pleaser. These are basically coconut cake pops but without the added faff of making them round - you can always add a lolly stick to the cake bites before dipping into the chocolate and coconut if you want them to be on sticks, but there's little point in all that extra hard work (plus the cake falls off the stick so easily!).
As a kids party snack, you can even add different coverings (the cake itself is a basic one which works well with all sorts of toppings, from sprinkles to chopped nuts). When serving these coconut cake morsels up to adults, you'll find they disappear just as quickly - they're the kind of sweet treat where you pop one in your mouth, intending to stop there, and soon discover you've demolished five without blinking! They're great birthday cake bites for adults, to make the recipient feel indulged and treated, but without committing to the pressure of baking and decorating a whole birthday cake.
Tips
Not a big fan of coconut? You can replace the coconut with finely cut walnuts or if you want to go all out on chocolate for an extra richness hit your taste buds with some truffle coating.
Make the cake at least 24 hours in advance so it has time to firm up. This will make it more durable and less likely to break when dipped into the chocolate syrup.
Directions
You will need about 1 hour 20 minutes to make 25 pieces of this recipe, which has approximately 337 calories each. Make sure you have all the ingredients and follow these 8 simple steps. If you have any questions, send me an email and I'd be more than happy to help!
Watch it step-by-step!
I love these coconut cake bites for kids birthday parties. They are little and so easy for little fingers to manage, but taste 'mature enough' for the grown-ups to enjoy too!