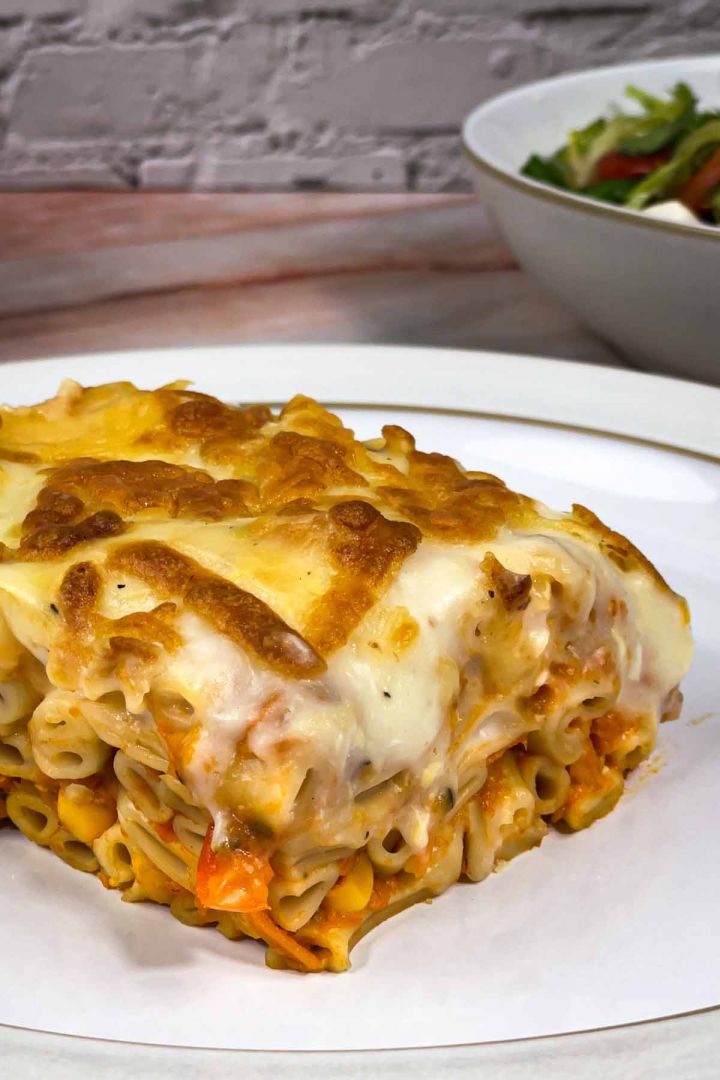 Pastitsio is a popular baked pasta dish in Greece, usually created with mince meat and bechamel sauce. It was originally based on the Italian 'pasticcio', but has evolved into a Greek dish in its own right. It is a sort of Greek lasagne, using tubes of pasta instead of sheets.
This meatless version is a great alternative to the traditional mince, as it provides all the hearty pleasure of pastitsio but with the dietary benefits and flavour of six different vegetables! Although this dish takes a little longer to make and is a little more involved, don't let that put you off. Any pasta lover falls in love with this pastitsio immediately.
If you are looking for a delicious and hearty pasta dish to make for your family or friends, look no further than pastitsio. This traditional Greek dish is sure to please everyone at the table. Alternatively, here are a few more Greek dishes your guests will adore!
Ingredients
Pasta

Sauce

Béchamel Sauce
Tips
Pastichio pasta is not very common outside of Greece. You could substitue them with Rigatoni or Penne.
Before starting to make the béchamel sauce, mix the corn flour with a cup of milk and whisk them before you add them to the heat. This will prevent the corn flour from crumbiling.
Directions
You will need about 1 hour 40 minutes to make 12 servings of this recipe, which has approximately 452 calories each. Make sure you have all the ingredients and follow these 12 simple steps. If you have any questions, send me an email and I'd be more than happy to help!
Watch it step-by-step!
Pastichio is a family favourite in all its versions. This meatless version of the popular Greek dish requires a bit more time to make, but worths the effort! The combination of flavourful vegetables with the béchamel sauce will make all pasta lovers drool.