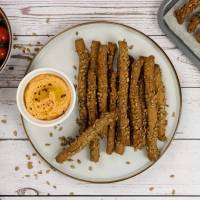 Breadsticks with Sunflower Seeds
22

servings

1 hr 10 mins
93 kcal

DF

VE
This whole wheat breadsticks recipe is what we use to keep hunger at bay in our house! Instead of a bag of crisps, we'll nibble on a wholegrain breadstick whilst watching TV, or whilst dinner cooks in the oven. They're a healthy snack that satisfy my need to nibble, without ruining my appetite. I use them to help steer away from unhealthy treats whilst watching TV.
They're also great to put on the table at a dinner party instead of bread rolls, or to go with a meze / antipasti-style meal. Wrap parma ham around the end for a tasty starter, or serve a dip or two to accompany the breadsticks - they go perfectly with my Spicy Feta Dip. Called "kritsinia" in Greek, they are a popular snack at all times of the day. They're even enjoyed with a coffee at breakfast time. Similar to Italian grissini breadsticks, the kritsinia will be crunchy and biscuity, with that breadstick 'snap'. If you prefer a crunchy exterior but soft inside, make your breadsticks thicker.
Tips
You can use corn or seed oil for a lighter taste.
You can substitute wine with 100ml water and 1 tbsp vinegar.