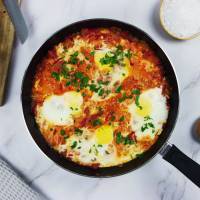 Mediterranean Style Shakshuka
Fooodlove's Mediterranean-style Shakshuka recipe adds a Greek twist to a brunch classic.
4

servings

25 mins
227 kcal

GF

VE
My husband 'invented' this Mediterranean-style Shakshuka for us one morning in Rhodes. We didn't realise then how close our tomato, feta and egg dish was to a hugely popular North African dish called Shakshuka!
It's so comforting to know that, when I'm exhausted and want a lazy morning, I can call on my husband to make this go-to brunch. We have it every few weeks, with a side of toast, and it makes for the most comforting, sustaining and yet healthy start to a weekend. Let me know if you try it, and if your partner has a go-to dish you can rely on them to magic up when you need a rest from the kitchen!