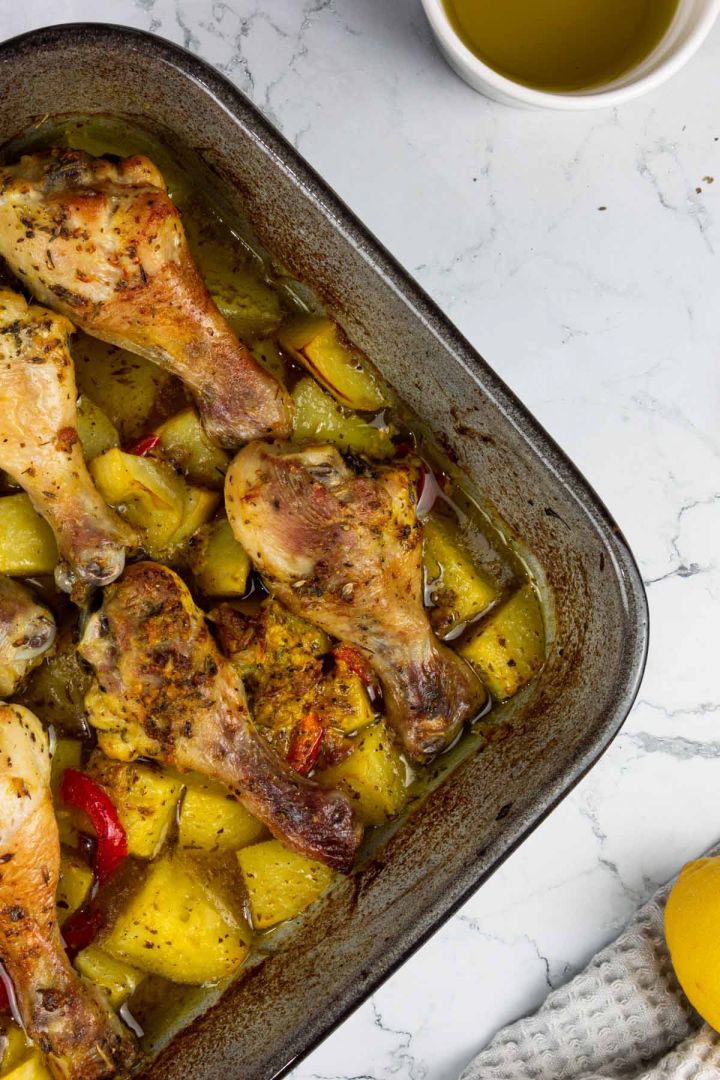 This vibrant recipe is the perfect option for a relaxed evening indulgence, or a long and lazy weekend lunch (preferably in the garden with the sun warming your face - we can all dream!). Roasted lemon chicken and potatoes is a fresh and modern take on the roast dinner - it is lighter and fresher but just as satisfying.
This is a recipe I enjoy all year round, but particularly in spring. As those dark winter days stretch out, the bright sunlight pokes a head from behind grey clouds and the temperature rises, I find myself reaching for zestier, brighter flavours. But I still want them in combination with the comfort and warmth of heartier ingredients. The perfect roast potatoes hit the bill here, and I can't think of a better mouthful right now than delicate, citrus-infused chicken to go with them. I hope you enjoy!
Ingredients
For the marinade

For the potatoes
Tips
When time permits, marinate the chicken from the previous night. It will get softer and tastier once cooked.
Directions
You will need about 1 hour 40 minutes to make 4 servings of this recipe, which has approximately 710 calories each. Make sure you have all the ingredients and follow these 8 simple steps. If you have any questions, send me an email and I'd be more than happy to help!
Watch it step-by-step!
I enjoy this recipe for roasted lemon chicken & potatoes all year round, but particularly in spring! As winter draws to a close I find myself reaching for zestier, lighter flavours, but I still want heartier ingredients alongside.