Homemade sun-dried tomatoes are an absolute must-have in my pantry, for enriching so many simple dishes with that complex, savoury and warming Mediterranean flavour. If you are wondering how to make sun dried cherry tomatoes in the UK, I have a clarification for you - this recipe isn't a sun dried tomatoes recipe as such but one for oven dried tomatoes! You end up with the same result, but it's actually possible to do in the UK - unlike relying on the heat of the sun!
This recipe is perfect for the summer time, when tomatoes are perfectly in season, and it's even better if you grow them yourself and are wondering what to make with cherry tomatoes, when you have a glut! Either way, in season is best - but year round, these are a bit of a staple for me, and will bring some sunny flavour to my cooking in the depths of winter.
How to make sun-dried tomatoes in the oven:
Measure out around 4 cups of cherry tomatoes (you can do more or less, they just need to fit on your baking sheet with room around them).
Preheat your oven to 200F/95C/Gas Mark 1. (You need lower than Gas Mark 1 but I'm aware this is the lowest Gas Mark! If you have an oven thermometer, check out how your shelves vary - you'll probably find the middle or bottom of your oven is about right, at 200F/less than 100C.
Place a sheet of baking paper on a large baking sheet which will take all of your tomatoes.
Rinse your tomatoes and dry them off fully.
Cut them in half and sprinkle with salt, to taste. (I usually use a 420g pack of cherry tomatoes and add ½ tbsp of salt).
(you can also add dried herbs such as oregano, and crushed black pepper, if you'd like).
Place the tomatoes, cut sides facing up, on the baking sheet, spread out so they won't touch one another.
After 1.5 hours, have a look at your tomatoes to make sure the heat isn't too much for them. They will likely take 2+ hours to dry - the exact amount of time depends on the water content of the tomatoes you have.
Check them every ten minutes or so so that they don't go over.
They are done when they are still bendy (you don't want them so dry that they crack and snap!), but all moisture should be gone, so that they will last without going mouldy).
NOTE: If you have a dehydrator, this is another great option, as it will free up your oven space and dehydrate cherry tomatoes, or whatever variety you pick, in the same way as the oven or hot sunshine would.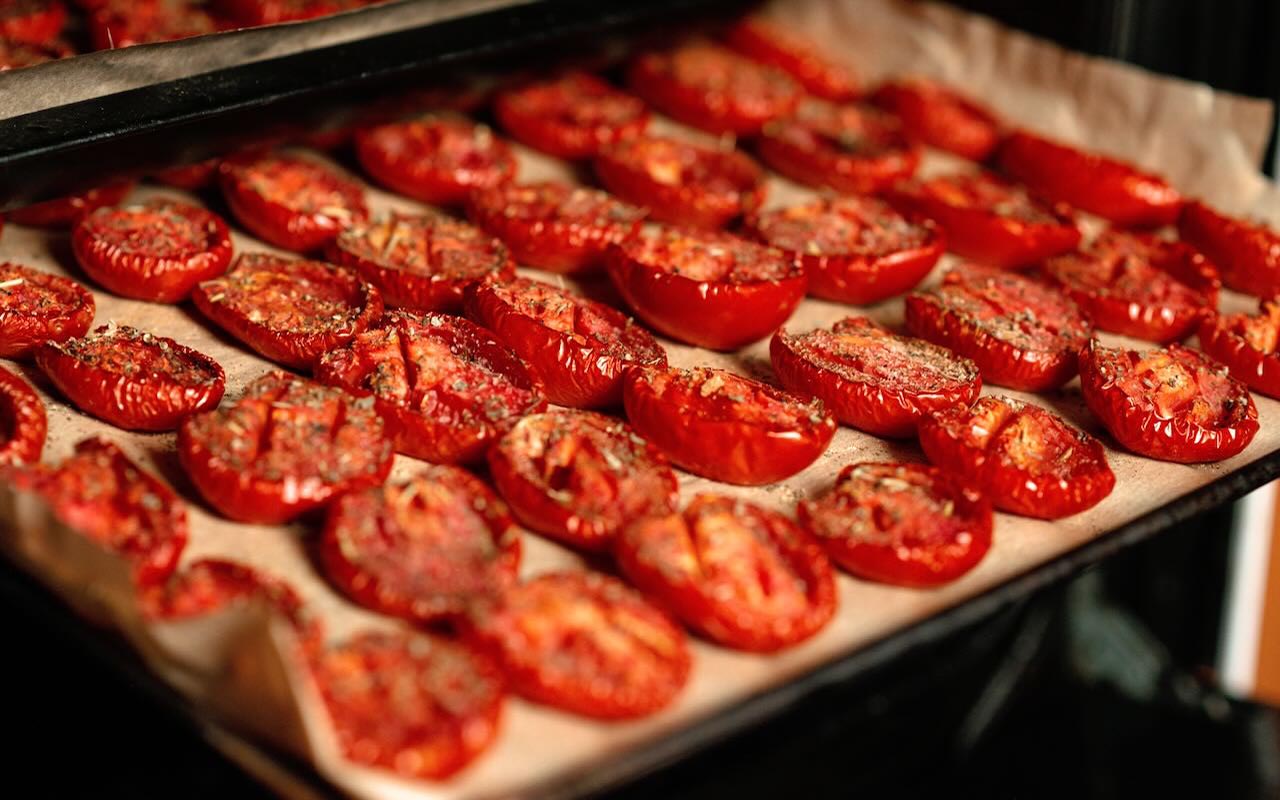 Common Questions
What can I use sun dried tomatoes for?
In short, you can use them for anything - have an experiment! Finely chop a few to add depth to a pasta sauce, sprinkle a couple on your pizza before you put it in the oven, 'rehydrate' some with olive oil and garlic and serve with fresh bread as meze/appetisers…the list goes on! See below!
Do I have to use cherry tomatoes to make sun dried tomatoes?
To make sun-dried tomatoes, you don't have to choose cherry tomatoes - you just have to choose a tomato with a high flesh to liquid ratio (ie not those large, wet ones we often get in the UK!). Smaller tomatoes tend to have less water and more flesh/seeds, so these are a goer - why not experiment with heritage varieties, small plum tomatoes or ditalini. You can even try using bigger varieties - they will just take longer to dry.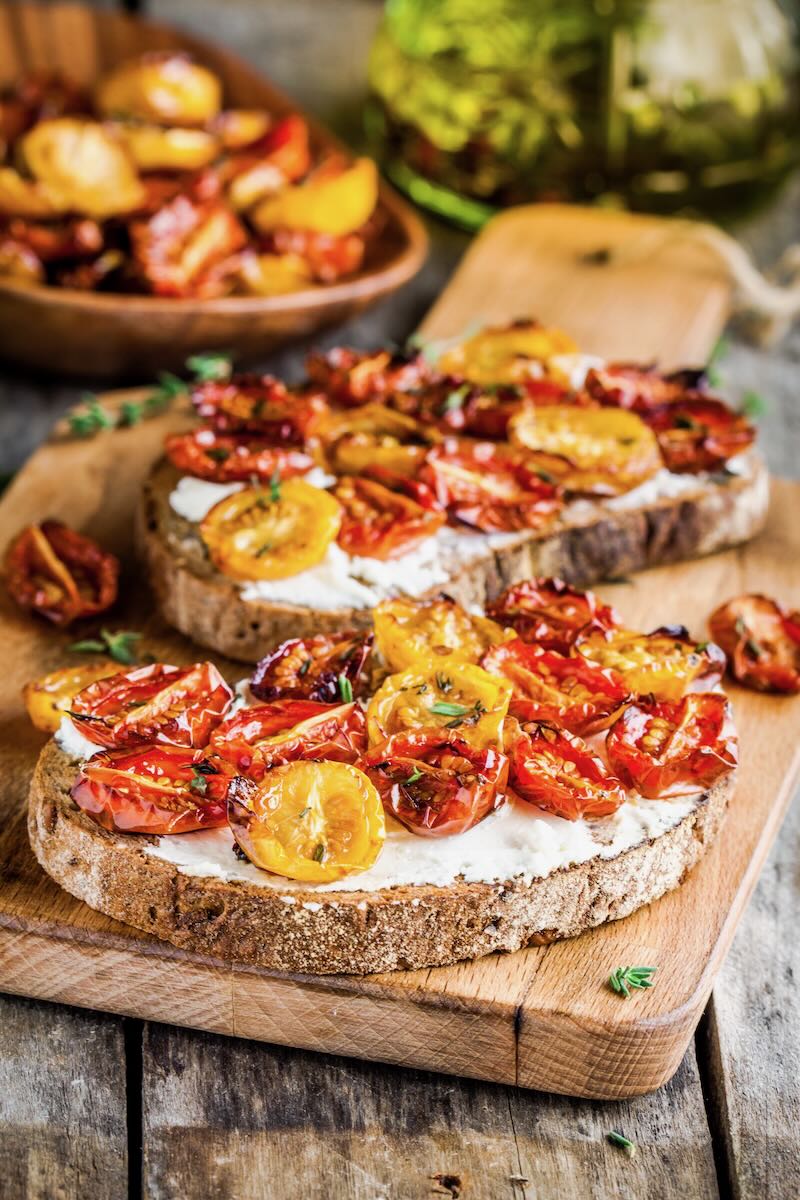 How long do sun dried tomatoes last?
If you freeze them, they'll last for ever! A year, at least. Simply freeze on the baking tray so they're still spread out, then shake into a plastic bag and return to the freezer, so you can just grab one or two to thaw when you need them.
The traditional way to keep them is in olive oil. This should be fine because of the acidity of tomatoes, but there is always the risk of botulism when keeping things under oil at home, so I personally don't use this as a long-term option.
How do I use homemade sun dried tomatoes?
These are little flavour bombs, so reconstituting them in liquid is usually the way to go. I either soak them in olive oil or hot water, depending on the recipe I'm using them for (though if I'm throwing them in a soup or stew where they will cook for an hour or so, you don't really need to rehydrate them first!). Bear in mind that the olive oil, or water, that you've used, will be beautifully flavoured! Add the water as a stock if you're using the tomatoes in a stew, and keep the tomato-infused olive oil for a few days in the fridge and use it for salad dressings or cooking to make the most of those sun-dried flavours!
Recipes with sun dried tomatoes
The 'go-to' recipe for many is to make a pasta, sun dried tomatoes enriching the sauce. And you can't go wrong there!
But sun-dried tomatoes are worth adding to so many more dishes…
I like to add them to my Savoury Cake for example when I want to mix it up, and I feel the salty, savoury nature of sun dried tomatoes goes so well with cheese (in particular feta).
I also enjoy eating them as a meze on their own, alongside some of my olive bread and some spicy feta dip, for example.
If I have some spare, I might sprinkle them through a salad with pine nuts and feta, or chop some and stir them through my Gigantes Plaki for a bit of umami savouriness.
How do you use sun dried tomatoes - any recipes to add? Let me know!