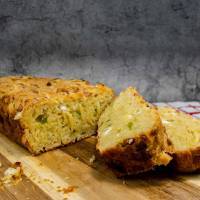 Savoury Cake
14

servings

45 mins
320 kcal

NF

VE
I started making what I called "Savoury Cake" as finger food for my daughters' parties. It's easy to eat, flavoursome, and makes an alternative to sandwiches. It's also a perfect toddler food recipe (I've never met a toddler who isn't tempted by something that looks like cake)!
This recipe shouldn't be relegated to the 'kids party food' category though. When we had leftovers of this savoury bake from the kids' parties we'd snack on it later, and realised just how versatile (and tasty!) it is. We started eating this for breakfast, as a side dish at lunch, and even as a late-night supper or snack. The ingredients make it similar to the filling of the British classic the quiche, but this is lighter on liquid and with flour added through. This gives it a lovely moist crumb and a slight crust. I love this as a packed lunch option (for myself or for the kids), and as a savoury afternoon treat when I'm feeling peckish. Feel free to mix it up with other vegetable varieties, or by adding ham or bacon.
Tips
For a non-vegetarian version, you could add chopped pieces of bacon, ham or sausage.
Alternatively you can add extra flavour by adding olives and/or sun-dried tomatoes.