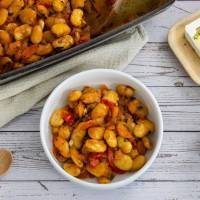 Baked Giant Beans (Gigantes)
6

servings

1 hr 50 mins
407 kcal

DF

NF

GF

VG

VE
This recipe for baked giant beans, or Gigantes Plaki in Greek, is a really flexible, useful one to have in your recipe bank! Gigantes are a really large variety of beans, known also as Butter Beans or Lima Beans. We buy them dried and soak them; these are my favourite to use in terms of flavour. Gigantes are a healthy addition to any diet, vegan, veggie or omnivore, as they are full of complex carbohydrates, fibre, protein, vitamins and minerals, keeping you fuller for longer, and satisfied, too. In Greece, sausage or bacon can be added - I have seen it with chorizo, too - but you really don't need to add any meat to end up with the perfect Gigantes recipe, in my opinion.
This is a wholesome and hearty vegan recipe, which is perfect served up with some feta and bread for a filling, healthy meal - a great one to have to hand if you're inviting vegan guests over (minus the feta, of course!). It's also a tastier (and much healthier) substitute for a tin of baked beans, so you can use it in the same way you would with those, too. Take your giant baked beans in tomato sauce and put them on top of a baked potato instead of the branded variety for an easy supper; you'll be getting lots of extra veg and a lot less sugar than in the tinned stuff. Greek Gigantes are easily found in Greek food delis and in some supermarkets now, but butter beans will work for this recipe too.
Tips
While boiling the butter beans (step 2), make sure they are always covered with water. Add more if needed, but use hot water so you don't stop the cooking process.
Similar to the above, it may be needed to add half a cup of hot water in the baking tray while cooking. We don't want the beans to dry out completely.