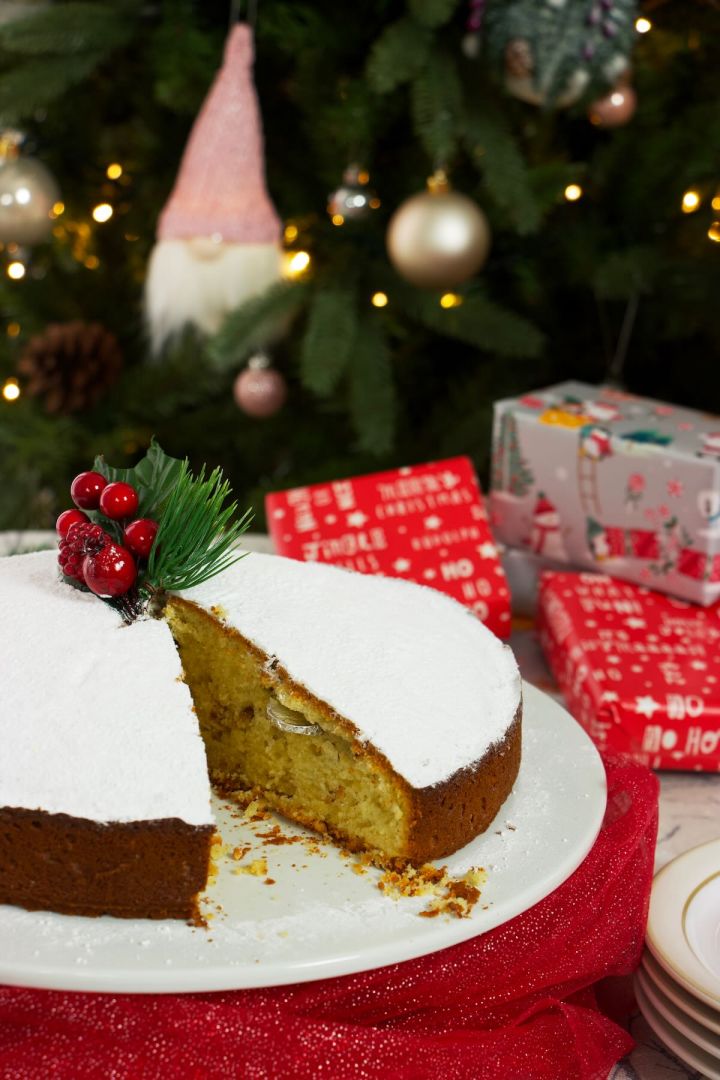 Vasilopita is a Greek New Year cake, and an unmissable tradition! Cooked up throughout Greece, the texture is sometimes more bready, almost like my recipe for Tsoureki Easter bread. On Rhodes however, where I am from, the Vasilopita traditionally has a moist and cake-like crumb, as in this recipe, for a Vasilopita with hazelnuts.
Greek Vasilopita cake hides a secret, however; this isn't just cake! Much like a traditional Christmas pudding in the UK, it is customary in Greece to hide a (foil-wrapped!) coin inside the cake batter when you bake it. The lucky recipient of the slice of Vasilopita with a coin (called a 'flouri' in Greek) is considered to have received luck for the New Year ahead. In some houses, it's even customary to give them a small gift, too! In our family, we always divide up the Vasilopita by the number of guests present at the table, to make sure that somebody definitely receives the lucky coin. You can imagine, though, that this method can sometimes result in rather large pieces of cake for everyone! Once the coin is found, many guests will stop eating their portion and cut their cake neatly.
Vasilopita easily tops my list of favorite cakes. It has been a labor of love to perfect it; a few attempts were made before I can say I got it just right, and every single one of them was delicious! Plenty of moistness, some fluffy airiness, and the nutty crunch of hazelnuts all combine to give this dessert its special flair. But while finding a lucky coin is always exciting (and may bring you good luck!), the best part comes the next day when you can enjoy the remainder with some Greek coffee. A match made in heaven - quite literally!
They say that luck is the spice of life - and when it comes to cutting a cake, sometimes you hit the jackpot! One time, as I sliced the first slice of Vasilopita, my knife miraculously hit a coin that lay right beneath it! While the lucky winner was being celebrated with applause, it resulted in a large portion of cake remaining uneaten by night's end. After having my morning coffee, there was still a lot of cake left and I had to find another way to not let it go to waste. The perfect solution? Crumble up the remaining pieces and make some irresistible walnut-filled chocolates - also known as Kariokes! These little treats are sure to be enjoyed by all at any time of the day!
Tips
To get the maximum amount of air while creaming butter, make sure to bring it up to room temperature beforehand. This will help ensure your cake turns out perfectly!
Directions
You will need about 55 minutes to make 12 servings of this recipe, which has approximately 472 calories each. Make sure you have all the ingredients and follow these 7 simple steps. If you have any questions, send me an email and I'd be more than happy to help!
Watch it step-by-step!
Vasilopita is a traditional Greek New Year's Day Cake. We always hide a (foil-wrapped!) coin inside the batter before the cake is baked; tradition states that the recipient of the coin ("flouri" in Greek) will have good luck for the year to come.