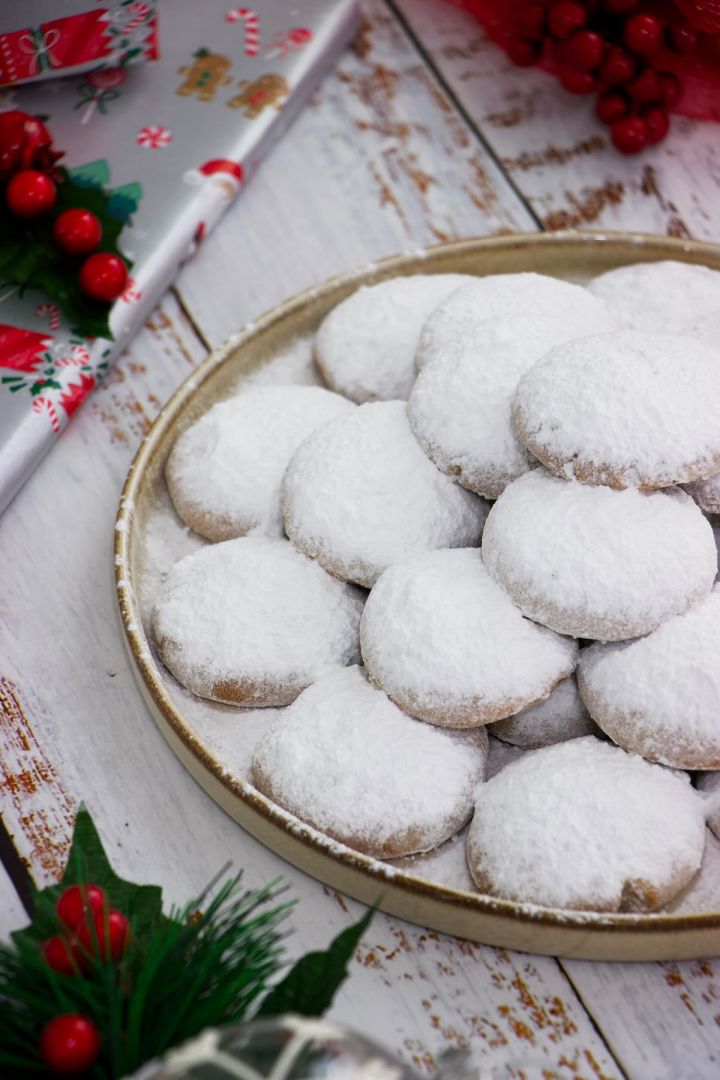 These deliciously soft and nutty butter cookies are a festive staple come Christmas time in Greece. Kourabiedes are basically Greek almond cookies. Of course, people always try alternatives, like replacing the almond with pistachio - but I have to say I prefer an authentic Kourampiedes recipe.
As well as Kourabiedes, we make Melomakarona at Christmas - a honey-soaked orange and spice cookie. Together, these two make up a crucial Greek foodie Christmas tradition, so we always make plenty! They're also the traditional gift of choice when you're invited around to somebody's house for a Christmas get-together or house party - instead (or as well as!) a bottle of wine, we will bake up a plate piled high with Melomakarona and Kourabiedes. The rose water is optional, but I love the slight floral note it adds. Make sure not to add too much, though, as if you're heavy-handed it can add a medicinal flavor. Rose goes perfectly with the almond and vanilla flavors, though, so don't miss it unless you dislike it!
This Kourabiedes recipe might be different from your traditional British or American Christmas sweet treats, as it doesn't contain oranges, spices, or dried fruit. But I can guarantee you will love this; this is one Greek festive food tradition you simply have to try!
Tips
If you're like me and enjoy almonds without their skin, simply boil them for 2-3 minutes in order to easily peel off the outer layer. It's just that simple!
Directions
You will need about 1 hour 20 minutes to make 50 pieces of this recipe, which has approximately 120 calories each. Make sure you have all the ingredients and follow these 10 simple steps. If you have any questions, send me an email and I'd be more than happy to help!
Watch it step-by-step!
This Kourabiedes recipe is central to our household's foodie festivities come Christmas. That mixture of butter and almond makes for an authentic Kourampiedes recipe, and they're just one of the best Greek Christmas cookies I can think of (though I do love Melomakarona too!).