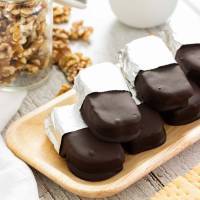 Greek Walnut-filled Chocolates (Kariokes)
20

pieces

2 hrs
242 kcal

VE
These Greek walnut-filled chocolates, or Kariokes, are a moreish delight. Kariokes, filled with the rich darkness of cocoa and a hint of brandy, are the epitome of indulgence, for me (and not just for me - they've been my husband's favourite since he was a boy!). When we have friends around for supper, my take on Greek walnut crescent cookies are a perfect treat after dinner. Greek bakeries make these into perfect crescent shapes, but the easiest method I've found at home is to roll the mix into 'sausage' shapes, press to slightly flatten the bottom, and freeze them, before slicing (incidentally, that's pretty much how I do my chocolate mosaic with halva too!).
This recipe uses Petit Beurre biscuits, but any rich, buttery and plain biscuit will do the trick here. In fact, the recipe traditionally uses up the crumbs of Vasilopita (Greek Lucky New Year's Cake) and Melomakarona (Greek Christmas Honey Cookies); keep your eyes out for these recipes on fooodlove over the festive period, but in the meantime, a plain biscuit like a Petit Beurre is a great alternative. This hack makes for a quick and easy recipe, which nevertheless will wow at dinner parties - or you might like them so much you keep them just for you! These are the perfect treat for darker wintery days; imagine a roaring fire, a rich dinner, a glass of red wine - and then a coffee and my Kariokes for dessert. What heaven!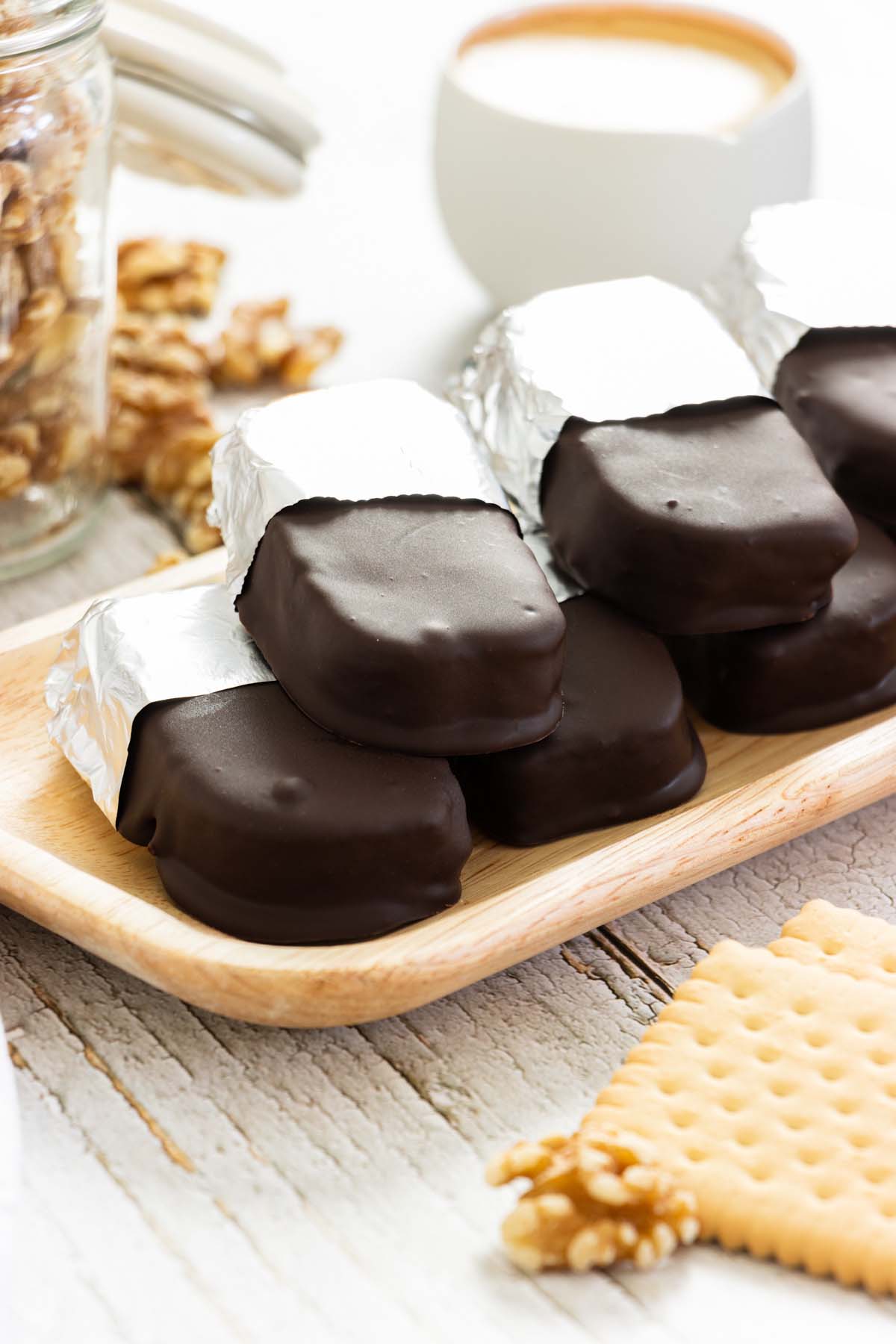 Tips
Petit-beurre biscuits are easy to find but any buttery or plain biscuits would do the trick. You can even use cake leftovers!
To make these even more flavourful, add 1 tsp of cinnamon when preparing the mixture in step two.
Kariokes can be stored in the fridge, in an air-tight container for up to 7 days.