Greece has many wonderful (and sometimes strange!) cultural traditions, many of which come from the Greek Orthodox Church.
This faction of Christianity represents 90% of the Greek population, and therefore a lot of religious practices from this faith become cultural, traditional practices in Greece. This Greek recipe for Fanouropita (or Phanouropita) is one that has moved from religious practice to culinary practice, at least for me!
Check out my fooodlove​ recipe for Fanouropita here​.
The Story of Saint Fanourios / Phanourios
An icon of ​Saint Fanourios​ was discovered in Rhodes (where it is still located) in around 1500AD. Therefore his martyrdom and Sainthood were in some ways 'rediscovered' in Rhodes (where I am from).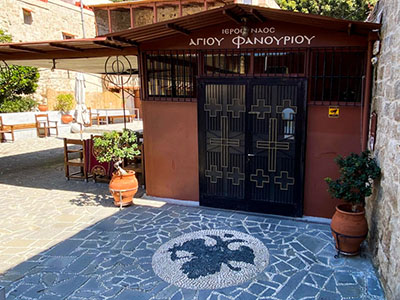 There is no religious literature on Saint Fanourios prior to the icon's rediscovery, but the images seem to symbolise many trials and tortures that Fanourios went through for refusing to give up his Christian faith.
Saint Fanourios (pronounced Fa-NOO-ree-oss) has a name which derives from f​anerono​, the Greek verb for "I reveal". He is thus known as the Patron Saint of Lost Things. He is the martyr to whom believers pray when they've lost something, or want to find something - be that misplaced car keys, a new job or the restored health of someone sick.
Personally, I don't think I've ever baked this cake to help me find something lost. All I find at the end of the process is a really tasty cake, and that is reward enough for me!
What is a Fanouropita?
Pita​ means cake, so ​Fanouropita​ literally means a cake for Saint Fanourios. You know you've really 'made it' when you have a cake in your name, right?
It's baked for when the church commemorates Saint Fanourios, on the 27th of August. The cake is brought to church on this day and blessed, before (often) being cut into 40 pieces (to symbolise the 40 days of the soul in purgatory), and then being shared with friends and family.
This ​pita​ is often made with seven or nine ingredients, which are holy numbers across many Christian traditions. They denote the sacred mysteries of the Greek Orthodox Church, the angels' battalions, and the days of Creation.
However, this traditional idea (and the seven or nine ingredients called for) changes in each part of Greece. I'm originally from Rhodes, so ​my Fanouropita recipe ​is one traditional to the island, with the addition of sweet red wine. It's also now much more common that the recipe has many more than nine ingredients. If you use the orange juice and baking soda suggestion in my recipe, and split the oil into two types as suggested, we're at 11. It just makes for a lighter and tastier cake. I won't tell Saint Fanourios if you won't!
Fanouropita all year round: a lighter, vegan cake recipe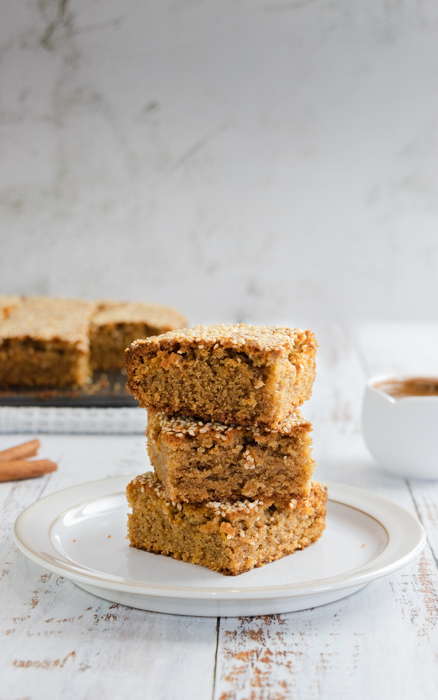 There's no reason to wait right until August to enjoy this brilliant bake. It is also considered a Lenten (or Holy fasting) cake too after all, as it doesn't contain eggs or butter. I read that as a great excuse to celebrate with Fanouropita all year around!
The Lenten absence of butter and eggs also makes this a great vegan cake. So if you have a vegan friend coming around, or are a vegan yourself and want a tried-and-tested vegan win, this is a great cake to opt for.
Fanouropita is a lightly spiced, moist cake. The two oils used in my recipe make sure it isn't a heavy cake, but it is satisfying and substantial. The gentle flavour is not too sweet, and works perfectly with my morning coffee. I think the olive oil part is best suited to a fruity flavoured olive oil, to match the orange in the recipe, but any olive oil will do (and in fact you can use other oils instead, but the taste and texture will change).
For me, this is an example of the epitome of Greek cuisine - where food and culture combine! Religion, heritage and traditions all shape what we eat, when, and how. I find that this makes our culture truly rich with amazing nourishment, for both body and soul!
Let me know if you can think of any ways that food and culture collide in your homeland or tradition...