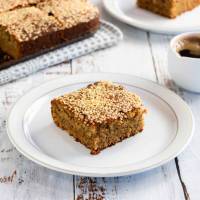 Fanouropita Vegan Spiced Cake
Try this fooodlove Fanouropita recipe, a cake made for Saint Fanourios, Patron of Lost Things. This spiced Lenten cake is light, healthier, and vegan too.
16

servings

55 mins
330 kcal

DF

VG

VE
This is a cake to celebrate Saint Fanourios in Greek Orthodox tradition, but in our family it's become a year-round staple! It's slightly lighter and healthier than other cakes in my repertoire (making it the perfect accompaniment to my morning cup of coffee) and it's also vegan, so it's a great recipe to have up your sleeve.