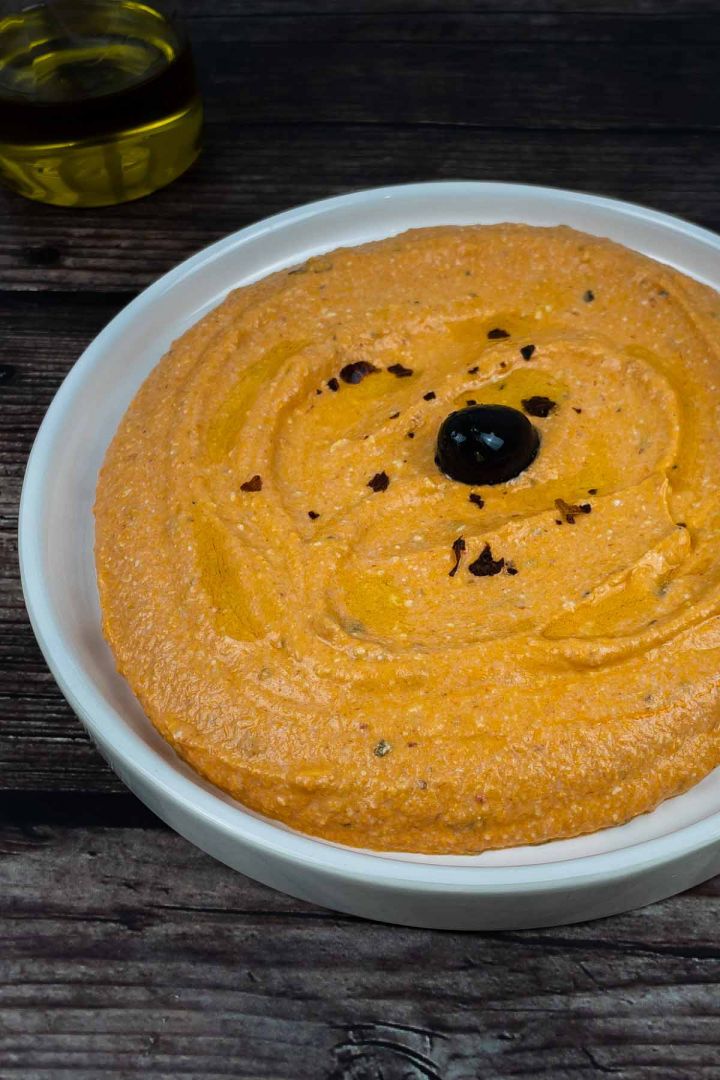 You probably know feta - a traditional Greek brined cheese made from sheep (or sheep plus goats') milk, and aged in brine. We're total feta addicts in our house; I just think it makes everything extra delicious! This spicy feta dip recipe is traditionally called 'tirokafteri', and is the perfect combination of creamy, sweet, savoury, tangy and gentle spice.
Often offered as a side dish in Greece, this is a great party dip, but we actually enjoy it most often as a spread on our morning sandwich (yep, sandwiches for breakfast!) and as a dip for nachos during movie night (it's perfect for this)! This is irresistible…and the recipe takes the grand total of five minutes. It's a no brainer!
Tips
You can use fresh long red peppers instead of the store bought ones. Just bake them in a preheated oven for 15 minutes at 180º C. Peel them, removed the seeds and use them as described above.
Substitute chilli flakes with ½ tsp of ground chilli or you can even use 1 small hot pepper.
Directions
You will need about 5 minutes to make 6 servings of this recipe, which has approximately 247 calories each. Make sure you have all the ingredients and follow these 3 simple steps. If you have any questions, send me an email and I'd be more than happy to help!
Watch it step-by-step!
Feta cheese makes everything extra delicious. Add a couple more ingredients to spice it up and you have the perfect dip for literally everything! In Greece we call it "tirokafteri", which means "spicy cheese" and we usually use it as a side dish.