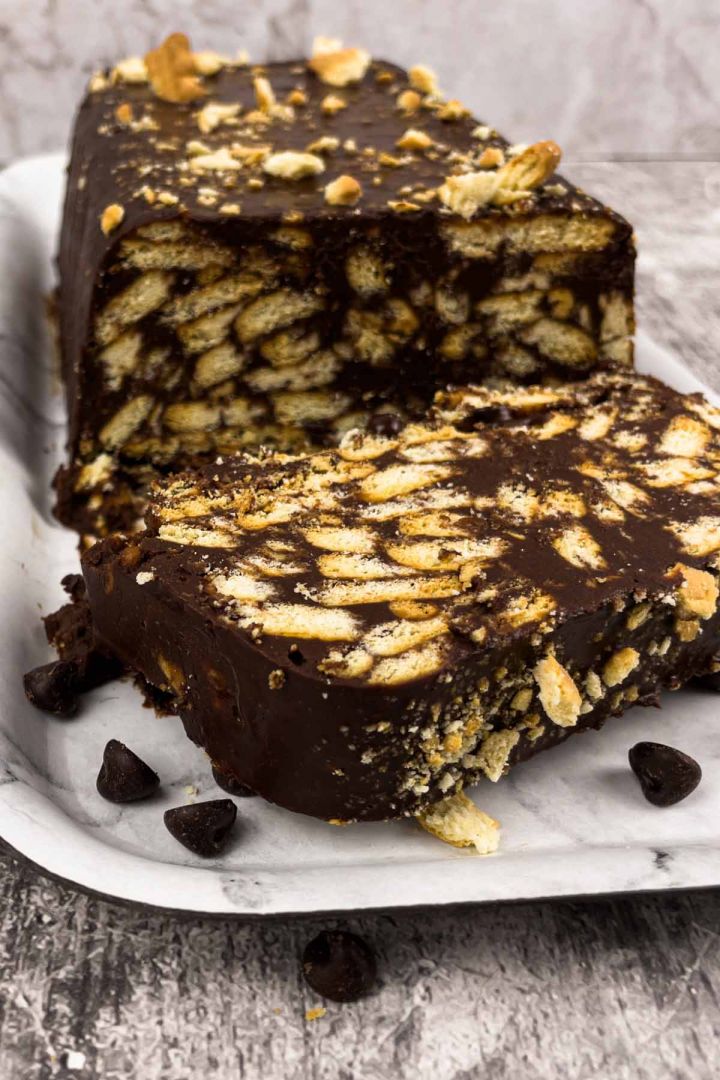 This Chocolate Mosaic is my version of a chocolate fridge cake recipe. This no-bake dessert is a really easy option for a dinner party dessert recipe, but is also the perfect afternoon treat. It's my go-to choice when I need something indulgent and quick that I know will be a guaranteed hit with everyone who tries a piece (who doesn't like chocolate and biscuits?!).
I like to use crushed Petit-Beurre biscuits here, because these are what my sister suggested when she gave me the recipe. I have experimented with lots of other varieties with great success too, though, so don't be afraid to use what's to hand! Rich Tea or Digestive biscuits work similarly, or mix up the texture with a crunchy Hobnob. And don't forget to try it with the addition of Cognac, or Baileys (or Amaretto, or… you digestif of choice, really!) if you like an alcoholic edge - it changes this up and makes it a great treat for the grown-ups.
Tips
Sprinkle with half a cup of milk over the biscuits, if you prefer them to be tender and moist.
Add 3 tbsp of cognac or Baileys on the mixture for additional flavour.
Directions
You will need about 2 hours 20 minutes to make 10 servings of this recipe, which has approximately 338 calories each. Make sure you have all the ingredients and follow these 7 simple steps. If you have any questions, send me an email and I'd be more than happy to help!
Watch it step-by-step!
This chocolate mosaic is the perfect no-bake dessert for a dinner party or as an after school treat. It is super easy to put together and it is my go-to solution whenever I want a homemade dessert with guaranteed success.