My husband and I are both Greek (as you may have guessed, if you've been following the blog!). He is from Ikaria, I am from Rhodes. We've lived away from Greece for three years now, but our homeland never seemed too far away - we enjoyed plenty of family holidays back there and knew that if anything happened we could jump on the next plane and be 'home' in hours.
That's until this past year, and the pandemic. Being suddenly unable to visit friends and family that we love was completely unexpected, and was harder than we could ever have imagined. It was like an impenetrable wall was suddenly erected between us and our family.
A long time went by.
So, it was with firmly crossed fingers that we booked our flights to Greece, for the summer holidays. Everything depended on a negative COVID test (I haven't had my second vaccine yet), and the ever-changing nature of government guidelines. But luck shone on us, and we were able to go.
Finally, we were able to visit Greece, after a year away! What a homecoming. We spent most of the time on my home island of Rhodes, with a week spent with my father-in-law in Ikaria sandwiched in the middle. The stress of all that planning and uncertainty melted away that first day, when we stepped onto the beach - only an hour after the plane landed! We stayed on that beach until the sun had sunk well below the horizon and dark had descended on us, even ordering souvlakia to be delivered to the beach - we were soaking in every second of being back!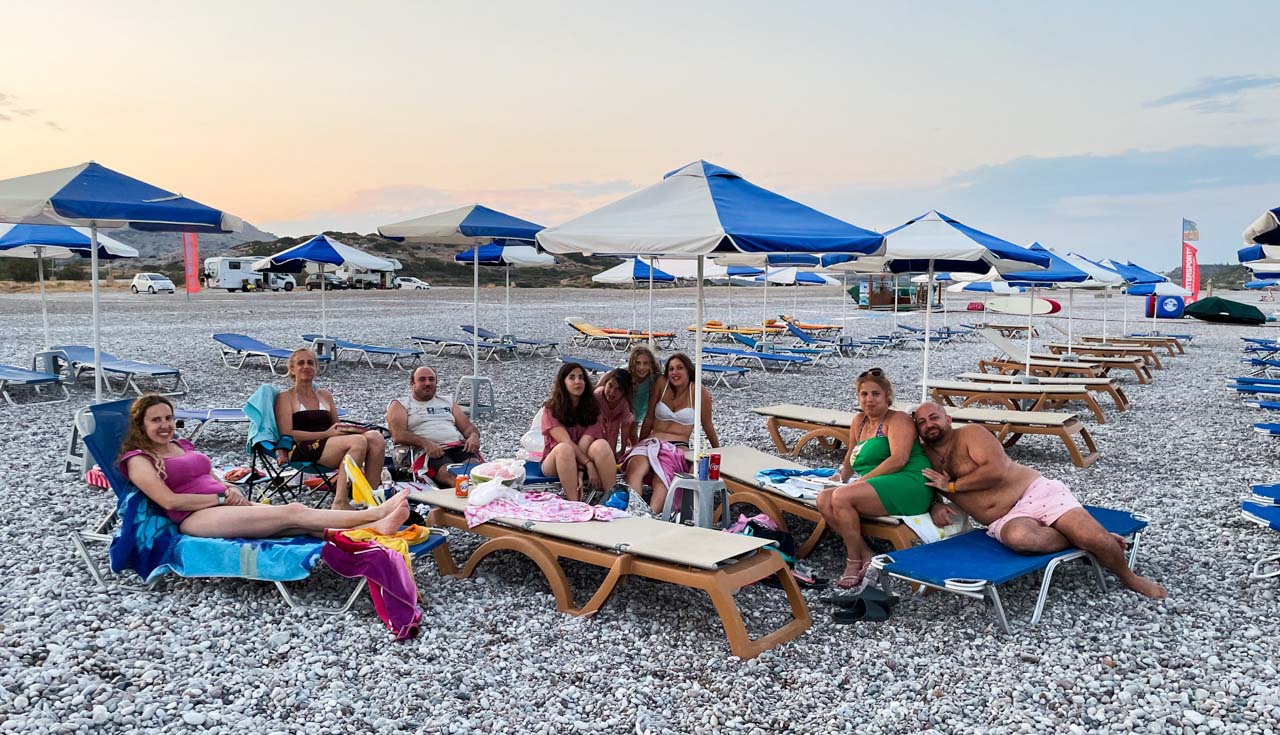 What to do during a holiday in Greece...
That was our question! Given that it's been so long since we were able to visit, we had a mammoth list of activities we wanted to do, people we wanted to see and places we wanted to visit. Our top two tips? Go to the beach, and visit other islands! Read on below for our favourite spots to visit, in both Rhodes and Ikaria.
Go to the beach
People might think that going to the beach is only for tourists...but they'd be wrong! Greeks flock to the beach during the summer, to enjoy those perfect sandy beaches and turquoise waves. Wherever we went, whether in Rhodes or Ikaria, going to the beach was our number one activity!
Boat trips to other islands
This is how we got to Ikaria. Bear in mind that this trip was more lengthy than getting from the UK to Rhodes! After 11 hours by boat, we had three more hours of driving to get to my father-in-law's village. But no matter...after a day of relaxation, our energy was back and we were ready to enjoy Ikaria.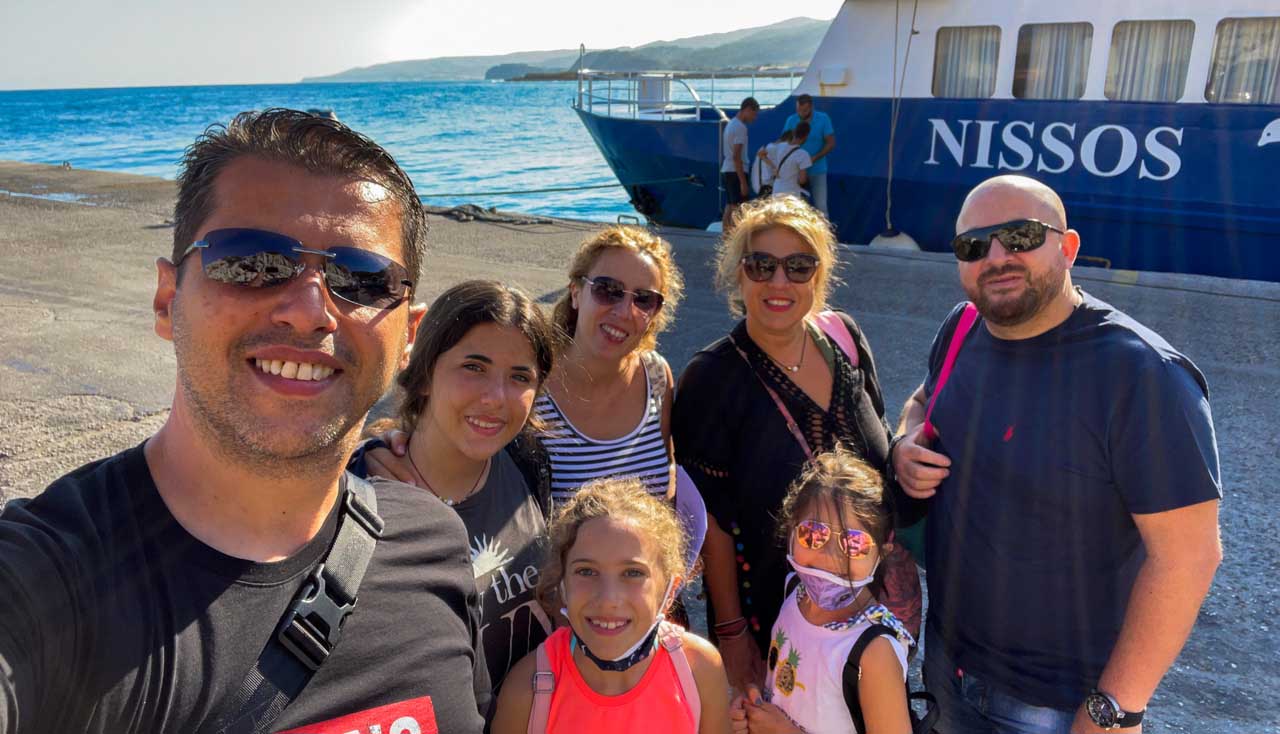 Closer to hand, we took a lovely day trip from Rhodes to Halki. This is definitely worth factoring in to a holiday to Rhodes; it's only 30 minutes by boat, and Halki is an amazing little island. If you want a break from the hustle and bustle of the more touristy Rhodes, Halki is the place to head. It offers unspoilt, secluded beaches, and beautiful traditional architecture. Well worth a day trip - at least!
Where to visit in Rhodes
Rhodes is a popular Greek Dodecanese island, and as it's also my homeland, I thought I would spend some time on recommendations - the 'must visit' locations! Admittedly, these are mostly food based...you see my priorities!
Pavo Cafe
We learnt about Pavo Cafe during lockdown, whilst stuck in the UK. We saw plenty of friends posting about it on Facebook...so our natural curiosity meant that Pavo was at the top of our 'to visit' list.
This is a modern cafe patisserie (with options all day long, from coffee to cocktails and even food), and it's simply beautiful. We enjoyed the clean lines and the views over green lawns and olive trees to the bay and Faliraki beyond.
Why to visit: An amazing place to spend your afternoon with a coffee - or visit whilst the sun sets for a cocktail and a view to remember!
Aquarious Beach Bar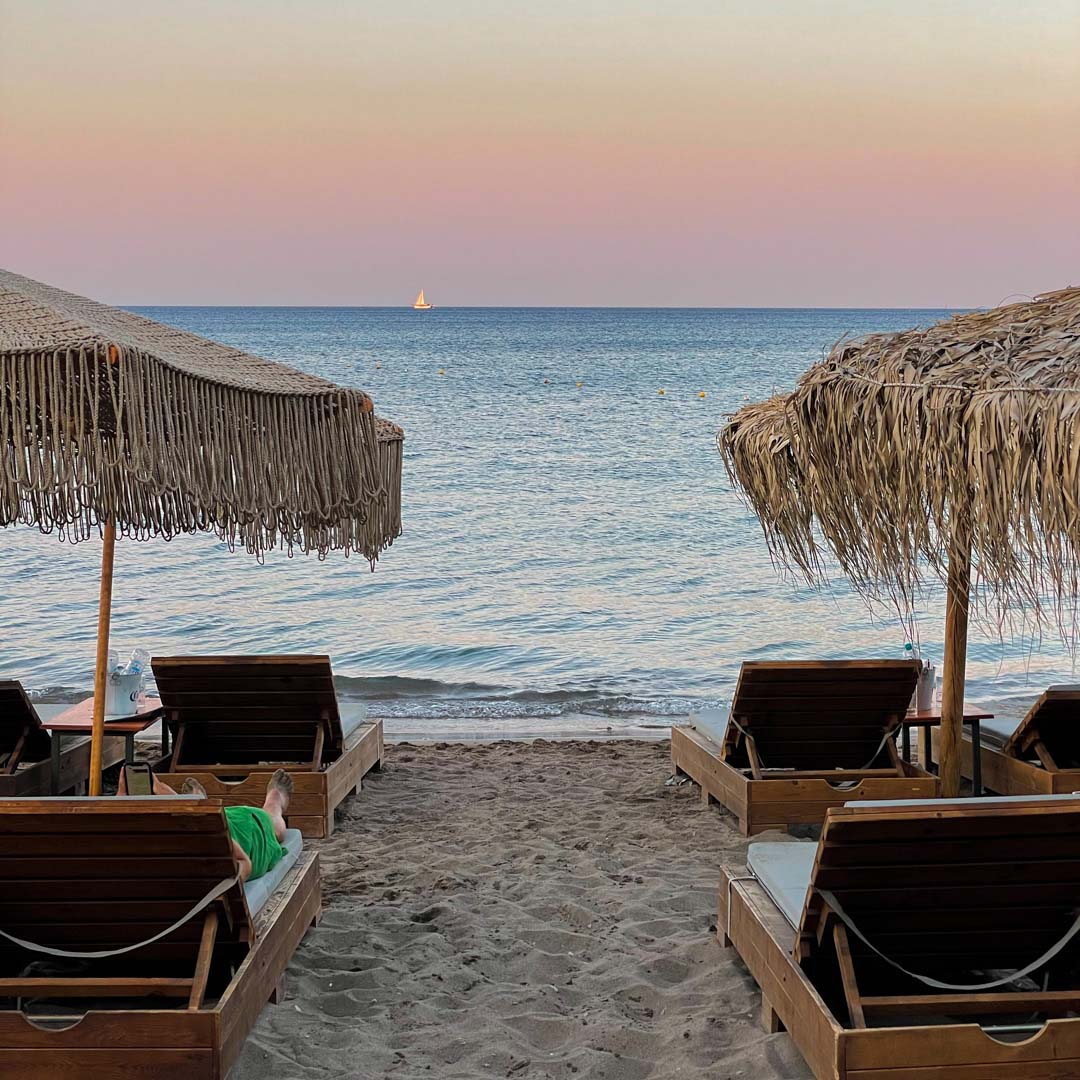 During the first couple of weeks, this place was like our second home we were there so much! This place has everything, from shallow crystalline waters to a beach bar serving snacks right through from breakfast into the afternoon! Faliraki is only 10km from Rhodes city centre, so whenever we had completed our chores or 'must do' tasks for the day, this was our first port of call.
Why to visit: This is the place to visit for pure relaxation. Pick a deck chair, eat, drink and swim.
Mea Terra
We discovered Mea Terra somewhat accidentally whilst having a Google. Isn't it weird when you see something on a Facebook post or ad and realise it's located on the island where you were born?!
Mea Terra is located in the village of Lachania in Rhodes, and just looking at the photos of this place had us drooling! It was quite the drive to get there (at least by Rhodian standards, an hour and a half is a long drive!) but it was definitely worth it.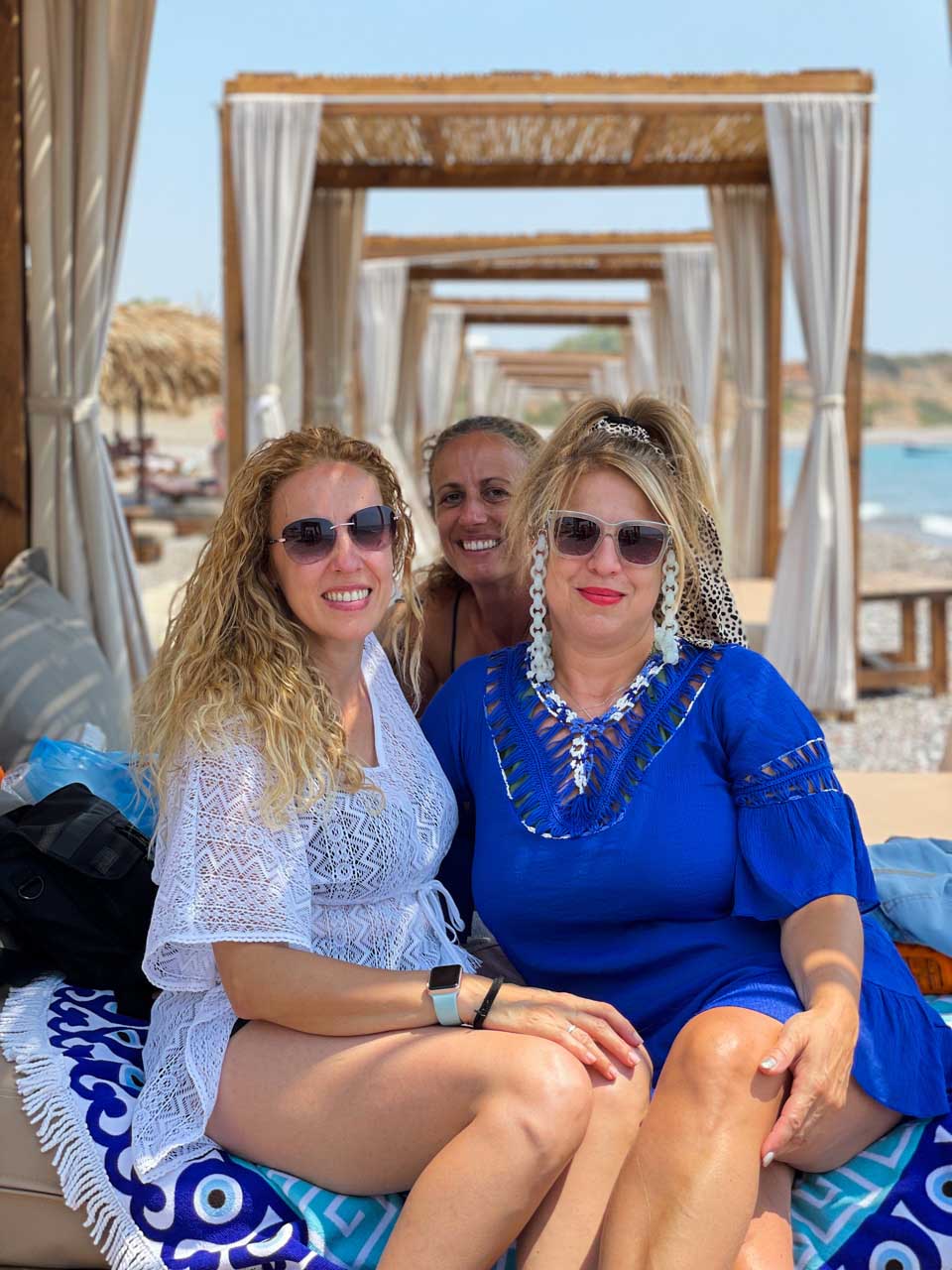 Mea Terra is located in a relatively remote place, where the sea is crystal clear. We got a cabana for the whole day, and we had an amazing time! Besides the usual coffee, drinks and snacks, they also offer food in their amazingly decorated venue. It makes you feel as if you're still in the water (although their restaurant is almost 60 metres from the beach). Our overall impression of the place was stunning. It's one of those places that are on the expensive side for Rhodes, and maybe too expensive all things considered, but it was definitely worth the visit and we had a great time.
Why to visit: For a special occasion, or as a special day trip, visit Mea Terra to wallow in the gorgeous design of the place as well as the beautiful natural beachside setting.
Taverna Platanos
Leaving Mea Terra, we decided to visit a well-known taverna in Lachania called Platanos. Wow! This was by far the best place we ate, all holiday! "Platanos" in Greek is the "plane tree", and this is exactly what you see when you get to the place.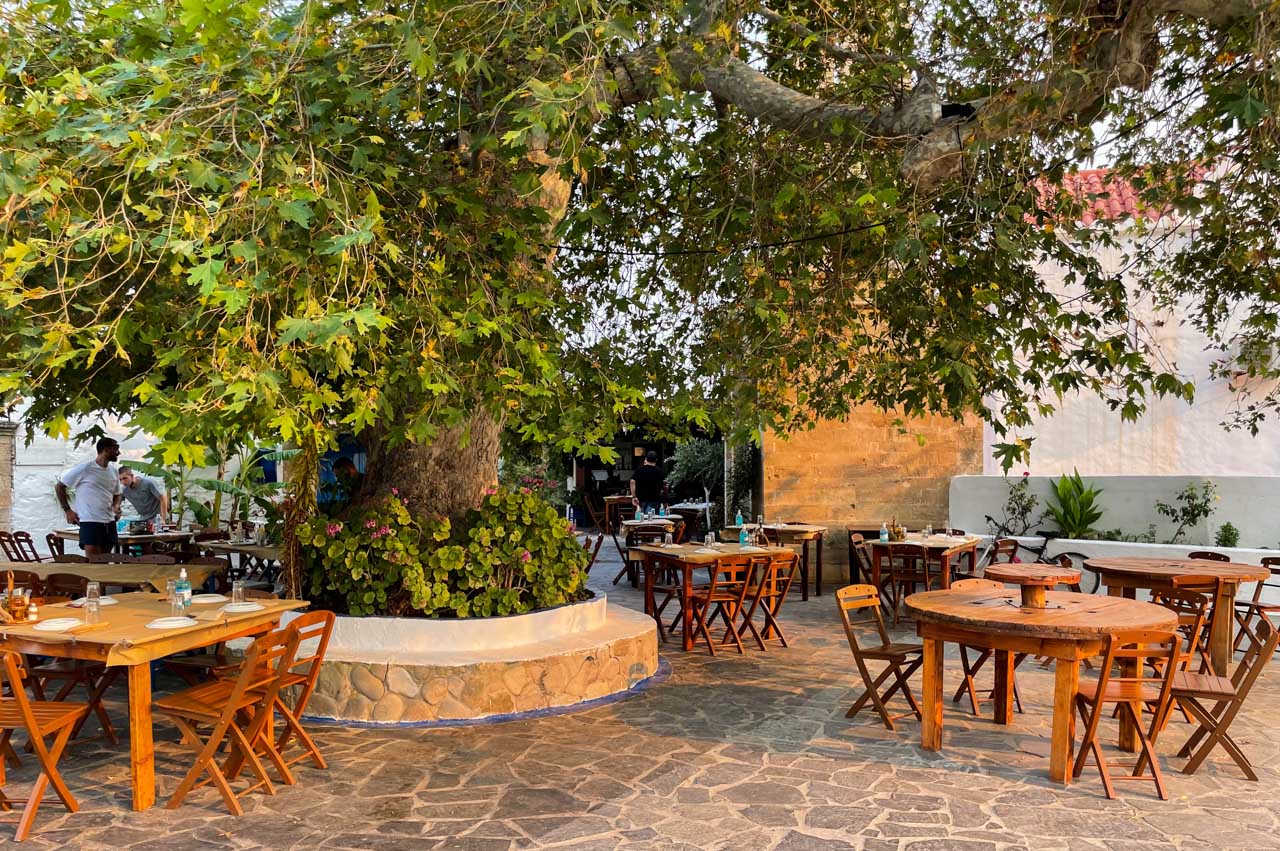 There is a huge old plane tree, and the taverna is build around it. We sat right below this huge tree, and had some of the most amazing mezedes ever in its dappled shade! All of a sudden, the table was heaving with all the things that we craved, and that I prepare for fooodlove - things like cheese croquettes, feta in phyllo with honey, and so many more.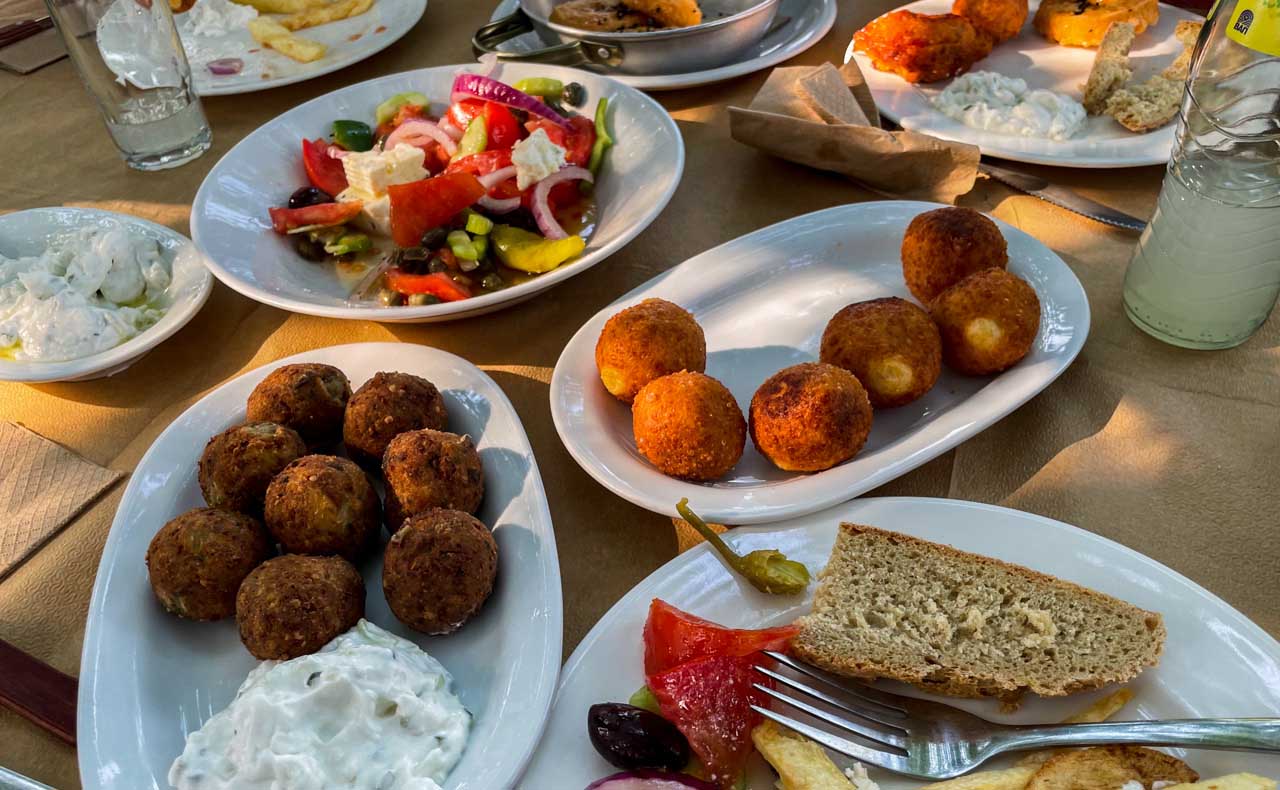 The main dishes were super delicious too! We usually stop after mezedes - but we just couldn't hold back, the food was too wonderful! So, although this is a bit of a drive away, it has been added to our 'must visit' list, and we'll be returning every time we visit Rhodes. Highly recommended!
Why to visit: This place just seems to get it all perfect. Deepfried items like the tirokeftedes tasted fresh and so crisp, the olive oil used in dishes was of the highest quality, my husband's steak was so soft and delicious - it's that all-important difference between simple things done adequately and simple things done to perfection. This is the latter.
BottomsUp
This is an old time classic for us! BottomsUp is located in Charaki, one of our favourite places in Rhodes. Its small bay has glorious waters and plenty of cafes and tavernas sit above it, where we can happily while away a whole day!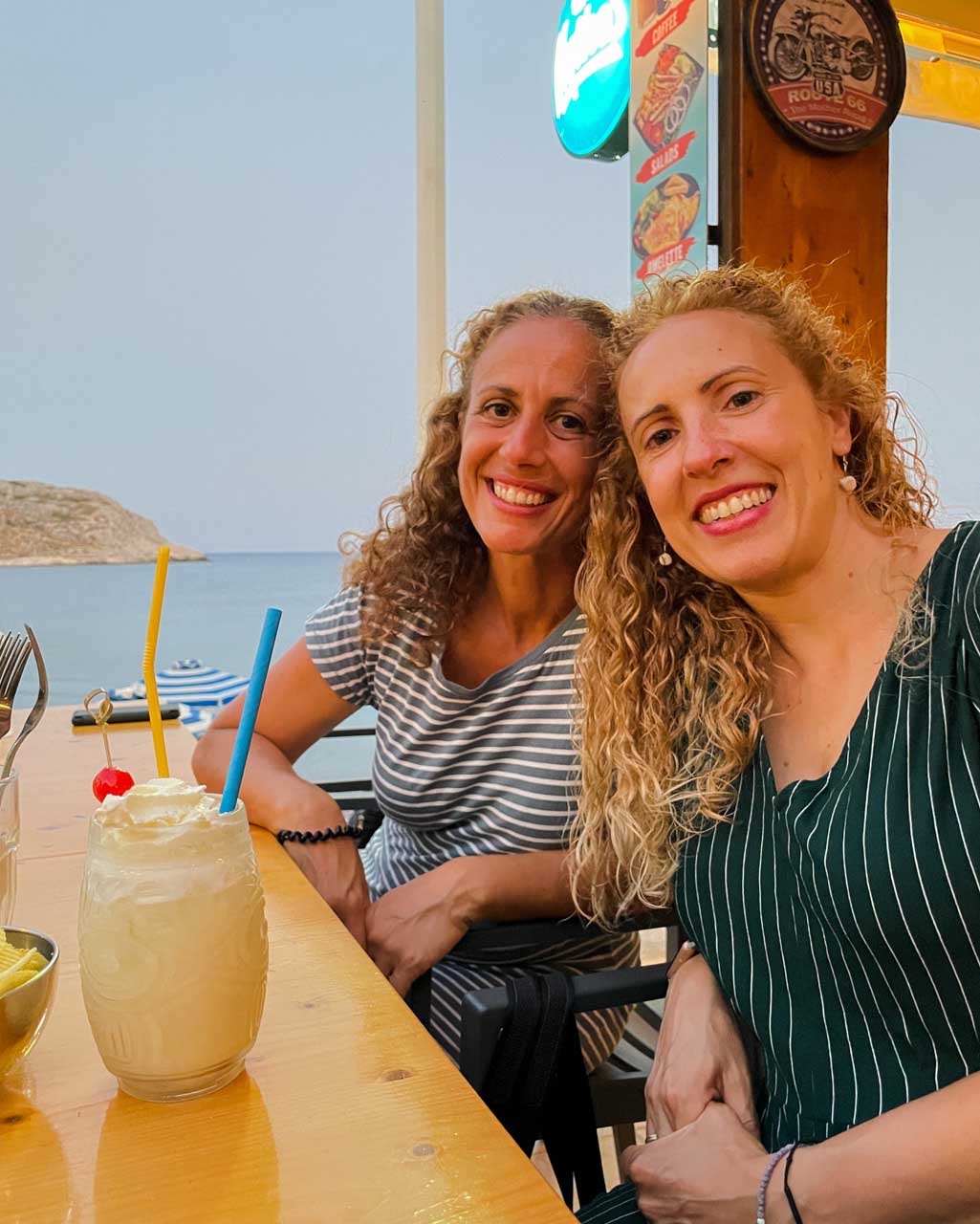 We usually start the day with a dip in the sea, followed up with a coffee and light breakfast under the sun umbrellas at BottomsUp. We then end up staying and having a full lunch! When the sun's heat has receded and lunch is done, we head back to the sands to continue swimming. BottomsUp welcomes plenty of Brits as well as Greeks. Despina, the owner, is originally from Australia but settled in Rhodes many years ago.
Why to visit: BottomsUp is the perfect place for when you've set your heart on a whole day by the sea, enjoying the sun, sand, swimming - and eating! An afternoon cocktail is a must. Tip - leave room for one of their chocolate crepes, they're the best!
Agathi Beach
This used to be one of Rhodes' hidden gems, but nowadays it has been discovered by many. Nevertheless it continues to be one of Rhodes' best sandy beaches, and its charm isn't depleted by welcoming more people. Rocky outcrops jut into the waters on each side of the beach, making for a shallow, turquoise bay of pretty calm waters.
There are always a plethora of sun-beds to rent, allowing you to enjoy a full day by the beach. The shallow waters are ideal if you have small kids, and there is a canteen that offers pretty much everything you might need (although be prepared to pay a steep price for the convenience!)
Why to visit: To see one of Rhodes' most beautiful sandy beaches, a protected bay where the deep turquoise seas meet the cloudless skies.
Koukos
It was impossible not to visit Koukos! When we lived in Rhodes, this was the place we used to visit for breakfast whenever we wanted to change up our routine. Koukos is not just a bakery - it also offers accommodation, as well as coffee and food (and who knows what else!) in its traditional Greek interior, fitted out with ceramic tiles and whitewashed ceilings.
It's one of those businesses that has been established for many years and everything always works like a well-oiled machine; it's flawless! Their offerings cover all tastes, but for us, their sandwiches with super-fresh ingredients and their unique apple pie with cream were to die for! All that topped off with first class service, very reasonable prices and a timeless atmosphere!
Why to visit: For excellent traditional Greek baked goods, as well as the freshest sandwiches, combined with excellent service.
Nom street food
When visiting Rhodes, we are always drawn back to the places we've known and loved for years. I think it's natural to always want to revisit those favourite haunts!
Sometimes however, 'new entries' appear on the list that our friends just can't stop talking about - and we therefore have to try. One of these new entries was Nom!
Nom is a new (at least to us) burger joint, with possibly the best burgers we've ever tried (the meat eaters of the family, at least)! Even the veggie burger, which is a dish that I think is hard to make exciting, was very tasty indeed. They offer 100% plant-based burgers too.
This modern burger joint is really fresh and stylish inside, and is located in the heart of Rhodes city centre, surrounded by many other shops. However, for us it was easily the biggest highlight in the area.
Why to visit: When you fancy delicious fast food as a break from wonderful Greek mezedes, this central location is the place to be.
Pan & Vino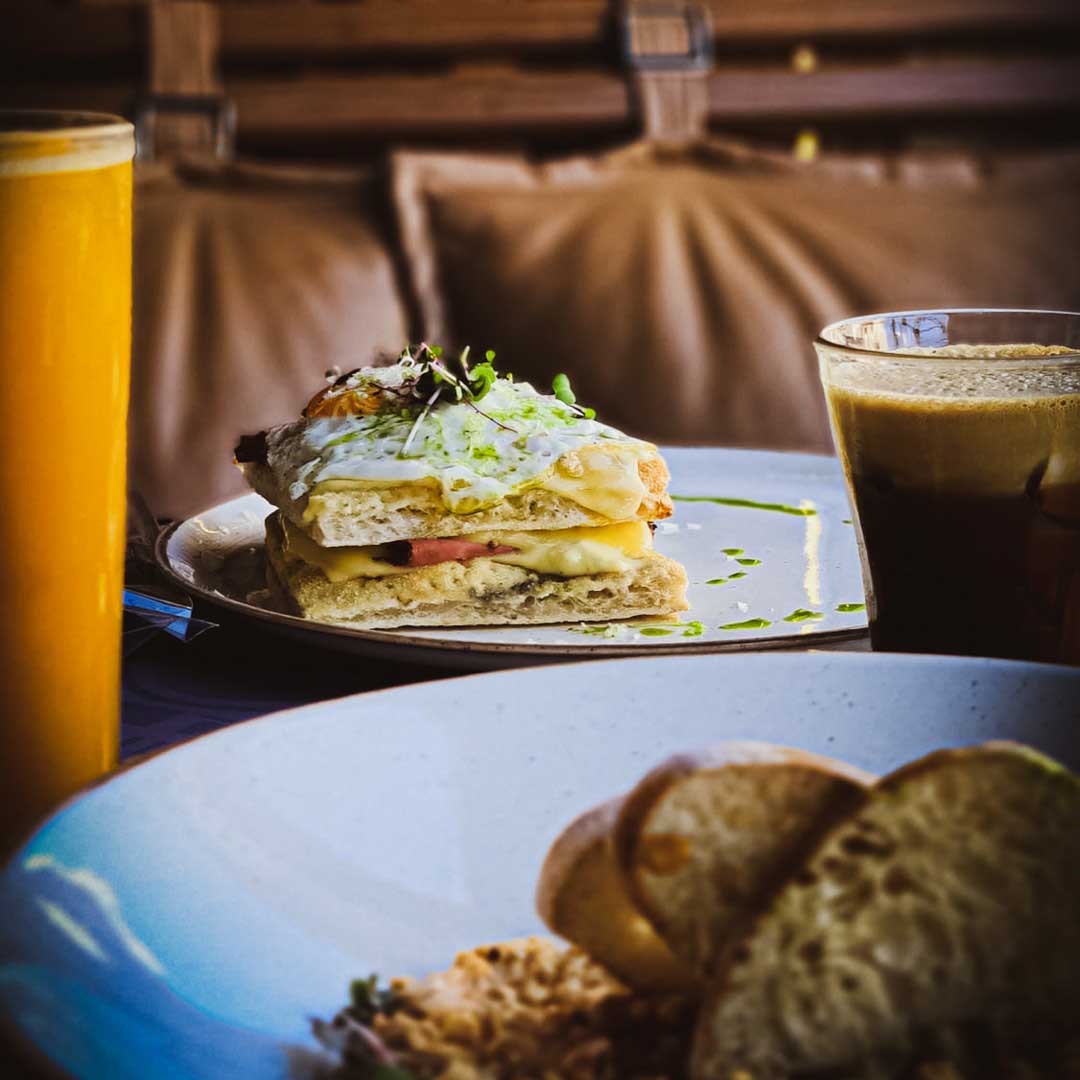 I think this is the place that we visited the most during our one month stay in Rhodes. Many of their dishes sound 'ordinary', or traditional (their breakfast options for example include their version of Strapatsada, breakfast toast - which has béchamel sauce in it) - but when the dishes arrive, they're anything but ordinary!
We tried almost everything on the menu at this Italian-inspired, Greek-influenced restaurant, because each dish was as exciting as the last. Located near to Nom, listed above, in the city centre, Pan & Vino also offers great coffee, alongside a very relaxed vibe and great service. Whatever time of day, there is a dish that will appeal at Pan & Vino.
Why to visit: This is probably our favourite place to catch a bite in Rhodes. Dishes vary from fine dining-style elegance through to freshly made sandwiches - and whichever end of the scale you choose, the dish is guaranteed to be exceptional. Tip: Definitely leave room for dessert! Their amazing tiramisu was one of the best I've ever had, and the Snickers Eclair was to die for!
Our time in Ikaria
My husband's father, and much of his family, are based in Ikaria. That's why we find time to visit almost every summer. For us, it's the definition of a family vacation. Ikaria is peaceful, relaxing and family-focussed. Far away from all the touristy stuff, it is quiet and so 'Greek'! There are only a handful of places to go, but each provides us with unforgettable memories that keep us going until our next visit.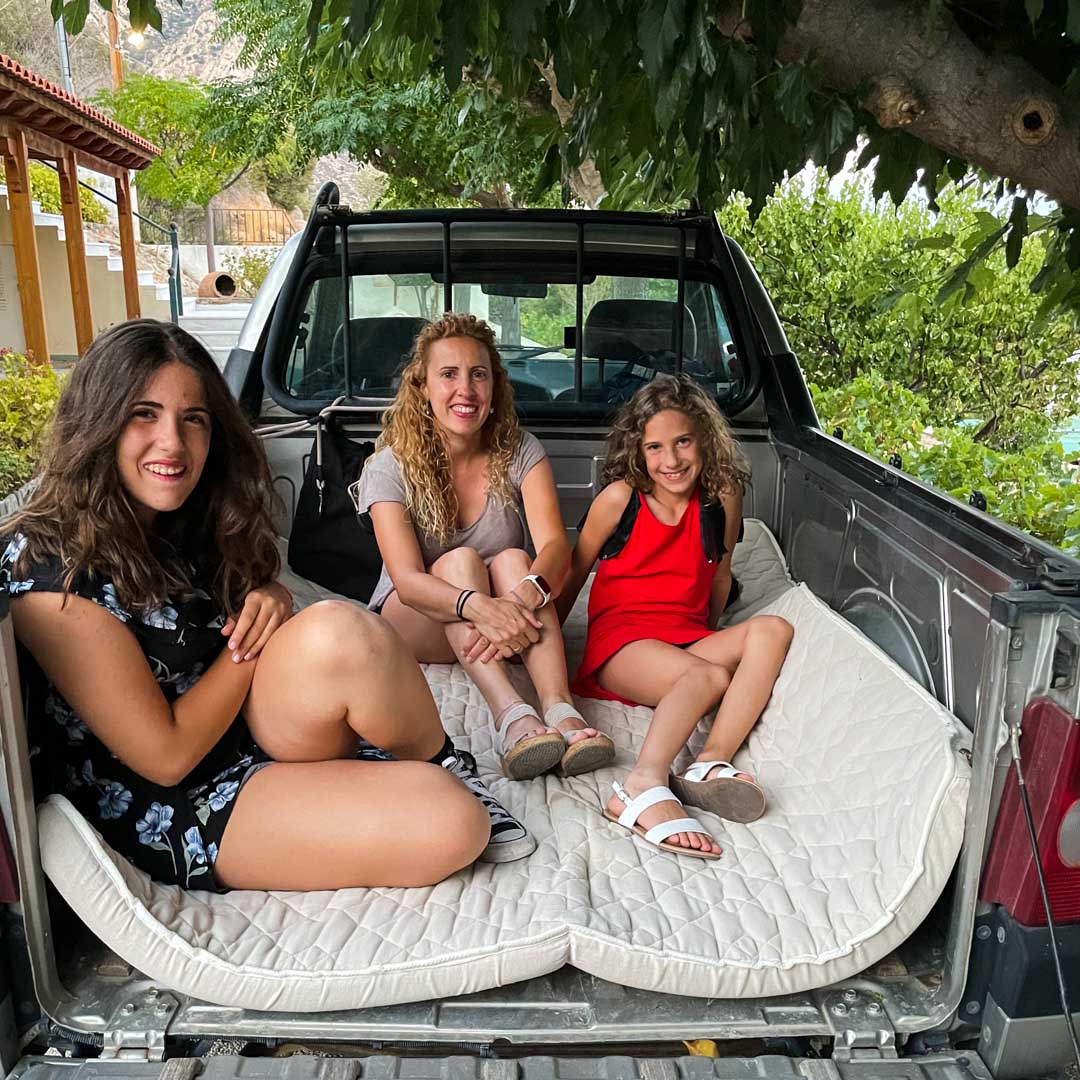 My father-in-law lives in a village called "Karkinagri", which is fairly remote. Of course tourists do visit, and so the population swells during the summer months, and it becomes a little crowded. Most of these visitors are like us, though - kids and grandkids of the locals!
The population here is well-renowned for being super healthy into old age - there are plenty, like my husband's grandmother, who are over 100 years old and still 'going strong'!
Ikaria's population in general has a history with longevity, and every year we're there, we're hoping that we can somehow get a glimpse of their secret...
Where to visit in Ikaria
Tavernas and coffee shops in Karkinagri can be counted on just one hand! Yes, there's not a lot of choice, but Ikaria is a place where you go to relax and enjoy the simplest things. This year we stayed there for just a week. It definitely wasn't enough but the whole summer schedule was super-packed and we had to make the most of it.
The Waves
The place that we spent the majority of our time on Ikaria was "Τα κύματα" (which means "The Waves").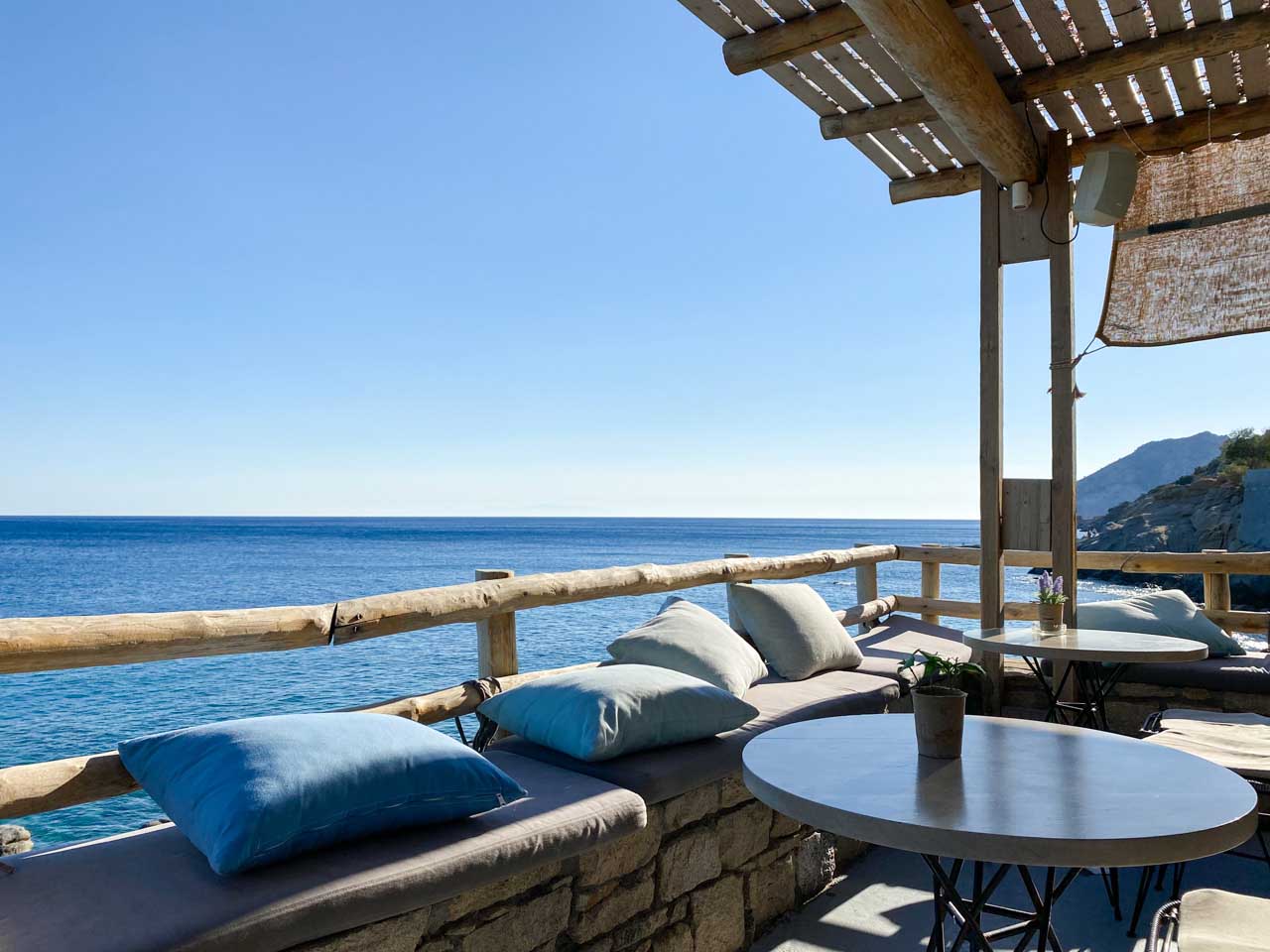 This breakfast / brunch / coffee shop / snack bar / late night bar (the only thing that it's not is a hotel 😅) is built literally at the end of a rocky outcrop, overlooking the sea. The uninterrupted view of the cobalt waves of the Aegean gently lapping the rocks makes this place simply priceless, at least to us. My husband enjoys a coffee, whilst I treat myself to a small Ouzo with a meze on the side. It's our tradition.
Why to visit: For the simple joy of calming waves, and an expansive and uninterrupted view of the sea (as well as some lovely nibbles and drinks).
Restaurant Karakas
When it comes to food in Ikaria, we usually end up at Karakas. This simple shack setup overlooks the sea, and offers all the traditional mezedes, cooked with homegrown vegetables. You can't resist ordering their daily specials, even if you're not hungry!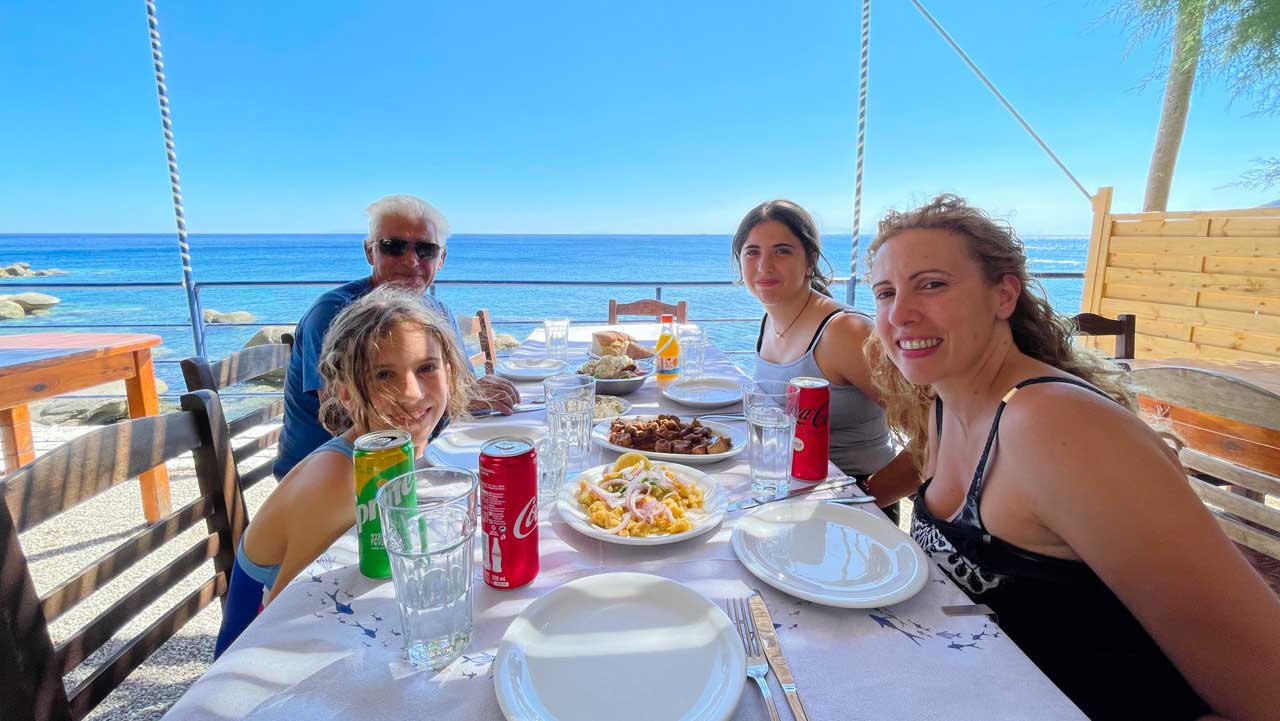 Why to visit: For the pure simplicity of wonderful, traditional food, shade from the summer sun, and views out over the water.
Ikaria holds a special place in our hearts for various reasons, and I think it deserves a blog post of its own... I'll keep you posted!
Our time in Halki
Halki is a small island close to Rhodes. We took the ferry - which is half an hour's ride - in the morning, and came back in the afternoon. Although I've visited Halki before, it was my husband's first time, so I was keen to take him!
A little quieter and more traditional than Rhodes, the port is one of those typically picturesque Greek places - the type you expect to see on a postcard. Very quaint and beautiful.
Dimitris Bakery
The first thing we did when we arrived was to visit a famous pastry shop next to the port, and get homemade cheese pies. They have a reputation - so we had to try them! So did everyone else, I guess, because there was a good queue! But when we got to the front, we loaded up on all sorts of goodies and headed to the beach. Their famous cheese pies were large, with a unique crust. The cheese filling inside, paired with mint, was unusual and really tasty. Their homemade pizza, though? Even better! With a thick base and the tastiest toppings, everything was simple - but so fresh. That's why it was so good.
Pondamos beach
This is yet another awesome Greek beach, in a remote location, filled only with the people that were on the ferry.
Although this probably isn't the kind of beach to spend a whole day on, as there isn't much there besides sun-loungers and umbrellas, the waters are nevertheless amazing. It was perfect for a couple of hours relaxation, before we headed to a local taverna.
Taverna Mpampis
At this point we've been to so many tavernas! Needless to say that the mezedes were amazing, as well as the kalamari and garidaki (a speciality of shrimp from the island of Symi, which you eat whole) amongst other things on the table.
We thought that a day trip would be enough for us to enjoy Halki, but it turned out that we wanted more! It's an amazing island with many traditions, and hidden gems that we will definitely be exploring more next year!
Time to leave Greece
The fact is, time flies when you're having fun! Although a month seemed like such a long time before we left, the days went by so fast whilst we were in Greece!
Coming back from Halki signalled the countdown of our return to the UK, and the end of vacation. We had one more week that we packed with more beach time, more food and spending time with our friends and family.
Turns out that no matter how long you stay at a place that you love, it will never be enough! While things are still a bit weird with Covid, vaccines and the crazy amount of tests that you need to do before and after each flight, we have already started making plans for our next trip to Greece, which we hope to be a lot sooner than next summer! 🤞
If you have any requests or any queries on where to go and what to do in Rhodes, in Ikaria or in Greece generally, get in touch on social media - I love to chat about home!