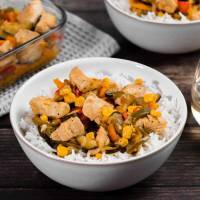 Juicy Chicken with Veggies
4

servings

50 mins
440 kcal

DF

NF
This simple and satisfying supper is one of the first "proper" meals I cooked for my husband when we got married! I had always been confident with all the egg options (always a go-to for our breakfasts), but I tended to stick to the safety of easy pasta dishes for dinner. So, I got this chicken with veggies recipe from my mom. And we're still married…coincidence? Perhaps not! Haha! I'd say this recipe marks the beginning of my journey into love - for family, for food, and for cooking.
This recipe for chicken with veggies is a similar dish to the chicken and red pepper mix that works so well in chicken fajita recipes - so there's another serving option for you! We like to have it served simply with basmati rice. It's a brilliant midweek meal, featuring lots of healthy lean protein as well as plenty of veg, for a really balanced meal. It's pretty quick and easy, too. You can even enjoy it with rice one night and as the filling for chicken fajitas the next! I love batch cooking, as a great way to make sure my family has plenty of great food to eat through the week, without having to stand at the stove for ages every night.
Tips
If you don't have them handy, you can replace the carrot, zucchini and bell peppers with 3 cups of frozen mixed vegetables.