Moving to the UK, the idea of 'afternoon tea' was anathema to us. In Greece, the equivalent would be meeting up for a coffee and perhaps a sweet bite or pastry, probably in the late morning. It's such a crucial part of Greek socialising that we even wrote a blog on Greek coffee culture!
I didn't understand this culture of 'tea time' in the UK; where friends (especially other mums) would suggest meeting up for a cup of tea and cake or biscuit at around school pick-up time.
Fast forward a few years, and I love a good tea time! I'm always coming up with tea time ideas and quick tea time snacks, because it's always so lovely to have one of my daughters' friends over after school - and it's even better if her mum comes over too and I have chance for a cup of tea and a catch up with a friend!
Greek Tea Time Ideas: Greek tea cookies and cakes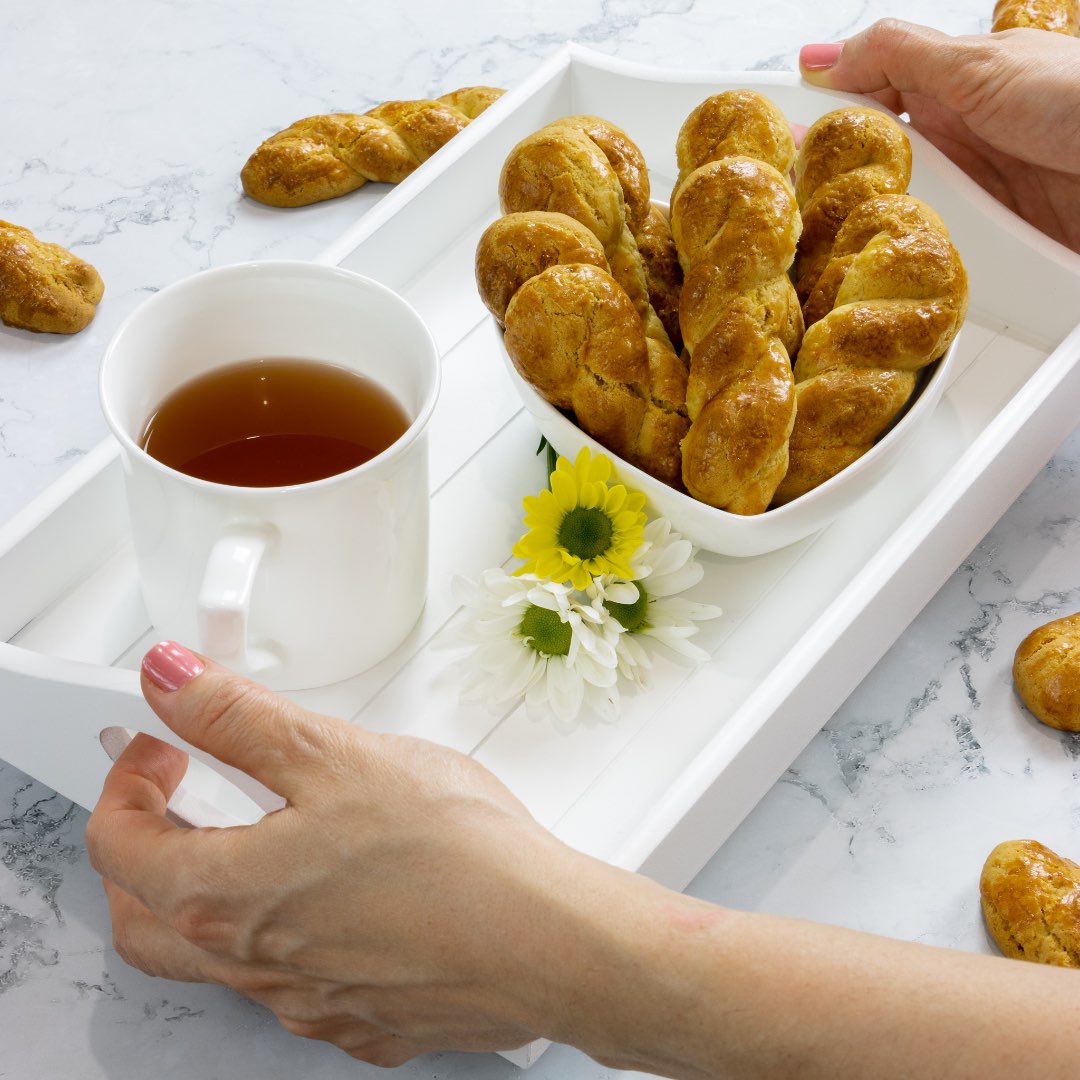 I like to inject this positively English tradition with some Greek flair though, of course. For a Greek tea party, or a Greek tea time, there are some recipes that have become staples. My Orange and Vanilla Braided cookies (Koulourakia Smyrneika), for example, sit very happily next to a cup of tea (or coffee), as do my Wine Cookies with Sesame (Koulourakia Krasata).
I think it always feels lovely if I can offer some homemade treats alongside a cup of tea or coffee; we're all there for a good catch up, really, and any sweet treat is appreciated, but I always feel like I'm looking after those I love if I can serve up some homemade sweet treats just for them.
If you prefer something cakey to a biscuit, my Fanouropita is a great go-to. This spiced Lenten cake is a great vegan tea party cake option too, and I always think it's useful to have a great vegan cake up your sleeve (one that all non-vegans will absolutely love, too).
Savoury cakes for tea time?
Whilst the traditional British afternoon tea includes everything, from small sandwiches to cakes and scones, I tend to just serve up one snack alongside our cuppa. But sometimes it can be nice if that snack is savoury!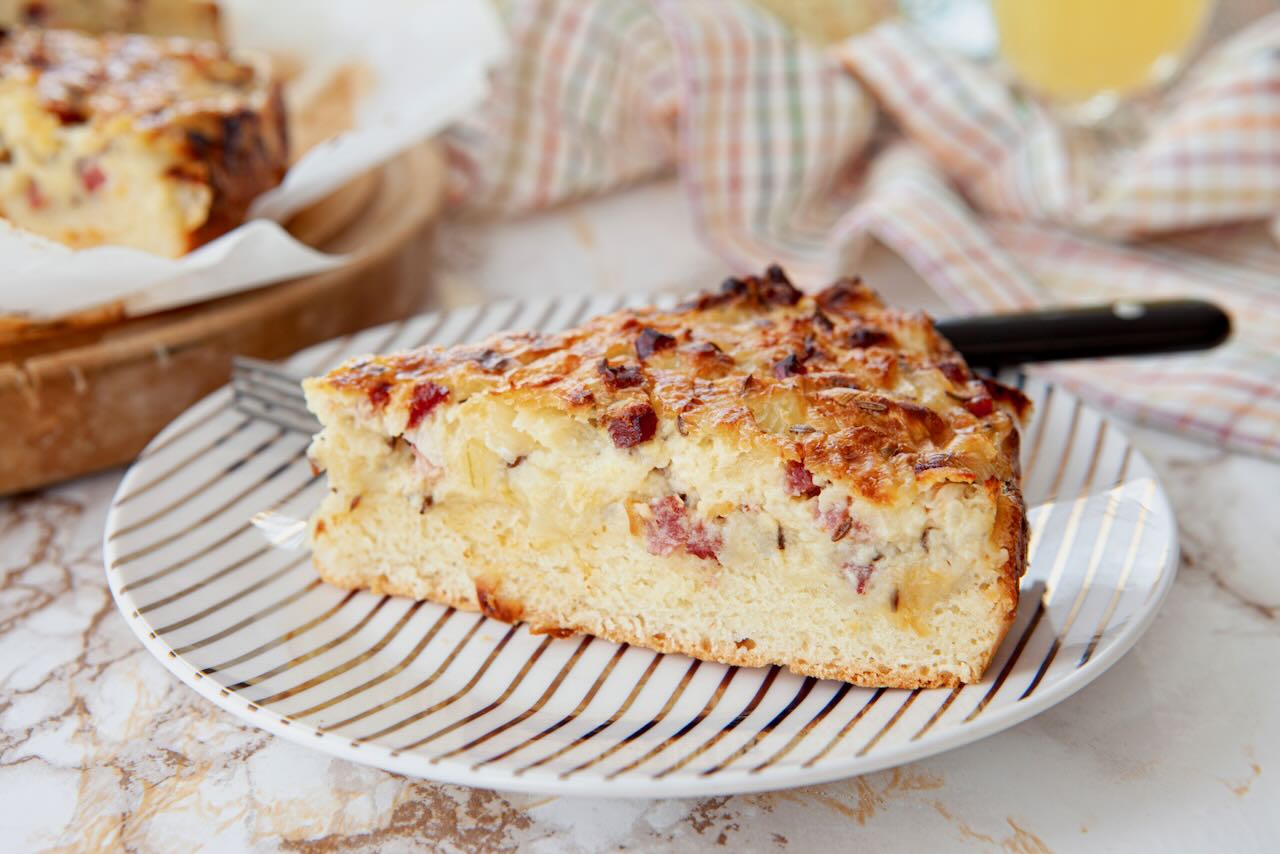 My Savoury Cake is a brilliant option for this - still cakey, and something you can pick a slice of, but a little healthier and more unusual than a slice of sponge.
British Tea or Greek Tea?
When it comes to drinking tea, the Brits have it sorted. You know what you like, and it's usually a cuppa with a splash of milk. I can't deny it's the perfect option on a grey and drizzly afternoon! But in Greece, if you ordered 'Greek tea' this would usually be chamomile tea or a 'mountain tea', made from local herbs such as ironwort.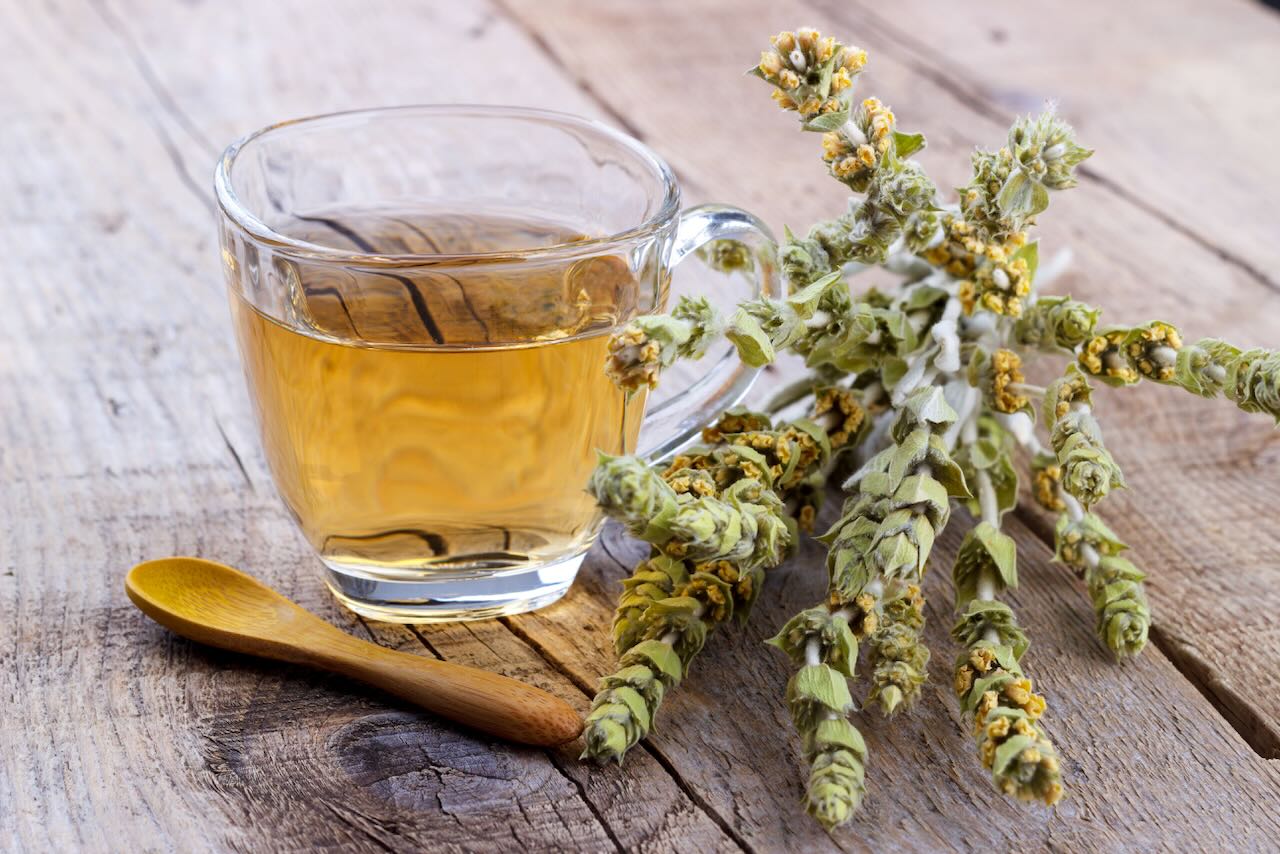 It is given to you when you feel under the weather, as a body strengthener to fight off colds and the flu! But many Brits enjoy a herbal tea now too, so I often have a selection in. Greek tea benefits, especially to a herb like chamomile, include inducing sleep, reducing anxiety, and supporting digestion.
I hope I've given you a bit of inspiration for a Greek-inspired afternoon tea with the above! Greek afternoon tea is a new, made-up tradition for us, and is a true mish-mash of the cultures I love - my Greek homeland and the country that myself and my family now call home, the UK. Have you added any inherited or family traditions to more established ones? Let me know if the comments below - I love a culture clash!