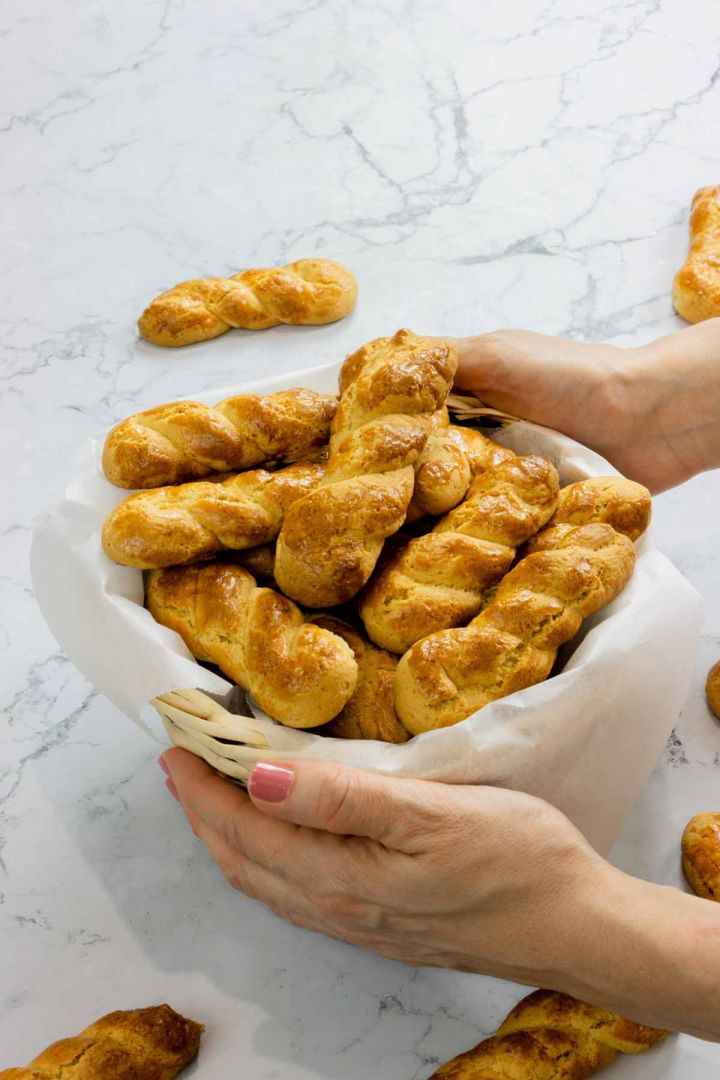 These orange & vanilla braided cookies are a traditional Greek Orthodox Easter recipe. Originally from Smyrna, they are known as "koulourakia smyrneika", and are gifted to friends and family over the Greek Orthodox Easter celebrations.
Greek Easter (later than Western Easter, because we follow the Julian calendar instead of the Gregorian!) is a BIG celebration in Greece. Many families head home to their family islands or villages for big get-togethers. After traditionally being abstemious throughout Lent, Easter is truly a celebration. The table groans under a sumptuous feast - often featuring a roast lamb as centrepiece.
These Smyrna cookies are traditionally made on Thursday and enjoyed when the Easter festivities kick off. We often gift them to friends and family, too! Don't keep these Koulourakia Smyrneika for Greek Easter, though - cook a batch up and take a little bagful to a friend's house as a treat or dinner party 'thank you' present. They're a super gift!
Tips
Store these cookies in an airtight container and they'll last up to three weeks.
Directions
You will need about 1 hour to make 44 pieces of this recipe, which has approximately 93 calories each. Make sure you have all the ingredients and follow these 6 simple steps. If you have any questions, send me an email and I'd be more than happy to help!
Watch it step-by-step!
These orange & vanilla braided cookies are traditionally made for Greek Easter celebrations - yes, Greek Orthodox Easter is celebrated on a different date! Called "koulourakia Smyrneika" (cookies from Smyrna), these are cooked up to add to Easter festivities, and gift to friends and family.