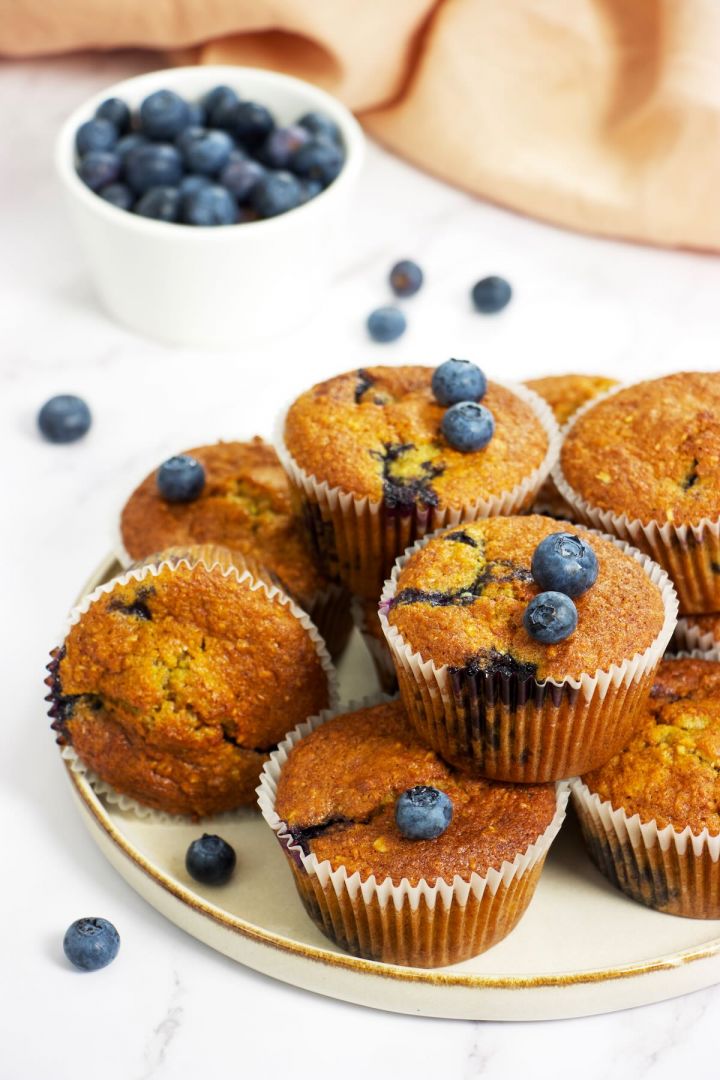 These healthy blueberry muffins are a must for my daughters' packed lunch boxes, or for those rumbling tummies at around 4 pm when dinner still feels far off. The wholegrain flour and oats make them more sustaining and low GI compared to white flour-based cakes, so your blood glucose levels don't crash and burn like after a quick sugary snack. You can even substitute the quick oats for steel-rolled oats for even better slow energy release, but the texture is a little chewier - try half and half to begin with to make sure you like the substitution!
These wholewheat berry muffins also work as healthy muffins for breakfast. We're constantly running out of time in the mornings, and so I do like to have something on hand to push into a Tupperware for myself for later, or to give my daughters as they rush out of the door. This way I can make sure they'll be eating something with slow energy release, protein, and even some fruit in it. Sure, these are cakes - there's no avoiding that - but I feel much happier giving them these than the processed, sugar-filled breakfast 'cereal bars' that are another popular option. They're also great to sub-in for a refined sugar sweet treat, as the aforementioned wholegrain content (the oats and the wholewheat flour) work together to make sure this sweet treat is sustaining as well as satisfying for that sugar craving. Give them a go - they might become your new favourite!
Tips
Once baked, allow the muffins to cool completely (at least 10 minutes) before removing them from the muffin tray. Because of the blueberries, the muffins may be too soft and break when removed while hot.
You can substitute blueberries with any fruit you like (i.e. strawberries, cranberries, bananas etc), but make sure they are cut into similar small pieces.
Store them in an airtight container for up to 3 days.
Directions
You will need about 30 minutes to make 14 servings of this recipe, which has approximately 216 calories each. Make sure you have all the ingredients and follow these 6 simple steps. If you have any questions, send me an email and I'd be more than happy to help!
Watch it step-by-step!
I know wholegrain blueberry muffins aren't 'healthy' - but sometimes we all need a sweet treat, and these are a slightly healthy compromise! This is a great recipe I keep up my sleeve for those times when I need a little indulgence - they are sweet and satisfying.