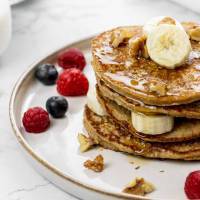 Healthy Banana Oat Pancakes
8

servings

20 mins
112 kcal

GF

VE
I don't know about you, but sometimes food goes down a lot better when it seems like a 'treat'! These healthy banana oat pancakes are a real 'treat' - but nutritionally they're good for you too, so it's a win-win! Banana pancakes were always a weekend treat in our house, so I wanted to combine that 'special' breakfast feeling with something healthy and full of goodness that you really can enjoy everyday.
Featuring oats for slow release energy as well as protein from egg and the natural sweetness of banana, these pancakes really will set you up for the day! Enjoy with a big dollop of Greek yoghurt on the side, and some fresh berries (we might take it back up to 'treat' territory with a drizzle of maple syrup on top!)
Tips
This is the perfect recipe to take advantage of very ripe bananas. The browner the banana, the sweeter the taste will be.
If you don't have a mixer or a blender, you can also use a fork to mash the bananas in a bowl and mix the the batter.