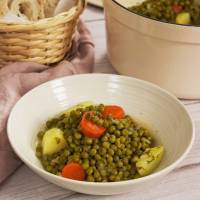 Lemon Pea Stew
6

servings

40 mins
290 kcal

DF

NF

GF

VG

VE
This lemon pea stew recipe is a perfect veggie winter warmer. It's super easy, and the addition of lemon and dill at the end makes for a vibrant zestiness that is so addictive. In some parts of Greece this recipe is made with meat, too. There are several Greek recipes that make arakas, or peas, the star of the show, and this is one. Other arakas recipes might include beef, or tomatoes - but I like the clean, sweet flavour of peas in combination with lemon and dill best.
At our house this is served simply, with lots of crumbled feta cheese mixed with olive oil and lemon, maybe a side salad and some garlic bread. It sounds simple, but really this sits pride of place as a main meal. It is the perfect dish for early spring - it tides me over from the cold winter nights when all I want is a bowl of warm, nourishing stew into the springtime, when I crave fresh, green flavours. This lemon pea stew recipe straddles both of these desires perfectly.
Tips
Boost the flavour of this dish by adding 1-2 tbsp of extra virgin olive oil at the very end.