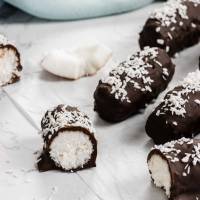 Vegan Mint Bounty Bars
16

pieces

1 hr 40 mins
187 kcal

DF

NF

GF

VG

VE
If you're on the hunt for vegan chocolate treats, these vegan mint bounty bars are the one. In fact, as long as you like coconut, I can assure you that, vegan or not, you'll love these! In fact, our family aren't vegan but absolutely adore these little bites. I always find it so useful to have a treats recipe to hand that fits everybody's dietary requirements.
Homemade bounty bars might sound more effort than they're worth, but nothing could be further from the truth. Plus, you know exactly what ingredients are going in. Easy homemade bounty bars, plus mint - they're so satisfying, and actually, they're kind of good for you as far as chocolatey snacks go! The healthy fat from coconut milk plus desiccated coconut and dark chocolate; this is indulgence without the guilt.
Tips
When forming the bounty bars, wet your hands so the mixture doesn't stick to them.
You can store the bounty bars at room temperature in an air-tight container up to 7 days or in the fridge for longer.
You can also melt the chocolate in a microwave by heating it in a bowl for 30 seconds. If it's not fully melted, heat for another 15 seconds, stir and repeat until it's fully melted.
You may substitute agave nectar with maple syrup.