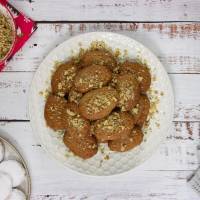 Greek Christmas Honey Cookies (Melomakarona)
50

pieces

40 mins
160 kcal

DF

VE
This traditional Greek Christmas recipe is a must-bake in our household come Christmas time, infusing the house with that festive scent of baking, orange, cinnamon and spices. It's also our go-to gift, when visiting friends and family over the festive period. Instead of a bottle of wine or bunch of flowers, we tend to create a plateful of Melomakarona and Kourampiedes to take round for the host (sometimes there's a bottle of wine too, of course!)
These Greek Christmas cookies take their name from a mixture of 'meli' - honey, and the ancient Greek word 'makaria' - blessed. With that kind of meaning, you can see the reason that they're a central part of foodie Greek Christmas traditions (as well as for their taste, of course). Once soaked in honey, these biscuits are moist, flavoursome and gently spiced - in short, the perfect Christmas mouthful. In some regions Melomakarona are known as Finikia, but occasionally recipes for Finikia ask you to deepfry them instead of oven bake them. Don't worry about making too many - they always get eaten one way or the other. Traditionally, we use any Melomakarona crumbs to make these walnut-filled Kariokes! These are a great Christmas dessert, or an addition to your midmorning cup of coffee - it's Advent, after all, so it's time to indulge! I love to sit down in a cosy chair for ten minutes and eat a honey cookie, taking in a moment's quiet during the festive rush. I highly recommend it!
Tips
In the method above I deep the warm cookies in the cool syrup. It can also be done the other way around; Hot syrup with cooled cookies. The taste in both cases will be the same!
You may also bake the cookies in advance (i.e. the previous day(s)). Just deep them in hot syrup and they'll be equally fresh and tasteful.