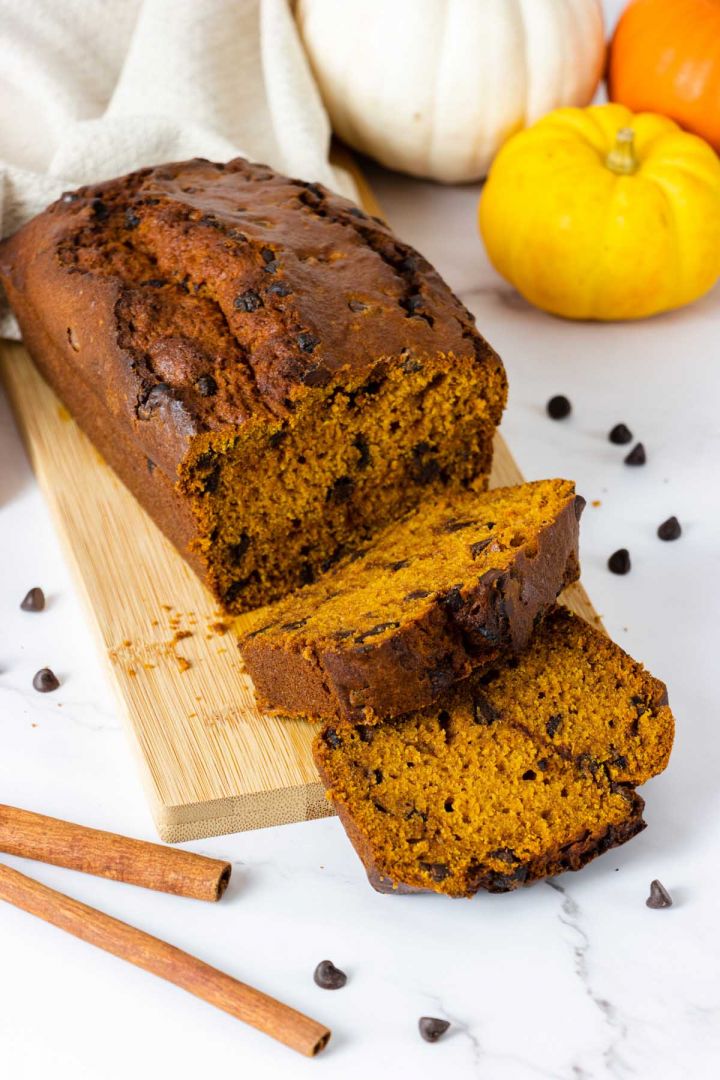 This pumpkin chocolate chip bread comes high on my list of healthy Halloween treats. This is a truly seasonal autumn recipe, that smells so good when it's baking that I can barely bear to leave it in the oven long enough. It's one of those breads that is really more of a cake - but I somehow feel slightly virtuous when enjoying it with a slather of butter and a cup of tea in the mid afternoon if I call it pumpkin bread!
I love Halloween bakes; they're a little break from the mountains of sugar and candy children seem to be fed around the 31st, but are still a really seasonal treat. This is one of the first recipes I'll reach for, because it's perfectly seasonal without being smothered in ghosts, ghouls and all things spooky! I'll save those for the Halloween cupcakes recipe I'll publish next week - so keep your eye out for those. The orange and spice combination means that this recipe shouldn't be relegated solely to Halloween, either - it's well worth its place on the afternoon tea table well through November and into December!
Tips
Once the pumpkin bread is completely cool, store it in an airtight container in room temperature for up to 3 days.
This recipe is equally amazing with pecans or walnuts substituting the chocolate chips.
You may also substitute the orange juice with milk (same quantity) if you don't like the extra orange flavour.
You can also substitute the clove, nutmeg and ginger with 1 teaspoon pumpkin pie spice, but don't skip the cinnamon!
Directions
You will need about 1 hour 10 minutes to make 8 servings of this recipe, which has approximately 447 calories each. Make sure you have all the ingredients and follow these 5 simple steps. If you have any questions, send me an email and I'd be more than happy to help!
Watch it step-by-step!
Get this pumpkin chocolate chip bread in the oven right now! The smell when it's baking is unbelievable. It's a slightly healthy Halloween treat for the kids, but the whole family will love this seasonal autumn recipe.