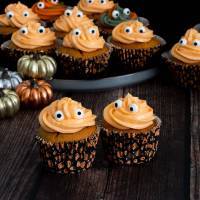 Halloween Pumpkin Cupcakes
15

servings

35 mins
406 kcal

NF

VE
Whether you have kids or not, I always want to find reasons to celebrate as the weather draws in, finding excuses for activities to bring the family together in the kitchen. These Halloween bakes are the perfect excuse. Following on from last week's pumpkin chocolate chip bread recipe, these are a real commitment to the season! I tend to buy some little spooky figurines, or the cute googly eyes above, just to add that bit of Halloween fun for the kids for this bake. But they work perfectly well without, too, for a more grown-up treat!
These Halloween pumpkin cupcakes channel the US tradition to use pumpkin in baking around this time of year. Using pumpkin in desserts  just isn't as common in the UK -  I don't know why, as it makes for a deliciously moist, flavoursome and seasonal addition to sweets and bakes! The warming spices make these cupcakes feel like little bites of pure autumn. They really can satisfy all season long; feel free to leave out the orange colouring and any fun Halloween decorative touches if you want a more stylish seasonal bake for the grown ups to enjoy - far beyond the 31st of October!
Tips
Make sure all ingredients are in a room temperature.